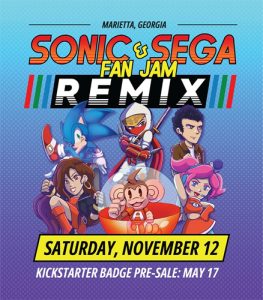 It's been four long years, but the Sonic & Sega Fan Jam is back! The non-profit, single-day convention began in 2014 and has traditionally been a celebration of everything Sega-related and was a great opportunity for fans of one of gaming's legendary publisher/developers to come together and share their love for its games and legacy. There has always been a healthy dosage of panels, artists, contests, and guests; as well as a ton of classic games to play. This year looks to continue that wonderful tradition. On Saturday, November 12, Sega fandom will converge on Marietta, GA at the Hilton Atlanta/Marietta & Conference Center for a great day of festivities.
The "Remix" in the name refers to this year's theme, which is inspired by Sega's plans to bring back classic series and characters. The organizers have launched a Kickstarter badge pre-sale until June 26 with different rewards for each tier. From full-color art prints by IDW Sonic artists to enamel pin badges and t-shirts, supporting the event comes with some excellent swag. There's even a virtual attendee option for those unable to make it in person.
The guest list includes a diverse range of personalities, so there's sure to be something for everyone. More will be announced in the coming weeks, so be sure to check out the
Industry/Voice Actor Guests
Corey Marshall (Shenmue)
Eric Kelso (Virtua Fighter, Shenmue, F-Zero GX)
Lisle Wilkerson (Virtua Fighter, Crazy Taxi, Shenmue)
Sonic & SEGA Fan Community/Content Creators
Sam Procrastinates (Sonic Community)
Chaomix (Sonic Community)
SomeCallMeJohnny (YouTube)
AntDude (YouTube)
Skye Rocket (Music)
Victor McKnight (Music)
TreasureHuntingSonic (Sonic Community)
Sega-16 plans to attend, so if stop by and say hi! The Sonic & Sega Fan Jam Remix is shaping up to be a great event and will hopefully mark the return to a yearly schedule. Sonic and Sega's fandoms are two of the most passionate out there, and we hope to see a great turnout!
For more information, stay tuned to the event's Facebook, Twitter, and Instagram pages. You can ask questions there or send them to ssfanjamremix@gmail.com.