March 31, 2006 at 10:10 am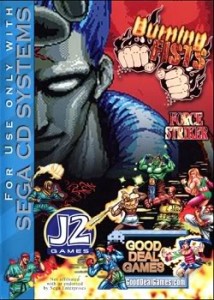 Sometimes, you just can't keep a good console down. Virtually a decade after Sega withdrew support, the Sega CD keeps getting releases. Citizen X, Bug Strike!, and Mighty Mighty Missile have all made their way to the unit in the last few years, and now Good Deal Games and J2 Games are ramping up for another title. Burning Fists: Force Striker is set to debut at next month's CinciClassic at the Fairfield Convention Center in Ohio.
There haven't been all that many memorable fighters on the Sega CD, which is something Good Deal Games hopes to rectify with this release. Known for its dedication to classic consoles, GDG managed to secure the only known copy of Burning Fists (a beta) from a collector and see it through to completion. Now, Sega CD owners will finally get their hands on the finished product, and we simply can't wait to play it!
A Missing Step to the Next Level?
All sources point to Burning Fists being an in-house game started by Sega of Japan in 1994, under the title Force Striker. The game was shelved, disappearing from the public eye until the only two copies known to exist were auctioned on eBay by someone who reportedly obtained them from a former SOJ employee. Supposedly, a collector paid $1500 for both discs (though this has been debated, with some saying it was actually $50), which were around 80% complete (the final boss battle and the ending were missing, many of the backgrounds lacked animation, and the A.I. needed to be tweaked). They remained in his collection until he sold them to Good Deal Games this past September for an undisclosed amount. GDG finished the game up and, in conjunction with J2 Games, will be releasing it next month with full packaging and documents.
Not very much is known about the premise, but I can probably guess it'll have something to do with the world's greatest fighters competing for a life-changing prize. There are a total of eight characters, and combat is distributed among as many stages (including Iraq!). Gameplay is compatible with both the stock Genesis three-button pad and its six-button replacement. Combat appears to be fluid, and the use of the wonderful six-button pad makes me a happy camper, as it just feels more natural for a fighting game (only the Saturn's second stock pad was better, in my opinion). The scenery in certain stages has some nice animation and changes between rounds. Check out the race car zooming off at the end of the third round in the video below!
GDG and J2 Games have also included some extra content on the disc, which can be accessed from your PC's disc drive. Exactly what kind of goodies await us is unknown, but hopefully we'll get some stuff related to the game's creation. What has been confirmed is the inclusion of redbook audio, which means you're basically getting the soundtrack for free!
Straight from the Source
Good Deal Games Head Michael Thomasson talked to us about how the game is shaping up, and he shed some light on what we should all expect next month.
Sega-16: Exactly which parts of the game needed to be completed?
Michael Thomasson: The game was about 80% complete. It was missing the final boss, the full-motion video was running at about four frames per second, had several bugs, the menu system was corrupt, and the one-player computer artificial intelligence was quite, well, stupid.
We were able to get the FMV running at a respectable rate, about three times faster, which is the norm for the time when the game was first being developed. We also completely reworked the menu system.
We made the artificial intelligence on the one-player game a decent opponent. People really into fighting games will probably easily romp the computer, but the average player will still find themselves playing several rounds over in order to continue through the course of the game. We were able to address all of the bugs except for two of them. Both of these bugs do not effect the gameplay. On the Daytona board, there is a dragster that while playing sometimes drives off to the right of the screen. Sometimes it drives off correctly, and sometimes (and this is the bug) it will drive off, but leave the sprite graphic of the back wheel intact on the screen. Most matches end before this even happens in the background.
The other bug/feature is that the Denmark background was not created. We tried adding our own background level graphics, but did not succeed in this endeavor. So, now if a player chooses to play the Denmark stage, it will send the match to Seattle. Perhaps there is a Seattle in Denmark, too? The two-player fighting mode really shines, and for most of us, we always prefer playing fighting games against a live opponent.
We have a short preview video of the game running on the Gens emulator. Bear in mind that this is the unfinished beta you're watching and not the final Good Deal Games release. Still, it's a small glimpse of a game that has never been seen before.
Do Not Go Gentle, Sega CD…
Burning Fists: Force Striker will retail for $34.99 and scheduled be a limited run of no more than two hundred copies, according to J2 Games. Due to the nature of this release, Sega CD owners anxious for something new to play might still feel a bit in the dark as to what they're exactly getting for their money. Expect Good Deal Games to show off its latest wares at the CiniClassic next month, and hopefully put all doubts to rest. The CiniClassic will run April 7 and 8, and admission is free.
It's always nice to see support for classic consoles, and GDG has been one of the champions of the Sega CD, with a total of four releases so far (hint: Burning Fists won't be thelast!), and Sega-16 looks forward to each new announcement.
Head on over to the J2 Games site to preorder, and check out the Good Deal Games site for information on other new Sega CD releases.