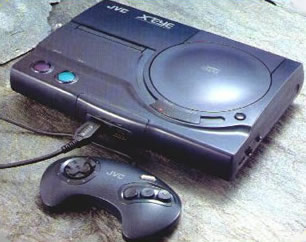 In 1994 JVC released a console that combined a Genesis and a Sega CD into a single unit. While it wasn't successful due to overpricing, the X'Eye (Wondermega in Japan) is now being snapped up by collectors at every opportunity. Originally retailing for $499.99, it was made to appeal to older gamers, similar to other high end video game systems at that time like the 3DO and CD-I. Unfortunately, the market just wasn't ready for these types of machines just yet and they all died either slowly or very quickly. It also didn't help JVC any that Sega released an all-in-one unit themselves called the CDX. While the CDX didn't support karaoke, it had some benefits that at the time were more attractive to buyers, including a lower price and the ability to be used as a portable CD player.
The X'eye itself is dark gray with a cartridge slot on the left and CD drive on the right. Two controller ports are located on the front directly in the system's middle. The unit is significantly smaller than a Genesis 2 and Sega CD 2 combined as well as much lighter. As far as video support, the unit has standard RCA audio/video jacks (red, yellow, white) as well as the TV out jack that was designed for the Genesis 2, so you can use an RF cable if the need arises (The Japanese version supported s-video but it was removed from the domestic unit. Why?). Other items of note are the microphone and headphone jacks on the side. The microphone jack is for karaoke which is one of the features of this machine. Bundled software included the game Prize Fighter and Compton's Interactive Encyclopedia, as well as a karaoke disc.
The strange thing is out of all the research I have done on this thing, I still can't find out why JVC decided to call it "X'eye".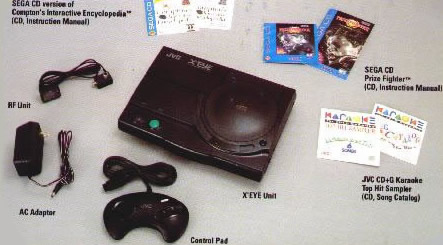 Genesis:
On the Genesis side, some things to note are that the cartridge slot is rectangular, so no converter is needed to play Japanese or European Mega Drive games. Of course, if the particular game you want to play has a territory lockout you will still need to have a Game Genie or other device to get around it. I tested the Game Genie with the system and it had no trouble.
I also tested multiple games with the cartridge port and while most of them worked, some did not. I'm not sure if this is something tied to just mine or if this happens with all of them. The games I had the most trouble with were Shinobi III, and Sonic and Knuckles. If anyone can confirm that these work in your X'eye or any others that don't, please send us an e-mail and we will update this section.
Sega CD:
The CD drive is excellent! It's both extremely quiet and faster than a standard Sega CD. This is where the machine really shines. I tested Thunderstrike, NBA Jam, and Eternal Champions, and all worked great and without a hitch. The load times seem to be a couple of seconds faster in some situations and the same as a normal Sega CD in others. The X'eye also seems to be more durable compared to the fragile model 1 CD. This little system can take marathon play session and not overheat. Moreover, it holds up better as time wears on. Many model 1 Sega CDs (and even model 2s) have been known to break down suddenly or just give out. That phenomenon hasn't been the case with my X'eye, though I can't confirm that this is universal.
Model and part information:
On the JVC model part lookup site you can still find some OEM parts for your X'eye.
Model Number: RG-M10BU
Http://www.jvcservice.com/service/MdlPrtXrf.asp?PgReq=DspDta&MdlNbr=RG-M10BU
Notice the $78.59 customer 3-button controller that you can order on the site. Wow, that's quite a price for a regular Genesis controller that has "JVC" stamped on it!