In an industry dominated by men, Rieko Kodama is a woman who has managed to make it all the way to the top, becoming one of the most respected designers of the last two decades. You may have seen her credited in a slew of titles as "Phoenix or Phenix Rie," as she used that as her credit name until 1993. She is commonly referred to as "the First Lady of RPGs."
Born in Kanagawa, Kanagawa Prefecture, Japan on May 23, 1963, she began her education undecided between art and archaeology. She opted for art and enrolled in a trade school for advertising design. It was there, in 1984, that she met a fellow student who brought her to work at Sega and the rest, as they say, is history.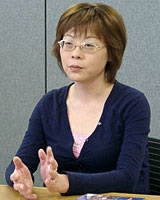 Quite a history it is, too. Kodama has been involved with some of Sega's biggest projects, including a obscure little RPG known as Phantasy Star. She got her start doing character designs for arcade titles such as Champion Boxing (1984) and Ninja Princess (1984), as well as some Master System games like Alex Kidd in Miracle World (1986) and Quartet (1987). She also did several characters for a smattering of other Master System games. As one of the few designers at the company, she found herself doing multiple games at once, as many as five or six games a year. Kodama built up quite a reputation as an artist and was soon given a chance to work on something big. To counter the release of Dragon Quest, Sega decided to make an epic RPG of their own. The result, Phantasy Star, was not only a major benchmark title for the industry and RPG genre but also launched the careers of Yuji Naka and Tokuhiko "Bo" Uwabo. Brought on as the main designer, Kodama was responsible for creating all the character designs, the 2D maps, battle-scene backgrounds, and townspeople, among other things. From there, her career blossomed and she went on to work on some of the most successful titles Sega ever produced.
Kodama's first game at Sega was one of the simpler arcade titles devoted to the sport of boxing. In 1984's Champion Boxing for the SG-1000 (later ported to the arcade), you basically played a chubby dude and use one of the two buttons to choose a punch and the other to execute. Jabs, straights, and upper cuts were your only options and it was possible to totally destroy your opponent with only the upper cut for about the first four or five levels. You fought the same guy over and over, with the difficulty increasing as you went, and it got tiresome quite quickly. It was possible to TKO your opponent but it didn't add much to the simple game play. Moreover, there was no music and the sound was minimal at best. Think of Rocky on the Master System without the multiple foes and you'll have an idea of what this was like. A very simple and repetitive game, Champion Boxing can't hold a candle to later game like Punch-Out! and Ring King, but it was simple fun when released. Moreover, the visuals Kodama helped create (under Flicky and Fantasy Zone creator Yoji Ishii) were incredible for the time and hardware.
Kodama worked on arcade games like Ninja Princess for a while longer before jumping into the home console market with the fledgling Master System. Her first title in 1986 introduced the world to Alex Kidd and the world of Radactian. The game that launched a neglected franchise, Miracle World is one of those titles that should be in any gamer's collection. Great level design, ingenious gadgets, and some brutal bosses are just some of the qualities this great little game has (I love the copter!). As with many other Master System titles, the horrible box art gave no clue about the great game within (Kung-Fu Kid anyone?) and this is a game that did not disappoint. I'm sure that no one guessed that a kid with floppy ears would kick so much ass. Kodama's designs were great and created a wonderful world of rock-paper-scissors and man-eating groundhogs.
A year later Kodama made her PC debut. Hailed as the first computer role-playing game made in Japan, Black Onyx was released by Bullet Proof Software for the PC8801 and PC9801 computers and ushered in a new era of games in that country. It was eventually ported to practically every computer system and game console in Japan, including the obscure Sega SG-1000. It was comparable to Wizardry (-5 if you've never heard of that game) but had a much simpler interface. Played in 3D mazes, you and your party were on a quest to find the fabled Onyx. It was praised for its great story and balanced game play and remained in the top ten for months, even receiving the coveted Software of the Year award from PC Magazine. I believe it was also released for the Game Boy Color by Taito in 1991 but I've never actually seen it. Kodama is only credited with work on a single enemy in the game (it is unknown which one).
Looking for more involvement in game design, Kodama returned to the Master System with ports of Quartet and Fantasy Zone II, but it was with her next title that she cemented her place in Sega history. Phantasy Star was the game that made Rieko Kodama a legend. Her designs were ahead of their time and the game was among the first to feature a female lead.  Kodama relished the role, bringing her love of archaeology into every aspect of the design. She did every NPC, town, and creature, as well as the overworld and battle backgrounds. This was a gargantuan effort, and no other console RPG at the time had animated enemies. When combined with the excellent graphics, there was no other experience like it. The creativity she put into this title can be seen in the originality of the lead characters and the intricate weaving of fantasy and science fiction that composed the Algol Star System. Initially retailing at $100, Phantasy Star set the bar for console RPGs and it set it darn high. It is the compelling tale of a girl's quest for revenge that eventually places her as the savior of the solar system. Along the way she finds three companions who aid her in her mission to destroy the evil King Lassic and restore peace to Algol. Using 3D dungeons with a first person perspective, the game gave a sense of immersion that still brings a shiver to my spine. This was a game you stayed home from school for. This was the game you held aloft like an Olympic trophy when your strapped-for-cash friends came over. It didn't get any better than this, until the sequel came along…
As the Master System began to die down, a few excellent titles silently slipped into stores and were quickly forgotten by the masses. Kodama's next title was SpellCaster, which blended action and RPG elements seamlessly. Based on the classic Japanese Manga Legend of the Peacock King, it told the story of Kane as he battled to stop an invading army. The mixture of RPG-like commands and pure side-scrolling action made for an interesting game, and it's a shame that more people haven't found out what a delightful adventure SpellCaster really is. Kodama lent her design talents and would come back to the franchise again for Mystic Defender on the Genesis.
Bidding a farewell to the Master System, Kodama moved on to the Genesis and had a hand in the first 16-bit game released for it. Altered Beast is fondly remembered by gamers, even though the game was far from good. Simplistic gameplay and short levels made it zoom by even for novice players but we kept coming back. Kodama was the designer and I now have someone to personally thank for the badass dragon you used on level two. The problem most people seem to have with this game is the completely mediocre game mechanics.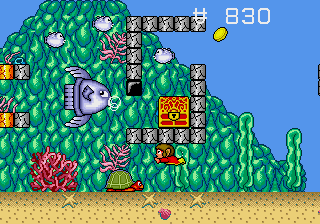 She continued her streak with another launch title. Alex Kidd in the Enchanted Castle dropped the gimmicks and shticks of the Master System sequels and went back to the series' roots. It was essentially the sequel fans of Miracle World had been waiting for, although by now the cutesy graphics and childish gameplay had begun to lose their appeal. Even so, next to great games like Revenge of Shinobi, Golden Axe, and Space Harrier II, Enchanted Castle was a great addition to an already solid lineup. It may have been a bit aged by the time of its release but it was still fun to see an anvil drop on Alex's head when he lost rock-scissors-paper. It is unknown precisely what role Kodama had in the game's production but I assume she was involved with the character design, as she had been with Miracle World.
Kodama's next game was the unofficial sequel to SpellCaster, Mystic Defender, which maintained the great side-scrolling action stages of the original but sadly omitted the RPG elements. This essentially stripped the game of any personality, and the result was nothing more than another of the typically generic action title that was so characteristic of the era. That didn't detract from Kodama's excellent graphic designs. In fact, the visuals are among Mystic Defender's best qualities. The enemy and character designs are still beautiful to look at, and there's tons of parallax scrolling to be had. While it might be lacking in story, it's still extremely playable and fun.
What better way to establish one's creative dominance on a platform than by revisiting the series that made one a star? Phantasy Star II is a lightning rod for controversy among RPG fans and is often recognized as both the high point in the series and the lowest, depending on who you talk with. Weighing in at a hefty six megs, it was the largest Genesis game released at the time and was absolutely huge (it came bundled with a 110-page hint book!). Kodama again did the designs and thrilled gamers with the battle scenes and magic effects. Say what you will about it but this game had personality and killed off one of the main characters before that sort of thing became popular. Its insane difficulty and deeply involved quest made it one of the few 16-bit RPGs that could stand by the "40 hours of play time" claim. Incidentally, this was one of the many collaborations between Kodama and Tokuhiko "Bo" Uwabo, who also worked with her on the original Phantasy Star, as well as its final Genesis sequel. Together, they were able to bring the mystique and charm that defines the series to fans on the Genesis, creating one of the most popular RPG franchises of all time in the process.
After working on the Japanese exclusive Sorcerian for the Mega Drive and the home version of Shadow Dancer, Kodama once again paired up with Yuji Naka to achieve Sega stardom. Sonic The Hedgehog was the biggest success in the company's history, and though Naka usually gets all the credit for the blue hedgehog's success, it was really a team effort. Kodama's designs played as big a part in that as anything Naka did and helped not only to define the character but to put Sega over the top. Kodama changed roles for Sonic's sequel, this time coming aboard as zone artist. It's no wonder why the game is regarded as the best designed of the Genesis Sonic titles or why it was the best-selling game in the series. The levels are long and intricate, weaving several different paths to a single finish. Kodama made quite an effort to get past the "push right and jump" complaint that many gamers had with the original and the result is a unique and memorable game that is still just as playable today as it was when it was released back in 1992. The creative chemistry between Naka and Kodama was undeniable back in the Genesis days and Sega was smart to keep them together for this important sequel. Sadly, it would be her last run with the famous hedgehog, though Sonic Team would continue to create great Sonic games for several different consoles.
Kodama followed up this massive success by directing, doing the battle background design, the field graphic design, object design, and the visual event graphics for the final 16-bit Phantasy Star installment. Most fans hail the fourth game as the best in the entire franchise, and given Kodama's major role in its development, the love it receives is unsurprising. She sent the Genesis off in style, and as she moved on to the Saturn, fans hoped in vain that the hardware shift signaled a 32-bit Phantasy Star title.
Instead, they got Magic Knight Rayearth. The final domestic release for the Sega Saturn took almost three years to ship. Working Designs had picked up the rights to the game, along with Shining Wisdom, way back in 1995. A hard drive crash lost some of the data from the Japanese original and there was a drawn out court battle for the rights to the character names and other licenses. In the end, the game was released when not even Sega themselves gave a hoot about the system. WD presumably took a loss with the game's release and cut ties with Sega for good. It's ironic, because the game was extremely underwhelming. Had it come out when originally intended, it would probably have sold quite well and been well received. By 1998, however, the game looked quite dated and unspectacular. Not even Kodama's direction could save it from typical, middle-of-the-road game play and some ho-hum level design. For what it's worth, the game does feature a great intro and awesome graphics, capped off by some wonderfully animated cut scenes.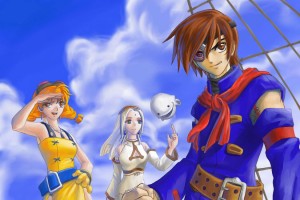 Kodama spent the rest of the Saturn era in relative silence, but she was set to make a grand return on the newly released Dreamcast. As a new console, the Dreamcast was lacking in epic RPGs. 2000 saw the release of two of them, Game Arts' Grandia 2 and Skies of Arcadia from Sega.  As the first epic adventure for the system, Sega went back to what they knew and brought their traditional RPG into the new millennium. Incredible graphics, an insane soundtrack, a huge world to explore, and lots of characters made the quest one that was a blast to undertake. Kodama produced Skies and her influence is outright. Clocking in at over 40 hours, it harkens back to the RPGs of old that gamers stayed home from school to play for hours straight on their Genesis.
With the demise of the Dreamcast, Kodama's role within Sega seemed to be in question, much as it was with most other non-Sonic related developers. After a short lull, she returned to the Phantasy Star franchise again, though not in the way fans had hoped. Fans were initially ecstatic when Phantasy Star Collection was announced for the Game Boy Advance. The thought of having the four classic titles on the handheld seemed like a dream come true. Disappointment abounded when it was revealed that only the first three games in the series would be included. The discovery of a save bug and the lack of extras angered some but the collection made the transition mostly intact, thanks to Kodama's supervision of the project.
Fans of the Phantasy Star games saw Kodama involved with the series a final time as the producer of  the Phantasy Star Generation 2 releases on the Japanese PlayStation 2. Western fans never got a chance to see her final work as it the game never left its native land. They also never got to play her return to Altered Beast on the console either. Instead, the next time western gamers played a Rieko Kodama game was with 2006's Mind Quiz: Your Brain Coach for the Nintendo DS. Not quite the return they expected, and in truth, few are probably even aware of her involvement.
Kodama made news one last time when it was revealed that she became a producer with Overworks, though it's unclear what role Kodama will play at Sega following Sammy's buyout of the company and the reintegration of the development teams. We here at Sega-16 will be looking out for anything she's involved in. Whatever it may be, we know it will be a quality product. For more on Reiko Kodama, check out the Next Level's extensive interview with her.
UPDATE: On October 26, 2022, it was revealed that Rieko Kodama had passed away in May after fans noticed a tribute to her in the developer credits for the Mega Drive Mini 2 console. She was only 59 years old. The news was kept private out of respect for her family, and the cause of her death is unknown. The outpouring of grief and solidarity for the legendary artist and designer was comforting to those who had admired her work for so long. She had remained at Sega until her death, working on various projects until at least 2018, where she was the lead producer on the Sega Ages series on the Nintendo Switch. In 2019, she received the Pioneer Award from the Game Developer Conference.
Kodama was never one to look for the spotlight, always deferring credit to her team members. Still, her fans are quite aware of her legacy, and she will forever remain one of the iconic women of game design. Her place on the Mt. Rushmore of Sega is assured.
Thumbnail photo property of Hasan Ali Almaci & Heidi Kemps.
Sources:
Bailey, Kat. "Sega Confirms Rieko Kodama Has Died After Fans Spot Tribute." IGN. Oct. 26, 2022.
Developer Information. Algol Star System.
Francis, Bryant. "Obituary: Rieko Kodama has died at age 58." Game Developer. Oct. 27, 2022.
Padilla, Raymond. "Flying the Friendly Skies to the GameCube." GameSpy, September 2002.
"Rieko Kodama on Phantasy Star…er, One." Video-fenky, April, 2003.