Listening to game music is great. I for one, have burned countless CDs filled with everything from NES tunes to my own little "best of" collections from different series. Soundtracks for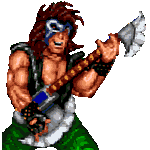 Genesis games are practically non-existent, and sometimes ripping the tracks from the ROM are the only way to have access to the songs. It's akin to cracking open a coconut to get at the water.
Game music is best, I think, when it is shown the love of some dedicated fans. That's just what the Brazilian metal group MegaDriver does with their great renditions of the scores of games from long ago. Concentrating mostly on Genesis tunes, they have crafted awesome metal versions of songs for Double Dragon, Super Hang-On, Golden Axe, and Altered Beast.
Nino, MegaDriver's guitarist, recently spoke to Sega-16 about his band's work and why they do what they do so well.
Sega-16: How did you get involved in music initially?
Nino: I bought my first metal album when I was 13 years-old and started playing guitar with about 14. At that time, I started learning by taking TABs of the songs from the bands that I used to like.
Sega-16: What are your musical influences?
Nino: I don't really like the term "influence" so much, I believe that we always have to try to create something new, to develop your own style. This is the kind of thought that I try to follow for the MegaDriver project. About the bands that I like, I listen a lot of Jason Becker, Symphony X, Children Of Bobom, King Diamond, Destruction and so on. I do also like Classical Music, composers like Bach and Chopin are always in my play lists too.
Sega-16: You've done some great renditions of classic Genesis themes. Was it hard to arrange the songs in metal? Some of them seem to cross over nicely.
Nino: The difficulty varies from theme to theme. There are some that originally sound like many other heavy-metal songs, like the Golden Axe ones, for instance. If you like Heavy-Metal, when you listen to the original Path Of Friend you can feel its presence on the music. The really hard ones are the ones that were intentionally composed to be electronic music and not to be played by a human being. So far, Mad Racer is the hardest song that I've recorded for the MegaDriver project.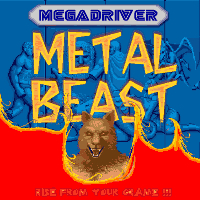 Sega-16: There's a lot of Genesis stuff on your site, but there's also work for everything from the NES to the PlayStation. Which console do you think works best for your metal renditions?
Nino: I think that soundtracks are one thing that Sega does best and, technology aside, the Genesis (or Mega Drive) console is the one with the games with the killer songs. Aside from Sega's own games, there are many others that are not so famous but have a great soundtrack. El Viento is a good example.
Sega-16: There are other bands out there doing renditions of game music, like the Minibosses. Do you see this as a growing trend?
Nino: Doing covers and arranges of video game music is not a "new" thing. Many artists have been doing arrangements for quite a good time, but the most that we see are electronic music, dance, techno, and the like. The newness is to create a band to do arrangements in different styles, and that's what we are doing. What Minibosses did was relatively new. In my way, I now see video game music with an alternative rock style. MegaDriver's proposal is similar and different at the same time, we are the first ones to arrange the themes in classic heavy metal style. I encourage other bands to do the same and to try new things, it is a tribute ideology so let's pay homage with great style, have lots of fun and try not to compete.
Sega-16: Which was your favorite game to work on?
Nino: Golden Axe and Altered Beast, I used to play these a lot in the arcades when I was a kid and later, they made up my mind to buy my first Genesis just to play them.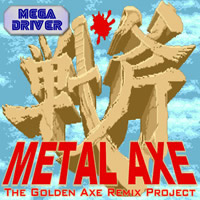 Sega-16: When will we see a MegaDriver album?
Nino: Last year I've invested a little in new recording equipment and started working on a new album. It's already finished and is named Action Metal. It has only songs from classic action-style games and I'm just waiting for the right moment to post it on the MegaDriver website. This is basically a "demo" CD, any person or company that is interested in a copy should feel free to contact me. MegaDriver is a tribute project and I do it out of love. That is my personal homage to the games and the original composers.
Sega-16 would like to thank Nino for his time and urges all game music lovers to check out his website for more metal goodness. To whet your appetite, here are a few tunes from both Altered Beast and Golden Axe, Megadriver style!
– Altered Beast- "Rise from Your Grave" (4:23, 1.50 megs)
– "Golden Axe- Path of Friend" (4:30, 654kb)