His name is synonymous with Sega itself. He is the genius behind some of the most enduring and legendary games ever to grace an arcade. Hang-On, OutRun, Space Harrier; the list goes on and on. For over twenty years, Yu Suzuki has been to Sega what Shigeru Miyamoto has been to Nintendo and his legion of fans is arguably just as big.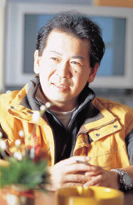 There really hasn't been a time in Sega's history since 1985 in which Suzuki hasn't been present, pushing the boundaries of arcade technology and bringing the biggest and best experiences to gamers around the world. He has been equally successful on consoles, making the Saturn sing with such feats as Virtua Fighter 2 and awing gamers with Shen Mue on the Dreamcast. Most recently, his team has released several titles for all three current consoles, taking advantage of what each specific platform has to offer. After all this time, his influence is farther reaching than ever before.
Yu Suzuki was born on May 10, 1958 in the Iwate Perfecture, located in the northeast of Japan (and the second largest administrative block in the country after Hokkaido). It is an area that has produced a number of famous Japanese, such as the scholar Nitobe Inazo (author of Bushido – the Soul of Japan ) and science pioneer Tanakadate Aikitsu (one of the first to work with romanji – Japanese written in the Roman alphabet). Suzuki majored in electronic science at Okayama University and joined Sega in 1983 as a producer and programmer. He became head of the software giant's AM Research & Development Department #2, or AM2, as it is known today.
Suzuki quickly showed his talent as a programmer, as well as an ability to command a team. In only his second year with the company, he created what was to be the first real-time simulation arcade game and his first blockbuster: Hang-On. Featuring a full-sized mock-up of a bike (complete with hand brakes and everything), it created the illusion of actually riding a real motor cycle. It was eventually ported to Sega's struggling Master System. The game was a smashing success, and gave Suzuki the clout he needed to work on the type of games he wanted, free from the whims of upper management. That same year, he went on to create Space Harrier, which thrilled gamers with its sense of intense speed and twitch gameplay. The cabinet sported two stereo speakers that blasted an incredible soundtrack right at you, and the flight stick control it used was something never before seen in an arcade game, and it was an instant hit.
Suzuki was now an aspiring young programmer with two consecutive runaway hits in the arcade. He was only getting warmed up, though, and the period from 1985-1992 is considered his most productive creative period. During this time, he was responsible for launching several now-classic franchises, among them OutRun, Afterburner, Space Harrier, and Virtua Racing. 1987 also saw the return of Hang-On to arcades in the form of Super Hang-On, which added a turbo button and vastly improved graphics. Almost all of the arcade games released during this period were not only immensely successful, but also broke their respective genre's mold in some fashion. OutRun, for example, featured a deluxe cabinet with stereo speakers in the seat and offered multiple paths for extended replay value, and Virtua Fighter was the first 3D fighter. So great was the latter's creative impact on the industry that it is the only video game on permanent display in the Smithsonian Institute's Permanent Research Collection on Information Technology Innovation, in Washington, D.C.
Even with all the success he was enjoying in arcades, Suzuki was still eager for a challenge. After having several games ported to the Sega Master System, AM2 themselves decided to test the waters of console development with the action/RPG Sword of Vermilion for the Genesis in 1991. A luke warm reception to the mixture of first-person movement and real-time battles didn't scare them away, and they were also involved with the excellent versions of OutRun and Virtua Fighter 2. AM2 continued to show its quick grasp of Sega's hardware with the 1994 release of Virtua Racing, even though that game's $100 price tag unfortunately led many gamers to pass on the excellent conversion. They would soon see, however, what they had missed when it was released for the 32X and later the Saturn. Several sources list AM2 as having done the Genesis port of Dynamite Duke, but this has yet to be confirmed.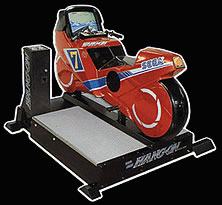 AM2 continued to work on arcade games, most of which were eventually ported over to Sega's platform of the period. Virtua Cop 1 & 2, Fighting Vipers, and Daytona USA all saw home releases during the Saturn's short life span. Without a doubt, the most remarkable product from AM2 was Virtua Fighter 2, which belied the Saturn's underpowered 3D architecture, retaining all the characters and solid gameplay of the arcade original, with only the stages and resolution suffering in the conversion. Though many gamers had played Suzuki's creations in the arcade, it was during the Saturn period (1995-1998) that his skills as a programmer and producer became the stuff of legends. After its retirement, his work continued on Sega's last console, the Dreamcast, and it was here that his ambition as a creator was finally realized.
In addition to arcade ports of F355 Challenge, Outtrigger, and 18 Wheelers, AM2 and Suzuki began working on what he considered to be his greatest work: Shen Mue. The story of a young man out to avenge his father's death at the hands of a Chinese crime lord, Shen Mue was originally conceived in 1994 for release on the Saturn, but was transferred over when that platform was discontinued. The added power of the Dreamcast was exactly what the game needed and Suzuki proceeded to smash established game conventions by incorporating non-linear battles and a clock that forced you to do things at certain times (i.e. visiting people or store hours). Costing a whopping $110 million dollars to produce and set across 16 chapters (which would eventually be consolidated into three games), Shen Mue has been criticized as much as it has been praised. Some gamers felt that it lacked the intensity Suzuki's games were known for, while others hailed it as a breakthrough title that deserved a genre of its own. A sequel was released in Europe and Japan for the Dreamcast, but American gamers were treated to a tweaked version on the Xbox. Recently, it has been announced that the third chapter would be playable online.
While Suzuki was busy with Shen Mue, AM2 was also hard at work with the latest version of Virtua Fighter. Ported to the PlayStation 2, Virtua Fighter 4 and then Virtua Fighter Evolution continued the realistic combat which made the series famous, moving it forward by adding a deep and involved quest mode. The game sold well enough in the U.S., considering that the franchise had never been as received here as in its native Japan. Evolution's low price point made it irresistible, and plans for another entry have already been announced.
Another AM2 original, OutRun, also made its return to arcades and home consoles in 2004. Suzuki's love of Ferraris is well known, and he went all out for the sequel by including more than a half dozen models. It's interesting to note that OutRun 2 is not actually the second game to bear the famous name, but is in fact the eighth. Several console-exclusive titles have been released over the years, dating back to the Sega Master System. This newest entry brought back the classic "race against the clock" gameplay that immortalized the original, and it introduced drifting to the already solid dynamic while maintained that classic feel. It was later released on the Xbox, which added online play for up to eight players.
In September of 2003, Suzuki left AM2 and formed a new development studio, called Digital Rex, after Sega Sammy Holdings restructured their software divisions. Digital Rex now falls under the New Entertainment R&D division, as Dept. #2. Also in that division is Dept. #1, headed by Toshihiro Nagoshi (now working on SpikeOut: Battle Street for Xbox). Suzuki was succeeded at AM2 by Hiroshi Kataoka.
Suzuki is currently at work on the latest installment of the Shen Mue saga, tentatively called Shen Mue Online. Though AM2, which at one point employed 180 people, has been reabsorbed into Sega as an internal development team and is now known as Amusement Software R&D Dept. #2 (also headed by Hiroshi Kataoka), Suzuki is still a man with much influence. The recent release of Virtua Quest shows that he is willing to tinker with established brands and explore new genres (especially the RPG genre, which is one of the few missteps he's experienced as a creator).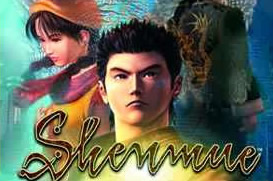 Though he's considered a legend in the industry, gaming is not his only passion. As inspired as he is when it comes to making games, Suzuki is also an avid painter. Using both digital and analogue mediums, he has created a number of pieces that are quite stunning. With the workload he has, it would seem unlikely that he could muster the energy for something as involved at painting. In truth, it's simply another example of his dedication and strive for perfection. More of his art can be viewed at sega.com.
As he continues at the forefront of innovation and creativity, Yu Suzuki will further cement his place in gaming history. There can be no doubt as to the impact he has had over the last two decades, and as technology only gets more advanced, we can only wonder in awe as to what he will accomplish next.
Yu Suzuki's & AM2's complete gameography is as follows:
Champion Boxing, arcade (1984)
Hang-On, arcade (1985)
Space Harrier, arcade (1985)
OutRun, arcade (1986)
After Burner, arcade (1987)
Super Hang-On, arcade (1987)
After Burner II, arcade (1987)
Power Drift, arcade (1988)
Dynamite Ducks, arcade (1988)
Turbo OutRun, arcade (1988)
Sword of Vermilion, Mega Drive (1989)
G-LOC, arcade (1990)
GP Rider, arcade (1990)
G-LOC R-360, arcade (1990)
Strike Fighter, arcade (1991)
Rent-A-Hero, Mega Drive (1991)
F1 Exhaust Note, arcade (1991)
Strike Fighter, arcade (1991)
Arabian Fight, arcade (1992)
Virtua Racing, arcade (1992)
Soreike Kokology, arcade (1992)
Virtua Formula, arcade (1993)
Burning Rival, arcade (1993)
F1 Super Lap, arcade (1993)
Soreike Kokology 2, arcade (1993)
Virtua Fighter, arcade (1993)
Virtua Racing, Mega Drive (1994)
Virtua Cop, arcade (1994)
Desert Tank, arcade (1994)
Virtua Fighter 2, arcade (1994)
Daytona USA, Saturn (1995)
Virtua Cop 2, arcade (1995)
Virtua Fighter CG Portrait Series, other (1995)
Fighting Vipers, arcade (1995)
Virtua Cop, Saturn (1995)
Virtua Fighter 2, Saturn (1995)
Virtua Fighter Remix, arcade (1995)
Virtua Fighter Remix, Saturn (1995)
Virtua Fighter CG Portrait Series, other (1996)
Virtua Fighter Kids, arcade (1996)
Sonic the Fighters, arcade (1996)
Virtua Fighter Kids, Saturn (1996)
Fighting Vipers, Saturn (1996)
Virtua Fighter 3, arcade (1996)
Virtua Cop 2, Saturn (1996)
Fighters Megamix, Saturn (1996)
Digital Dance Mix featuring Namie Amuro, Saturn (1997)
Virtua Fighter 3tb, arcade (1997)
Fighting Vipers 2, arcade (1998)
Daytona USA 2, arcade (1998)
Virtua Fighter 3tb, Dreamcast (1998)
Daytona USA 2 Power Edition, arcade (1998)
Ferrari 355 Challenge, arcade (1999)
Outtrigger, arcade (1999)
18 Wheelers, arcade (1999)
Shenmue, Dreamcast (1999)
18 Wheelers, Dreamcast (2000)
F355 Challenge, Dreamcast (2000)
Fighting Vipers 2, Dreamcast (2001)
Ferrari 355 Challenge 2 International Course Edition, arcade (2001)
Shenmue Plug-in, other (2001)
Beach Spikers, arcade (2001)
Outtrigger, Dreamcast (2001)
Virtua Fighter 4, arcade (2001)
Virtua Fighter 4 Ver. B, arcade (2001)
Shen Mue 2, Dreamcast (2001)
Yu Suzuki Game Works Vol. 1, Dreamcast (2001)
Shen Mue 2, Xbox (2001)
Virtua Fighter 4 Ver. C, arcade (2002)
Virtua Fighter 4 Evolution, arcade (2002)
Virtua Fighter 4, Playstation 2 (2002)
The King of Route 66, arcade (2002)
Beach Spikers, GameCube (2002)
Ferrari 355 Challenge, Playstation 2 (2002)
Virtua Fighter 4 Evolution Ver. B, arcade (2003)
The King of Route 66, Playstation 2 (2003)
Virtua Cop 3, arcade (2003)
Virtua Fighter 4 Evolution, Playstation 2 (2003)
OutRun 2, arcade (2003)
OutRun 2, Xbox (2004)
Virtua Fighter 4 Final Tuned, arcade (2004)
OutRun 2 SP, arcade (2004)
Virtua Quest, GameCube (2005)
Sources