Gamers have been enjoying his music for almost two decades, though most don't even know his name. If you think about it for a minute, it's strange that someone almost unknown to American gamers has impacted them and their experience so much. That seems to be Iwadare's modus operandi, and he has consistently been one of the more prolific and enigmatic composers in the industry.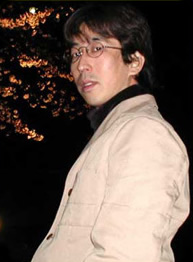 Let's stay on that point about his fame for a little while longer. Surely, he isn't the only Japanese musician whose name leaves non-Japanese gamers scratching their heads. His face isn't plastered all over the place, and his name is just another in the usual line of credits that runs at the end of the game, one filled with other unknowns and even pseudonyms that are sometimes never identified. In his homeland, he's been much more popular, but local heroes aren't big business in the gaming industry. It takes a world-class persona to make the West stand up and take notice, people like Tomonobu Itagaki and Shigeru Miyamoto. Normally, you'd be quick to dismiss Iwadare as just another shadow from the Land of the Rising Sun…
…and you'd be underestimating one of the creative geniuses of our time.
Sound like I'm pouring it on a bit thick, eh? Let's just look at his life's work. To date, Iwadare has composed some of the best-loved soundtracks of all time, including the Lunar games, Langrisser, and Grandia. He's done everything from game music to composing themes for Tokyo Disneyland and scoring musicals. Yep, Noriyuki Iwadare has dipped his fingers in almost every part of the musical pie, and after all these years, he's still hungry.
Iwadare was born in Matsumoto City, in the Nagano Prefecture on April 28, 1964. A lifelong fan of music, he took his influence from just about anyone he could, particularly Debussey, Ravel, and Mahler. His first real attempts at composing came in junior high, in the form of adding music to poetry. Once he had built his confidence, he began to write original pieces using guitars and the piano. This was successful enough to keep him cracking at it all the way to college, where he began to experiment with synthesizers and computers. Iwadare was captivated by the new technology, and began to feverishly do multi-track recording with electronic music. During his time at college, he drifted in and out of several bands, never finding the right atmosphere in which to unload his creativity.
As he progressed, Iwadare refined his musical style more and more, eventually turning to game music as his most productive outlet. In time, he found himself writing songs for several platforms, including some early Genesis titles. He got his Sega start converting the music for the Genesis version of Afterburner II, which by his own admission wasn't as raw sounding as he would have liked. Iwadare also worked on the conversions of other Genesis titles, including Space Invaders '90. He had a hand in several games for the systems, but it isn't clear exactly what his role was.
Though he was working with game music, it wasn't the really direction he wanted to follow. Iwadare's first love was the actual creative process of writing songs, not converting the efforts of others. He slowly began to move into the driver's seat, and was soon scoring games himself. With time, Iwadare proved himself to be a competent and consistent musician, but it was 1991's Lunar the Silver Star that gave him his first major hit. His moving, yet soothing score earned him the Best Game Music Prize, an award he would receive two more times within the next decade, for both Grandia and Grandia II.
The success of his Lunar score catapulted him to stardom in Japan, and he continued to impress with his stunning pieces for the strategy/RPG Langrisser Hikaru (Warsong in the U.S.). Though running on standard Genesis hardware, they were among some of the best songs to be heard on the system at the time. Genesis fans were lucky enough to get an American release of Langrisser Hikaru, but every other installment in the fabled series remained in Japan. Upon it's debut, the rechristined Warsong won the accolades of both the press and the public with its excellent gameplay and music, and deep storyline. Its fame has only grown, and complete copies now run upwards of $50 on eBay.
Iwadare continued to refine and perfect them in the subsequent sequels, going all out when the series hit the Saturn. He loved the ADX tools which allowed him to compose without having to worry about the machine's limitations, something he demonstrated with the incredible Grandia soundtrack. Being that there was basically no difference between the sound architecture of Saturn and Playstation, his music was able to remain consistent even when games were ported.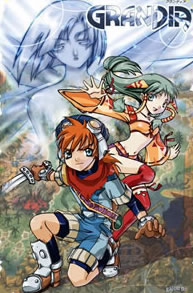 This newfound technological freedom became apparent when Game Arts decided to remake the Lunar games. When originally released on the Sega CD, many compromises had to be made, and a good chunk of both games was left on the cutting room floor. Iwadare revisited his award-winning score and made some major changes. Many themes were omitted or reworked completely, and several new pieces were added, including an awesome intro theme for Silver Star Story Complete and a moving solo piece for Luna's boat trip in Eternal Blue. All of these changes were left intact for the American releases, and Working Designs gave special treatment to the soundtracks by including them as part of the packaging. This wasn't the first time Iwadare's music had been featured in an American release, as the Dreamcast version of Grandia II saw a special edition that included the score on a separate disc. It did mark, however, the biggest effort by the West to bring attention to his work.
Recently Iwadare has dabbled in a multitude of RPG series for the Playstation 2, where he appears to be concentrating these days. In addition to the Langrisser remakes, he also scored the Growlancer update and the recently released Radiata Stories. With this kind of output, it's a wonder that his name doesn't come up more often, yet he still hasn't reached the level of recognition in America that Final Fantasy maestro Nobuo Uematsu has. This is unfortunate, as the diversity and sheer volume of his work (over 90 albums!) commands more respect than he's received so far.
Even with his hectic schedule, not everything he does is game-related. In addition to his impressive repertoire, Iwadare also lends his talents to scoring for television, radio, and stage. For a time, he even served as a contributing editor to Dreamcast Magazine in Japan. He has also written music for Tokyo Disneyland. When he's not working, Iwadare likes to ski.
With the upcoming releases of Grandia III and Rogue Galaxy for the Playstation 2, Iwadare has more than enough on his plate for the new year. His talent is only matched by his drive and steady output of quality music, and gamers have a lot to look forward to, as one of the best in the industry continues to leave his mark.
Noriyuki Iwadare's gameography is as follows:
Alien Crush, Turbo Grafx-16 [Composer] (1988)
Afterburner 2, Genesis [Converted soundtrack] (1990)
Space Invaders '90 [Converted soundtrack] (1990)
Granada, Genesis [??] (1990)
Devil's Crush, Turbo Grafx-16 [Composer] (1990)
Zero Wing, Genesis [??] (1991)
Ys III: Wanderers from Ys, Genesis [Converted Soundtrack?] (1991)
Steel Empire, Genesis [??] (1991)
Warsong (Langrisser), Genesis [Composer] (1991)
Lunar the Silver Star, Sega CD [Composer] (1991)
Blue Almanac, Genesis [Composer] (1991)
Ranger-X, Genesis [Sound operator for sound effects] (1993)
Silpheed, Sega CD [Recording, Two-Five] (1993)
Langrisser II, Genesis [Composer] (1994)
Crusader of Centy, Genesis [Sound operator] (1994)
Graduation II: Neo Generation FX, PC-FX [??] (1994)
Lunar Eternal Blue, Sega CD [Composer] (1995)
True Love Story, Playstation [Composer] (1996)
Monstania, Super Famicom [Composer] (1996)
Langrisser III, Saturn [Composer] (1996)
Classmates If, Saturn [Composer] (1996)
Langrisser I & II, Playstation [Composer] (1997)
Grandia, Saturn [Composer] (1997)
Langrisser IV, Saturn [Composer] (1997)
Lunar Magic School, Saturn [Composer] (1997)
Langrisser: Dramatic Edition, Saturn [Composer] (1998)
Langrisser V: The End of Legend, Saturn [Composer] (1998)
Grandia Digital Museum, Saturn [Composer] (1998)
Growlancer, Playstation [Composer] (1999)
Grandia, Playstation [Composer] (1999)
True Love Story 2, Playstation [Composer] (1999)
Lunar Silver Star Story Complete, Playstation [Composer] (1999)
Grandia II , Dreamcast [Composer] (2000)
Lunar 2: Eternal Blue, U.S. Playstation [Composer] (2000)
Mercurius Pretty – The End of Century, Dreamcast [Composer] (2000)
True Love Story 3, Playstation 2 [Composer] (2001)
Grandia II, Playstation 2 [Composer] (2002)
Grandia Xtreme, Playstation 2 [Composer] (2002)
Mega Man X7, Playstation 2 [Composer, 1 song] (2003)
Langrisser III, Playstation 2 [Composer] (2005)
Radiata Stories, Playstation 2 [Composer] (2005)
Grandia III, Playstation 2 [Composer] (2006)
Rogue Galaxy, Playstation 2 [Composer] (2006)
Sources
Grandia art appears courtesy of Galou.