Summer's right around the corner, and that means more time for games and everything Sega! Our readers have been plugging away at their Genesis consoles, and it never seems like they run out of things to play. That's what makes the Genesis so special. The library is so diverse, that there's always something new to find or a classic to revisit. This month's no exception, so read on Segaphile, and see what we've been up to!
Super Fantasy Zone By Ken Horowitz
The more time that goes by, the more I'm convinced that Sega needs to bring back Fantasy Zone. It was my favorite title in the Sega Classics Collection for the PlayStation 2, and there hasn't really been a bad game in the series at all. I even loved Fantasy Zone: The Maze on the Master System! Without a doubt though, my favorite one of all has to be Super Fantasy Zone. Sega of America amazingly passed on it, but thankfully there's a PAL version that's in English. It's got all the great, cutesy shmup action the franchise is famous for, but with a serious injection of 16-bit goodness. The Mega Drive entry also boasts the where-the-hell-did-that-shot-come-from split-second deaths from the first two games, but that's not a bad thing. The gameplay hasn't really changed since Opa Opa first flew onto the scene, but it hasn't really had to. Even after almost two decades, virtually no shmups do what Fantasy Zone does in quite the same way. It's unheard of for a successful series to avoid imitation for so long, but that just makes it all the more charming.
Sega's supposedly looking to bring back some of its older properties, and the list of potential candidates needs to be headed with a new Fantasy Zone. At least give us Super Fantasy Zone on the Wii's Virtual Console. C'mon Sega, don't let Opa Opa fade off into obscurity!
Ecco: The Tides of Time By Vince Thornburg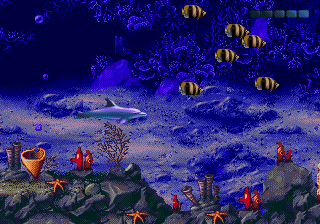 I recently acquired Ecco: The Tides of Time, and it brought back memories of times when I would rent both Ecco games from an old Video Castle because of it being talked about repeatedly in Sega Visions! They really went on about how the games were innovative and some of the best the Genesis had to offer. Well, I must have been just a little too young to appreciate it, because I could just never get into them before. Whether it was me just swimming around and not knowing what to do, or being scarred shitless when I jumped too high and the screen had an aneurysm. I pretty much just never played the Ecco games and figured they just weren't for me.
But now things have changed. Now that I've been able to play both titles with an 18-19 year old mind instead of a 8-9 year old mind, I can really appreciate just how great both are, with the swimming and the puzzles, and just knowing that this is a unique experience that you pretty much wont find anywhere else. It's actually made want to find Ecco Jr, even thought it's a Sega Club title.
Biohazard Battle By Rodger Swan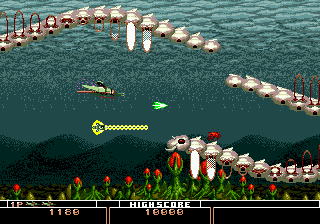 Twisted, toxic mutoids are terrorizing the planet AVaron, and while the story is quite strange, the gameplay in this 2D shooter is superb! I dusted off Biohazard Battle to play with my little brother, and we both found the difficult gameplay to be quite addicting. The four different ships all have different attack patterns, and there are lots of power ups to really give you a lot of variety in the attacks. Also, the drum and bass soundtrack is totally sweet and really adds to the weird atmosphere of the game. Biohazard Battle might not be the prettiest game ever, but the solid gameplay makes this one battle worth fighting.
Earthworm Jim: Special Edition
By Tom Briggs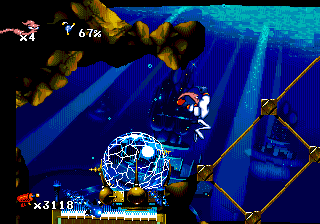 Stuck in my Sega CD this month is Earthworm Jim: Special Edition. For someone who has owned the SNES, Genesis, and CD version, I feel it is safe to say that this version is the absolute best rendition of Shiny's masterpiece. Because everyone is probably already familiar with the upgrades made to this edition of the game (longer levels, extra level, extra gun, etc…), I'll only comment on one upgrade: the soundtrack.
Earthworm Jim's soundtrack is something special. The first version of this game that I owned was on the SNES and honestly, I could zone out to the games wonderful music. Each level had its own sound, adding some inspiration to progressing through the various levels. I bought the Sega CD version MUCH later, finding it for $2 in a swap meet. "Might as well," I thought, "it'll look nice on the shelf." And when I first inserted the game into my Sega CD (just to make sure it worked), I was treated to one of my favorite soundtracks, just better. The high quality added through the CD format was amazing. Today, the game remains not on my shelf, but next to my Genesis. Where it will probably remain until the end of time.
Sonic 3D Blast By Joe Redifer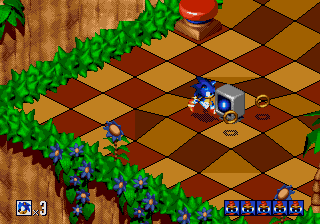 When Sonic 3D Blast originally came out I never bothered to play it. I rented the Saturn version instead, which surely had to be much better. A lot of people bag on this game, but in actuality it's really not that bad. It's definitely not as good as a true Sonic side-scroller, though. Years and years and years went by. I aged. I grew old. Finally I unscrupulously downloaded the highly illegal ROM for the Genesis version to try on an emulator once I heard that it had different music than the Saturn version. I was amazed at what I heard since the musicians for this game obviously went to the future and stole the music from Sonic Adventure on the Dreamcast to use in the Genesis Sonic 3D Blast. I was also amazed at the super-clean FMV intro (though it had a blocky effect like many of the finer games on the SNES).
Many more years passed. I grew even older than most humans are allowed to before they are euthanized, and yet I still had never played Sonic 3D Blast on my very own Genesis! So one day I bought it. The game was cool and the music stolen from Sonic Adventure sounded great. Then I got to the special bonus levels that I had never seen before in all of my many, many years. It had two layers of scrolling. The bottom layer scrolled like the overhead levels of Axelay on the mighty SNES. You only thought the SNES could do Axelay, but noooo. The Genesis and even the NEC SuperGrafx can do it (I've seen demos). And the top layer was true scaling and stuff like that… even better than Axelay! I called Konami and told them this, and they were ashamed. You want to know about the gameplay? Well it's kind of fun and it is fast, perhaps a bit too long (I don't like long, multiple stages in the same zone like all Sonic games seem to do). Worth having? You bet. $5 of pure fun.
Popful Mail
By Carl-Johan Brax
I recently played through the Sega CD game Popful Mail: Magical Fantasy Adventure. It is also released for the CD add-on for that console by NEC… What was the name again? TurboCPUx-8? And it was also released for the Super version of the Famicom, but none of those versions were glorified by the talents of Working Designs, like this one is. I've never ever before seen or heard such an annoying female protagonist as Ms. Popful Mail (not even Yuna from the Final Fantasy X series, which I'll come back to). She reminds me of my compatriot, Pippi Longstocking, with red hair, a bloody cocky attitude and a sick thirst for money. With her we have the overly polite magician Tatto and the blue monster Gaw. It is quite nice to be able to switch between these characters, so both the annoyance of the voice acting and the gameplay will be varied.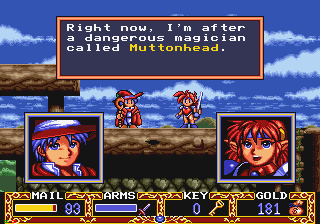 This is my third Working Designs game after the Lunar remakes for PlayStation, and it seems Victor Ireland's so called "directing" took some years before reaching that level of voice acting, because in Popful Mail, you will hear Italian and German accents and evil dudes' laughter making you shrugging more than you'd ever do when hearing the Besaid Aurochs chanting "Victory!" in Final Fantasy X. Another thing that bothered me several times was that you can't skip the voice overs by pressing any button. So, if you die at a boss, you must listen to his chant of how he's going to kick your ass and your character's reply, every time before fighting him again. Every time? Yeah, I died several times at a few bosses, probably because Working Designs took the liberty to make the game more "challenging," meaning you die after three hits. In Altered Beast, another great game which supports the technology of voice acting, you'll only hear "Welcome to your doom!" and then the battle fury begins, but not in Popful Mail, where a speech in the vein and accent of Hitler or Mussolini must be heard first.
Working Designs also used the totally brilliant idea of jokes referring to our own world, for example Melrose Place, Terminator, Donald Trump, and everything else you can think of that should not be in a fantasy RPG. I must say it is very good that we have the voice acting there after all, though. It can be quite entertaining sometimes, and it makes the game feel more alive somehow. I must also say I'm very impressed by the anime cut scenes, of which there are twenty minutes in total in the game. They are well drawn, lip-synced, and animated, but there could have been more colours.
It was Falcom that made Popful Mail, who also responsible for the classic Ys series. This game reminds me a lot of the third title in that series when it comes to gameplay, and also the Monster World series by Westone. If you like those games and own a Sega CD (OR a Mega CD with the Mega Cart) I suggest you pick this one up.
Alex Kidd in the Enchanted Castle
By Daniel Smith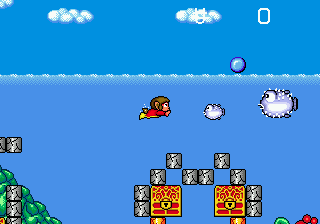 Writing about my dismal failure to complete Alex Kidd in the Enchanted Castle in last month's Reader Roundtable made me all the more determined to complete it. I finally achieved this goal and have regretted doing so ever since. My previous best efforts had taken me as far as the "To the Sky…" level, where I struggled with my sanity and the controls of the hateful helicopter. This month I overcame one of those obstacles and finally reached the castle. So after wandering through this massive God damn castle and being killed by the same stupid purple mouse more times than I care to remember, I finally reached the last boss. After beating him twice in the very irritating game of Janken, I finally got a real, actual, non-Janken boss fight. Of course, beating him was very simple as I still had my crappy helicopter remaining from the loathsome "To the sky…" level and following that came the most annoying ending sequence I have ever discovered. Apparently Alex's father (the king) wasn't captured at all. The word overjoyed is then used several hundred times as the sequence scrolls through some text. "How did you enjoy Paper/rock?" The King asks. I bloody hated it. This game is to be buried outside at a later date.
Cliffhanger By Tom Lenting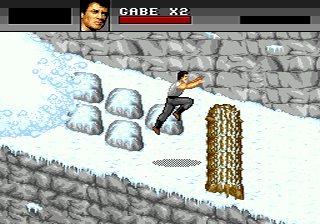 I like snowy games (even in spring or summer), and I don't mean Winter Sport Games. Just give me a regular platformer in which the stages are covered with snow and you make me a happy man. Don't ask me why; I just like the whiteness of it… it makes games look very clear and sharp. I played my one favorite snow stage, Ice Cap Zone in Sonic 3, so many times I almost know it by heart. So, when I'm looking for even more snow I plug in Cliffhanger once in a while – as a game based on a movie that takes place in a winter landscape, the player is guaranteed to see some digitalized snow! I admit that Cliffhanger is a very stereotypical licensed game. You just beat up the same guys over and over again, the controls are so-so, and it involves impossible jumps and once you die you've to start from the beginning of the stage, which is usually a huge and annoying way back. To be honest, I never even made it after the third level of the first stage in which the digital Sly has to run for an avalanche. Nevertheless, despite all the crapiness I somehow enjoy every short time I play Cliffhanger. I can't really explain why. It really must be the snow.
Light Crusader By Zack Young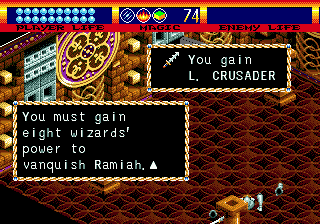 I never used to be able to stomach Light Crusader. So, recently, I went back to see if it was as bad as I remembered. I was surprised by the amount of enjoyment to be had in the game. The plot premise is simple but sets up an awesome dungeon experience, the magic system that's thrown in is fun to use, and the whole thing is creatively made. Unfortunately, you're given a few problems from the start. The game is played from an isometric view point. Sometimes such a viewpoint is very well-handled, and other times it's not. In Light Crusader, it's not terrible, but it can make moving very awkward. Even worse is the jumping, which requires very precise positioning, and there are times in the game when you have to complete a very simple jumping exercise that can take up to fifteen minutes or more. Also, when fighting enemies the hit detection is a bit sloppy. To add insult to injury, the plot advances very minimally and not at all for a certain amount of time. Despite that though, Light Crusader is worth playing. The plot is interesting despite being minimal. The dungeon, despite its irritations, is fun to wander around in, and the game is just generally well-made. The music in particular is superb. So, if you can get over the wasted potential and the flaws, you still have a pretty enjoyable package.
Panic! By Matt Frey
Imagine if every time you pressed a button on your cell phone, chose a channel with your TV remote, or even clicked a mouse, there was a fifty to ninety percent chance that it would backfire, filling your room with zoo animals, blowing up Mount Rushmore, or even sending you on a one way trip to visit Satan himself, who will promptly puke on you. This is the crazy concept behind Panic! (known as Switch in Japan), Data East's best contribution to any Sega system, and quite possibly humanity's greatest achievement. In the game, you're transported from scene to scene, where you pick from a set of a buttons on screen, press one and watch the consequences. That's it, and it's pure brilliance.
The Monty Pythonish graphics are a perfect fit for the bizarre action and the music adds to the humorous atmosphere. Sometimes, the high-quality tunes even establish real tension. Honestly, some of the scenes are actually harrowing to play though, like the one with a horrific alien standing before you, or the one with a Frankenstein monster lying dormant (but not for long!) in a gothic castle. And it's not just the scary scenes that can make the player a little uncomfortable. One of the best things about Panic! is that even in a normal scene like a snowy field or a motorboat on a sunny day, you'll still have the constant fear that you're going to press the wrong button and sumos will jump out of the ceiling and puke on you. Or your lawnmower will spin wildly out of control and eat your baseball glove, your house, and even your dog… and then puke on you.
But you're also afraid you might press the "right" button. The worst thing about Panic! is that you don't know which switches have gags, so sometimes you're teleported out of a scene without viewing all of the tomfoolery. That's right, you'll WANT to screw up in this game, because "winning" isn't half as fun as having a hippo in a tutu crush your poor character into a pancake, say something incoherent, and then puke on you.
In an industry increasingly obsessed with making video games so realistic that players can alter the texture of their character's shoelaces and are docked points for forgetting to trim Solid Snake's nose hairs, a game where you simply point, click, and pray is refreshing. Do yourself a favor and play Panic!. I promise it won't make you want to puke.