You can't keep a good character down, and the proof of that is in this month's MEGA Bites. Not one, but two Genesis characters are getting revived, and I have to say that it's about time!
You Can't Keep A Good Worm Down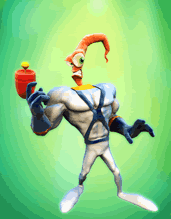 Last year we reported on the new Earthworm Jim game that was in the works for the Sony PSP. While that game never saw the light of day, Interplay hasn't let ol' Jim slither away. The company announced last month that it had signed an agreement with creator Doug TenNapel to bring the character back for another run. TenNapel will serve as the game's creative consultant, and he'll also be working to bring out a new cartoon series and even a feature film.
No platforms have been announced yet, but it seems that Interplay has finally overcome the financial hardships it experienced until recently. Now that there's some coin in the bank, it seems like the time is right to relaunch this brand, which has been on a slow burn for almost a decade. We'll be watching this one, and we'll have a preview of it as soon as more information is available. Hopefully ol' Jim will get a fair shake this time around and actually have his new game released. The video we saw of his cancelled PSP title looked pretty groovy, and I can't help but want to see this great character revived and successful once more.
Where's My Mask?
Splatterhouse fans rejoice! Rick is another 16-bit star on the verge of a comeback, and the latest issue of Electronic Gaming Monthly reports that there's a new installment in the works! Developer Bottlerocket (of Mark of Kri fame) is behind the project, which will appear sometime next year. Featuring artwork by famed comic artist Simon Bisley, this looks like it could be more than just an upgrade. Bottlerocket has produced some awesome animation in the past, and the treatment it could give Rick Taylor and his macabre brethren leaves us more than just a bit curious.
This new Splatterhouse isn't a sequel either, but rather a reboot of the franchise. There's some awesome action here folks, and you simply have to see the game in motion to appreciate how much potential this game has to rock. My favorite tidbit of info is that as Rick takes damage, he manifests it physically in different ways, from blood stains across his chest to actually being maimed down to the bone. Luckily, he regenerates his energy Halo-style, and the power of the Mask of Evil cures him of his injuries, allowing more gore in Rick's efforts to save Jennifer from the macabre Dr. West. Just check out this image from EGM to see how cool this looks! Did I mention that he still has his berserker mode?

Classic weapons also return, like the 2×4 and the shotgun, and some old bosses make a reappearance as well! Biggie Man, the vile creature with chainsaws for hands, is back, as are those nasty leeches. There seems to be no shortage of undead baddies for Rick to slaughter, and Bottlerocket really seems to want this installment to live up to its name. And I remember when we were all awed just by smacking enemies against a wall with the 2×4! We've come a long way…
We'll be interviewing someone from Bottlerocket soon, and rest assured, we'll be here with a full preview and a full hands-on when this bad boy is released! In the meantime, take a gander at the regenerating character model from the new game. Rick just seems to get meaner-looking with every sequel!
Old School Sonic Goes HD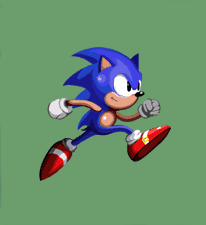 It was only a matter of time before someone decided to adapt one of Sonic's Genesis adventures for the high definition generation, and the current project is actually off to a good start. The five-man team behind this effort consists of lifelong Sonic fans who have a background that lends itself to this kind of undertaking. It's all still in the early stages, but what's there is quite impressive. The game is going to be done using a color system that allows 256 colors on-screen simultaneously, and everything's going to be based on the original game's colors but with four levels of lightning. Even the soundtrack's been remixed!
You have to admire the effort, and unless the team just ups and decides to abandon it (anyone remember Sonic Robo Blast?), this should have a great future. Unlike other companies, Sega has never killed a fan-made game. Quite the opposite, in fact, as it has actually hired fans and licensed fan-made emulators for its own use. If someone over at the House of Sonic is actually on the ball, this Sonic 2 HD would be an absolutely perfect fit for Xbox Live Arcade and the Playstation Store. Hear that Sega? Get on it!
We're Still Axing for More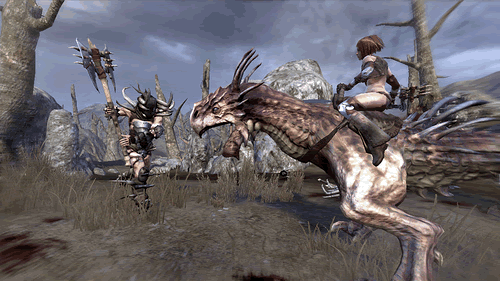 You no doubt know of the love we have for Golden Axe as a franchise, and it's with great anticipation that we're awaiting the new game due this summer that Secret Level and Sega are working on for the Xbox 360 and Playstation 3. Little by little, the game is coming together, and it's sounding more and more interesting with each update. Sega Blogs recently headed over to Secret Level's (secret?) headquarters to see how things were coming along, and they posted two new screens, one of which graces this post on the right (click to enlarge it).
According to blogger SegaDawg, no actual gameplay was visible, but he did manage to peruse a demo of Tyris riding a beast that boasted some nasty claws. He speculates that each of the several types of beasts of war that the Amazon warrior can ride, each with its own strengths and weaknesses, might have some specific use during the game, which would make for some interesting goal-oriented gameplay. He uploaded a ton of great pictures of his trip to Secret Level, and this has definitely whetted our appetites for more Golden Axe information. Stay tuned!
Earthworm Jim artwork property of Chandana Ekanayake.