Allow me to take you back in time, if you will, to a magical era. The year was 1994; all I cared about was video games (Genesis in particular), ABC's TGIF, weekends, and comic books. Yes, it was the early-mid '90s, a foregone era that is still cherished in my mind's eye. It was a simpler time, a time in which bowl cuts, flannel, the GAP, FOX Kids, and actual good shows on MTV were the order of the day.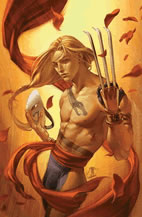 As a student in second grade, I of course did not have the luxury of purchasing video games I wanted myself. That responsibility fell squarely on the shoulders of my mother, who, thankfully for me, didn't give two thoughts towards video game violence. Yes, I was one of the lucky ones who never had to ask for games under the scrutiny of a parent worried about violent content. Of course, this would grow to be a bigger issue as the decade progressed, but never had I a worry towards it.
Anyway, allow me to paint the picture: as a huge fighting game fan, for nearly a year I had been craving Street Fighter II: Special Champion Edition for my beloved Genesis. A big fan of the game at the arcade, I had an aching desire to own it for play in my own home. It had eluded me the previous Christmas, and with the 1994 holiday season swiftly approaching at the time this tale begins, would it elude me once more?
My school had a little program called the "Secret Santa" every holiday season. But no, this isn't what you think. It's not like the Secret Santa workplaces all over the country partake in every year; this Secret Santa was aimed at us, the students, to buy gifts for our family. One magical day each December, we were led to a top floor room in the school that was redecorated to resemble a store, and we could go to town buying stuff for our loved ones. Of course, our loved ones were the people that gave us the money to spend in the first place. But hey, it's the thought that counts, right? Back then, I thought it was wonderful. It was like an all-in-one department store in my school for one day a year. Looking back, it kind of reminds me of an even lower quality Salvation Army.
Armed with $50 handed to me by my mother, that December day in 1994, as my class trod up to the Secret Santa store, I was thinking of what I could get my family members. There was never really anything cool for kids my age at the store, so I figured I'd get my grandmother a cookbook; my grandfather a coffee mug, my mom some perfume, and maybe a CD for my sister. That'd be relatively simple with the budget I was mandated. And hey, maybe I'd have enough money to sneak in a little something for myself.
With my best friend Jon at my side, who was my partner in gaming from the Genesis through to the early days of the PS2, we set about adventuring the store so sloppily set up in the large classroom. I saw a $10 jacket that was very similar to the kind my grandfather always wore, so I snatched that up. There, $40 left. We turned a corner amongst the aisles of goods (all set up on various tables and desks), and I stopped in my tracks before a table with a shelf of Genesis games.
Front and center: Street Fighter II. Price: $50.
I was shocked, excited, and jealous, all at the same time. Why? Why did I have to be faced with this terrible decision?! There it was, my top-priority game, ready to buy, most of the money in my pocket. But I couldn't just return the jacket and use all this money on myself, could I? That'd be immoral, wrong, and petty. I wouldn't do that, would I?
Of course not. I'd steal it instead.
Let me now say that I'd never do something so stupid today, but as a child the severity of such an underhanded trick escaped me. I think I've obviously grown a great deal as a person, but it's a shame I was such a little conniving ass. Well… shame on the one hand, a slice of evil genius on the other. Anyway, I quickly whispered my plot to Jon. "I'm going to take it," I said.
A hushed gasp was his reply. "You can't take that, you'll be caught!"
"I need it!"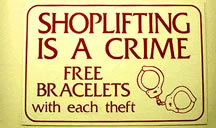 I walked closer to the Genesis "display" and looked it over. The real bitch of it all is that I clearly remember Aerobiz Supersonic being there as well, but such a dull-looking game didn't matter to me at the time. Why manage an airline when I could unleash the awesomeness that is Vega? The first thing I noticed was that none of the games were shrinkwrapped — these must have been used. I smiled at this revelation.
"Cover me!" I cried in a loud whisper. Poor Jon didn't know what else to do, so he quickly shuffled in front of me, blocking me from view. In a swift motion, I opened Street Fighter II, snapped out the cartridge, pocketed it, and put the case back where it was. The deed was done. No one would notice that a game had been taken until it was too late, ha ha! Sure, I'd be without the box and manual, but the game was the most important part, right? There was no one around to have seen the transaction. There was but two cashiers – both school secretaries – and my teacher who was roaming about, but other than that, no one but us kids. I had stolen something. I don't know where my school got this stuff, but I had just made out like a bandit… which I sorta, uh, was now.
"I can't believe you just did that," Jon said to me. I quickly and gleefully told him that I now had in my possession the game I had wanted to own for so long, and could still get my family presents, to boot. The cartridge was resting in my jeans pocket; only a slight outline would reveal it to someone looking for it.
I bought my family the gifts I had planned on. A TLC CD for my sister (lawl), a cookbook for my grandmother, a hat for my uncle, and something I can't remember for my mom. All paid and accounted for. With only $3 left, I looked to Jon, who himself had bought his family some nice gifts. My teacher had yet to wrangle the class to finish up and leave, so we had some time. We walked around a bit, looking over other items, when it happened.
Boom. I tripped over a stick of some sort, and went crashing down. I heard a crack in my pants pocket. I just broke Street Fighter II. To complicate matters, my teacher came rushing over, wanting to see if I was okay. Trying to shield my pocket, I tried desperately to shoo her off, but she wouldn't leave. Thankfully, she eventually was convinced I was fine and walked off, with me paranoid the entire time that she'd discover my evil deed. Jon and I rushed aside and I whipped out the cartridge to inspect the damage. The plastic was extremely cracked and the connectors rattled; it was though, in all likelihood, still playable. But I didn't care, I was now terrified. We rushed back to the Genesis kiosk and I, shaking, placed the game back in its box. It's a miracle I wasn't caught.
Christmas Day 1994, my family liked my gifts. And I liked what my mom got me: Street Fighter II: Special Champion Edition. Yeah, my greedy ass would have had two copies if I hadn't chickened out. I still feel bad, though, to this day, and I hope that someone out there doesn't still have that copy of Street Fighter II I tried to steal, cracked plastic and all. If they do, I'm sorry.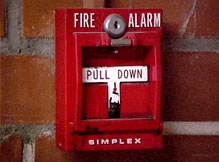 I have a sordid history with Street Fighter II, by the way. While not directly linked to the Genesis, I believe a quick anecdote should be made here regarding another memorable experience of mine. I think it was either 1993 or 1994, I don't exactly recall. My local arcade (which has since been long shut down) held court to a most fantastic of events: a town-wide Street Fighter II tournament! Of course, kids of all ages showed up to participate. I got fairly far into the tournament (using Balrog, as my favorite character Vega had yet to be made playable on the version of the game my arcade had. Damn them!) when I was bested in combat. Not just any defeat, as the little bastard wouldn't stop spamming the same move over and over. I'd been had! Of course, in this day and age I wouldn't really care and would just blame myself for not playing better defense, but no! My childhood temper took over and I… pulled the fire alarm. Yeah I don't know why either. But what a sight it was! I single-handedly ruined every body's fun just because I was upset at losing. Yeah, I was a little bastard. I know, and I apologize. But at the time, I had the ever lovin' wits scared out of me, because I was frightened I'd be caught. But I wasn't! Score one for the horribly tempered child!
There's a moral to the story, of course. Stealing's bad, don't do it, unless you're sure you can't be caught. I jest! I've never attempted to or stolen anything since (though I hadn't before, either). Also, don't pull fire alarms, kids. It may be a classic standby, but it… well, it is pretty funny, actually.