Sega To Finally Stay on XBLA?
After releasing only a handful of titles on Xbox Live Arcade, Sega upped and vanished from the service like flatulence in a hurricane. Just when we were getting spoiled with playing goodies like Streets of Rage 2 and Golden Axe with online co-op and achievements, Sega left us hanging. Now, it seems like the House of Sonic is set to make a comeback, as a few new titles have already popped up on the service, and more seem to be in the pipeline.

We reported on the ESRB ratings of such games as Gunstar Heroes, Sonic The Hedgehog 3, and Comix Zone in our last installment of MEGA Bites, and by the time you read this several of the games are already available for download with a future line up rumored to have been expanded to include Shinobi III. Just how much truth there is to this story remains to be seen, but considering that Sega has recently released Gunstar Heroes, Sonic The Hedgehog 3, Altered Beast, Phantasy Star II, and Comix Zone, we can't help but think that the company has finally decided to stick around for a steady flow of games. Hey, they can't all go to the Virtual Console! The company is already off to a good start by letting the fans pick the newest title via a poll. It looks like ToeJam & Earl will be getting some of my Microsoft space bucks! Stay tuned for an upcoming installment for Genesis Live Arcade for the lowdown on those titles just released.
And regardless of what happens, one thing we can say for sure is that we're not buying Altered Beast again.
Splatterhouse Bled Dry or Just Delayed?
Namco recently – and abruptly – ended its working relationship with BottleRocket, the developers of the upcoming Splatterhouse reboot. No one knows what really went down, but the game was rumored to have been handed off to the same team that gave us Afro Samurai. This was Bottlerocket's only project, and Namco is said to have just shown up and whisked off all the dev kits and resources used on the title. "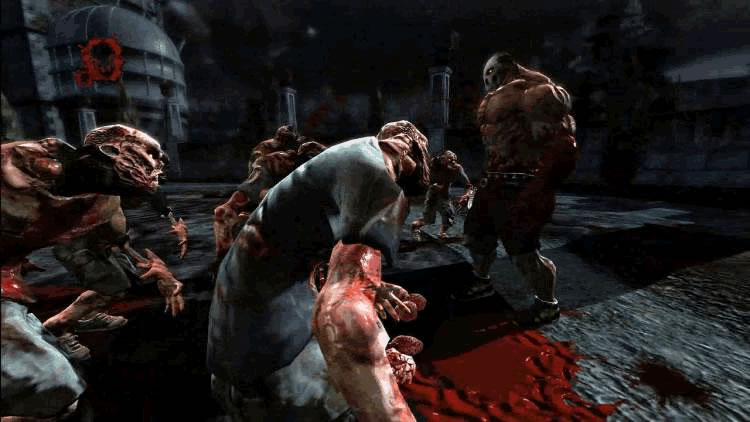 Yes, we have decided to part ways with BottleRocket Entertainment," Namco told the press, "but we are committed to bringing Splatterhouse to the Xbox 360 and PlayStation 3 later this year. At this time, we are not ready to discuss specific development details about the game and wish BottleRocket the best of luck in their future endeavors."
And BottleRocket? The company assured its fans that it's not going anywhere, despite its falling out with Namco.
"BottleRocket wishes Namco the best in completing their project.
The BottleRocket development team is looking forward to turning their attention to a new project soon to be announced." is the official line, but the company as a whole is seemingly off the project for good. However, Namco recently hired back several Bottlerocket members to complete the game, so it seems that the two sides have put down their 2x4s and finally decided to make this thing a reality.
The fact that Namco pushed it back to a 2010 release and that there was no Splatterhouse presence at this year's E3 caused some worry among fans, but friend site the West Mansion recently interviewed the game's lead artist and co-producer, who have assured us that it's still alive and splattering. We'll keep you posted as details come in.
New Nomad: Still Coming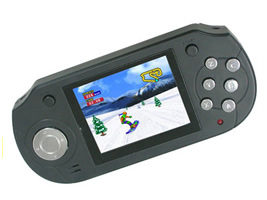 This year's E3 brought an unexpected surprise in the news that a company called Innex is set to release a Genesis handheld that actually played cartridges. Reported to be compatible with the company's own Genesis clone, the Firecore (formally known as the Firebox), the ideally christened Retro Gen isn't licensed by Sega itself. However, the Firecore, along with Innex's other hardware, the Mega Drive Handheld (another portable with a built-in selection of games) is indeed licensed. While it seems odd to us that the machine most gamers are undoubtedly waiting for lacks a Sega endorsement, the actual release of a true heir to the Nomad is a mighty fine thing to look forward to, and we can't wait to see the whole package.
It should be pointed out that none of these machines are being manufactured by Innex itself, though the company does have exclusive distribution rights. This means that a lot to remains to be seen regarding compatibility issues. The good news is that the Firecore is brand new hardware that supports SD cards and wireless controllers. The Retro Gen is reported to be SD compatible via a special cartridge, and both will support new, original software. What kind? That remains to be seen, but we're keen on finding out!
Several sites, such as Gamesboro, are already taking preorders for all three units, and there's a buzz going around for these items already. Our talks with Innex's PR have been fruitful, and though the Retro Gen has been pushed back to around mid-September (from an original July release), we're aiming to have some major coverage of it and all the new Genesis-related machines coming our way. The thought of a portable Genesis with a modern screen and rechargeable battery seems almost like a dream come true, so stay tuned to Sega-16 for more information on this great new hardware as it becomes available.
ROMs for Everyone!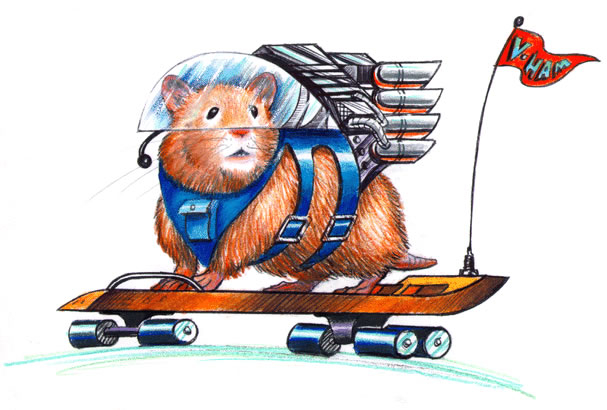 This summer has seen a great deal of movement on the unreleased ROM front. Two famously unfinished 32X games, Virtua Hamster and X-Men, were recently dumped by fansite Sega Saturno, and it's quite possible that the infamous Lobo fighting game might finally be making an appearance. The first two titles were early alphas that were put up for auction after being dumped, and Lobo is reportedly 100% completed. Steps are being taken by the retro community to purchase the ROM for Lobo and dump it, as the was done with the two 32X games.
Virtua Hamster was quite early and lacks collision detection, among other things. Sega-16 has been talking to creator Eric Quakenbush, and a full article on its development is forthcoming. We're going to tell the complete story behind this intriguing little game that was suddenly canceled by Sega as the first installment of a new feature series on unreleased titles, and we've gone straight to the source! Thankfully, Virtua Hamster is playable in emulators such as Kega Fusion, so check out the page at Sega Saturno for some great screen shots and a download link at the bottom.
X-Men isn't playable via emulator, and so far only flash carts have been able to get the job done. The game is considerably unfinished, but there's more than enough there to see what was done and working. Those of you with flash carts can check out its page and see what all the buzz is about.
Click for larger images!
Lobo is an exciting prospect, because it was actually completed and slated for release on both the Genesis and SNES. For some reason, it was canned at the last moment, and the game has been something of an phantasm for more than a decade. If this ROM gets dumped, everyone can finally play it, and using a flash cart means you can duke it out with a friend on actual Genesis hardware! More on this as it develops.
Early Bird Xbox 360 Gets the Worm (First)
It only took a few years, but that Earthworm Jim remake we first mentioned way back in 2006 is finally going to get released later this year- for Xbox Live Arcade, the Playstation Network, and WiiWare. Interplay and developer Gameloft recently confirmed that they would bring the famous invertebrate back as a remake of the original game and not an entirely new adventure, as had been speculated since the Sony PSP version became vaporware. Moreover, it will remain an Xbox Live Arcade exclusive for exactly one month before slithering onto the PSN and Wii. Gameloft's press release also mentioned that the new Earthworm Jim might also come to cell phones, and that would definitely be a good thing since the only portable version ever mentioned was cancelled. The iPhone and other models will get the same game as consoles.
Not much else is known about the remake, except that none of the original team is involved. "We are delighted to partner with Interplay to bring Earthworm Jim to multiple downloadable platforms," Gameloft senior vice president said.
"The game, with its humorous and edgy style, is a great fit for today's gamer who craves a fully immersive experience that is fun and easily accessible. We look forward to delivering a fantastic game."
We can't wait to see how this turns out, but we'll have to be content with these screen shots from Macnotes.de until something more substantial appears. Enjoy!
Click for larger images!