We kick off the first installment of Reader Roundtablefor 2010 with a milestone. This is our fiftieth article! Yep, for fifty months in a row we've sounded off about what we're playing, and we're just getting started!
Chiki Chiki Boys By Ken Horowitz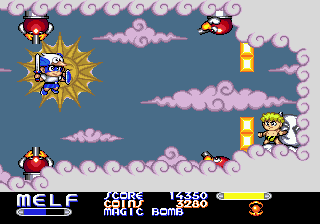 It's taken me the better part of two decades, but I finally… finally beat Chiki Chiki Boys. I've always loved this game for its bright and colorful graphics, as well as it's excellent Monster World-style gameplay. It's darn long though, and there are only a specific amount of continues. I'd always relied on the swordsman twin, but it's with the magic user that things really work out. Just upgrade your sword and your magic will zap bosses like supernatural Raid! The Genesis port is extremely well done and faithful, and anyone who wants a nice action game with very light RPG elements need look no further. This one's a keeper.
Streets of Rage 2 By Christian Matozzo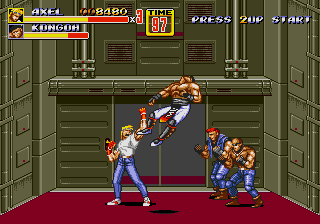 This here is the king of beat-'em-up games. Streets of Rage 2 as a whole is practically flawless, and it will never get old. I can see myself popping in this game years from now for sure. I just got this a couple of months ago, and after having the Game Gear version for years and years (which I also love), I can say that this is definitely a crown jewel in the Genesis library.
Everything about this game is just great. The gameplay is diverse with plenty of punches, kicks, special moves, and throws. Not to mention all the weapons you can kick butt with! Bust some heads with a lead pipe, or slice and dice those thugs with a katana. And the music! The music is just absolutely fantastic. It gets me really pumped and ready to get out there and take out some punks. Yuzo Koshiro really just hit one out of the park with the sound in this game. Well, it looks like it's time to clean up the neighborhood and save Adam. Mr. X, I'm coming for you next!
Taz in Escape from Mars By Sebastian Sponsel
Jubilee! The fiftieth Reader Roundtable! It's some kind of anniversary! But how to commemorate such a glorious event? To go with the occasion, I decided to play my fiftieth Genesis Game! Well, to be honest, In actuality I just stood before my collection of games, randomly counting through them and picking up the fiftieth. That's how I came to play Taz in Escape from Mars in January.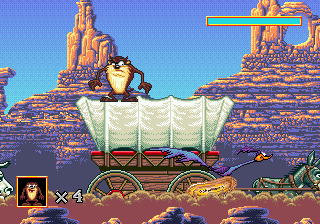 Actually I never had played this game before. I once bought Mortal Kombat II off an Internet store. Upon opening the package, I found that the manual was missing, and that as an apology the guy I bought the game from had included Taz as an apology. After playing the game I must say… I still feel ripped off! The game is kind of fun, and the graphics (especially later on) are pretty nice, but the controls are horrible! The jumping is awkward, and using the spin attack makes you constantly run into obstacles without seeing where you are going. Add in some confusing level design and an uninspired soundtrack, and I get the feeling that maybe the seller tossed this game in for free because he couldn't get rid of it otherwise… no one would buy this junk on purpose!
If anyone wants to trade his manual of MK II for this game, feel free to contact me!
Last Action Hero By Doug Jackson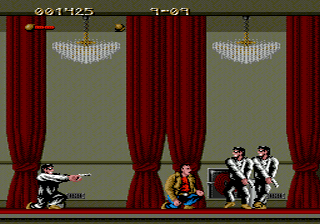 Many of you may wonder why I would choose to write about a game that I trashed so badly in an earlier review, but I recently got a hold of some Game Genie codes for several of the obscure and bad games in my collection. I was never able to see the ending in Last Action Hero, and it's because the game sucks (it's pretty hard too). It's a bad game with four platform beat-'em-up stages and two top down driving stages that are far harder than they should be due to poor collision detection. I don't know what it is, but the more obscure and crappier the game is makes me want to see the entire game just because I'm so curious about these games that have no coverage on the web.
Last Action Hero redefines the meaning of crap. The game is worse than the crap movie it's based on, but out came the Game Genie, and after quite a while I finally finished it. I wonder just how you are supposed to defeat without cheating the helicopter in stage four that you have to kick missiles back at to destroy. It just seems impossible. As I went on I got to experience some of the most repetitive platforming and fighting seen in the Genesis, but perseverance paid off, and I got to see the ending… finally. It was decent for a trash movie license, and in the end I wound up having a fun experience for some reason or another. I still wouldn't attempt this game without cheating and would never recommend it at all, because at its heart it still sucks!
Jewel Master By Jackie Bogard
I was out with a friend looking at some loose Genesis carts, and I saw a game that I had long forgotten about. I use to play this game back when I was younger but didn't like it, and that game is Jewel Master. I was hesitant about purchasing it, but it was cheap. so I plopped down the money for it.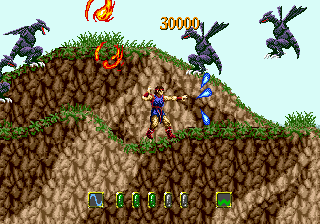 When I got a chance to sit down and play it, I was amazed about how much fun I was having. Jewel Master was much better than I remembered from years ago. The main character reminds me of a guy that belongs in a Castlevania game! Basically, you collect rings and combine them to make different powers. Alone, they each have their own ability (flame, high jump, double jump, etc.). The graphics are not bad (I love the scrolling clouds and how the ice looks), and the characters look good and are decently detailed. The main problem is that the animation could be better.
However, if you're looking for a fun arcade-style action/adventure type game, I recommend Jewel Master. I have to say its up there in my top ten on the Sega Genesis now, and I love it!
Sonic The Hedgehog 3 with Knuckles By Tiido Priimägi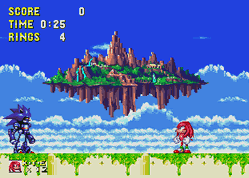 Sonic The Hedgehog 3 (with Sonic & Knuckles) is the game of the month in my place. The reason? This game puts its prequels to shame, and my über powerful TMSS bypass mod corrupted the saves. I had to make it über jawusum in order for it not to crap out because of the awesomness of Sonic 3 (& Knuckles). Now I get to play all my games without the worthless five second wait and do it without having problems with my favorite game of all time. To celebrate, I will be playing through the game fourteen times in the near future. Sonic 3 (& Knuckles) is THAT jawusum for me!!!
Fatal Labyrinth By The Coop
On paper, it doesn't sound like too bad an idea. Take a game, and make it randomly generate thirty dungeons. Then have it randomly place monsters, weapons and traps, and even shuffle around which potions do what… all in an attempt to give the game a lot of replayability. Not a bad concept, right? Unfortunately, during the process of going from concept to game, something didn't quite work out with Fatal Labyrinth.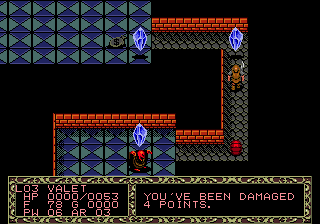 Long stretches of worthless weapons, traps that you get no clues about where they are until you fall through them, an awful lot of attacks that miss… it's a bit of a mess at times. As if that weren't enough, there's the music for dungeons ten through nineteen and twenty through twenty-nine. The two songs for these stretches are quite literally nine seconds long. NINE FRIGGIN' SECONDS! Do you know how many times you'll here that loop as you play through ten dungeons? Sweet Jesus… it's enough to make you want to plunge an ice pick into your ear and try to scrape the mental stamp of them away. When you hear a tune on the radio that has a similar note progression, you'll break into a cold sweat as you feel a panic attack coming on. These songs will haunt your dreams!
The sad part is, this little game could have been better. More planning so weapons fit better with what level you were on, a bit more memory so the music wouldn't have been so overlooked, at least some kind of item or spell that could be found which would reveal where those pits are placed on a level… not having monsters constantly cast sleep on you so you watch your health vanish in seconds. You know, little things like that. It would have made quite a difference. Instead, we got an average game that has some significant issues that keep it from being as fun as it could have been. The randomness concept is cool, and some of the little touches (like moving slow when you overeat) aren't bad either. But they get lost in the problems this game has.
Now if you'll excuse me, I'm going to try and erase those nine-second-loop songs with a steady, rhythmic beating of my forehead against the sidewalk
Super Hang-On By Aaron Wilcott
Most of us Genesis fans save time for those classics we all like. For me I try to play Super Hang-On whenever possible. There's just something relaxing about driving at blistering speeds through USA or Africa (depending on my tastes) while listening to "Hard Road" or "Winning Run." If I want to spend a few minutes playing, I'll choose arcade mode. If I have an hour or two to spare, original mode is my choice.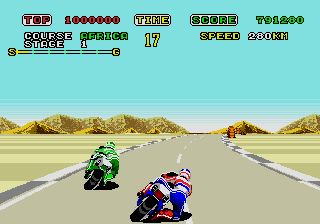 I don't know what it is about this game, maybe it's because I'm a huge racing fan, or Super Hang-On is just really awesome. Original mode is always refreshing, race fast and hard against a particular rival to make big bucks only to spend it on your bike to make it even faster. It gets a tad hard when you face your second rival but keep going and you'll do fine.
When ever I crash, I just see it as an opportunity to see "how low can you go," so to speak. I don't think a broken muffler does anything, but brakes sure do! A broken chassis means you're out of the race, so I don't go that low! Of course, maintaining the bike can be fun too, especially if you want to win.
I don't have much else to say about it. Actually, there isn't much to say about crusin' down the road anyway. It's just… Relaxing. Especially in USA with the street lights.