For Sega fans, the company's arcade heritage is not only important, it's at the heart of what made it so great during the '80s and '90s. It was always a treat to wander into an arcade and stumble upon the newest arcade machine by the wizards at Sega. Many of those classics were ported to the Sega Master System, and chances are, you've played at least one that was either made or directly inspired by a true Sega legend, Steve Hanawa. Creator of the hit game Turbo, his elements of his work eventually found their way into games like Astro Warrior, Transbot and Ghost House.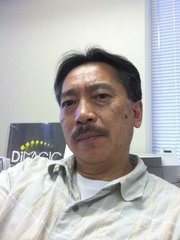 A Sega veteran for more than a decade, Hanawa was involved with Technopop, the first independent U.S. developer of the Genesis and makers of Spider-Man vs. the Kingpin and Zero Tolerance. He was also in charge of the Sega newsletter, which evolved into Sega Visions magazine, and he lent his talents to several other behind-the-scenes areas of Sega's business. What most people don't know is that Hanawa was directly involved with attempts to get Tetris  released on the Genesis, a feat that was accomplished but quickly discontinued when Sega discovered it didn't actually own the home rights to the game. He was also instrumental in bringing Columns to the console, giving puzzle fans some solid respite from their Tetris withdrawals.
We were able to chat with Mr. Hanawa for a bit about his time at Sega and his work on the Genesis.
Sega-16: You had already been at Sega for quite a while when the Genesis  debuted, having been heavily involved with the Master System's debut.  What were your initial impressions of the new 16-bit hardware?
Steve Hanawa: It was very powerful machine at that time, almost close to the generic arcade board.
Sega-16: Were you sad to see Sega move away from the Master System?
Steve Hanawa: Not really. We all knew the reasons for the failure of the Master System, such as lack of good games, including support from 3rd parties. So we wanted to have strategic marketing for Genesis.
Sega-16: After seeing how the Master System fared against the NES, due to  Nintendo's strict licensing agreements, did you think the Genesis  could actually be successful against Nintendo?
Steve Hanawa: Yes, I think so. Not like the Master System, Genesis was supported by many third parties
Sega-16: Sega of America's game development operation was pretty small in  1989, with most titles coming from Japan. Things seemed to really  change when focus shifted from the Master System to the Genesis. What  was the atmosphere at the company like during this transition in  hardware?
Steve Hanawa: Sega Japan realized that Japanese arcade/action games were well accepted by the U.S. users, but they demanded different game tastes in different gameplay so that Sega of America expanded Genesis games development for both of in-house as well as third parties.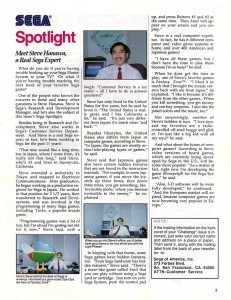 Sega-16: You have an extensive list of Sega arcade games to your credit,  with hits such as Turbo in the arcade and Ghost House and Monopoly on  the Master System, so it would seem logical that your programming  experience would have been used to make or port games to the Genesis.  However, at the time you mostly worked in customer service and writing the Sega Newsletter. Why?
Steve Hanawa: I oversaw three divisions at that time, including the customer service, warranty repair, and product development. Obviously, we didn't have many resources in-house.
Sega-16: Did you think the Sega Newsletter would ever grow into an actual  magazine, Sega Visions? What did you think of SV overall?
Steve Hanawa: It was helpful and the only communication tool between Sega and users, since there was no Internet available.
Sega-16: Tom Kalinske seems to get most of the credit for Sega's success  with the Genesis and people don't seem as ready to remember the work  done by the previous SOA president, Michael Katz and his team. Do you  think Katz deserves more credit?
Steve Hanawa: Yes.  Even though Michael was at SOA a short time, he helped the transition of moving sales and marketing back to Sega from Tonka Toys.
Sega-16: How did the staff react when Katz left?
Steve Hanawa: Well, we had been getting used to having bosses for a short period (Bruce Lowry, Tonka, Mike Katz, Mike Stroll etc.).
Sega-16: You were involved in Sega's decision to license Tetris, which we  know was pulled when the whole licensing rights scenario exploded. How  much importance did SOJ put into the game's Mega Drive version? Was  Tetris seen as the potential monster hit that it turned out to be, or  was it considered to be just another game?
Steve Hanawa: I introduced Tetris to Sega Japan, when I was developing Monopoly in San Francisco using the contract developer. Next door, the Monopoly team was working on Tetris on PC, so that I had a chance to play the working version of Tetris there. Since it was so addictive, I brought it to Sega Japan to license and they took it; however, as you know Sega found out they didn't have a [legal] consumer right from this license route.
Sega-16: When the Tetris deal fell through, Sega went with a game of its  own, Columns. How do you think it stands among puzzle games of the era?
Steve Hanawa: Columns was another game I brought to Sega of Japan. A friend of mine found this game from the 'net and asked me my opinion and I jumped in. Since Tetris was a big hit, I was always looking for the next Tetris title. So my friend found Columns at a website, and it was shareware.  I played the game and I introduced it to Sega of Japan for their evaluation. Their decision was to get the all of rights for the game from the original designer/programmer,  so Sega was able to obtain it.
Sega-16: You worked on a few Genesis games after leaving Sega, including  some that never saw release. Tell us about Spellcraft: Aspects of  Valor. It's said that many aspects of it ended up in Electronic Arts'  The Immortal.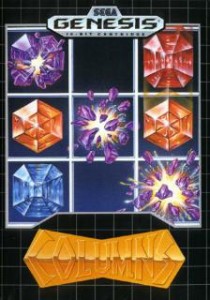 Steve Hanawa: We developed several Genesis games at ASCII, including the driving game licensed to Sega Europe and a soccer game. Unfortunately, we never completed the Genesis version of Spellcraft. We were developing the NES version internally at ASCII Entertainment Software, but the project was cancelled due to financial issues.
Sega-16: Sega is a company founded on hardware, be it arcade or console,  and you were involved in a major part of that history, like its  pre-crash arcade games and the Master System itself. How do you feel  about Sega leaving the hardware business and focusing on software  only? Do you think it could ever return with a new console?
Steve Hanawa: I started to work at Sega as a hardware engineer, so I was so sad when Sega abandoned the hardware business; however, I understand it required a lot of investment to develop and market hardware, and Sega didn't have much fuel for that.  I don't think Sega will go back to the hardware business.
We greatly appreciate Mr. Hanawa taking the time to chat with us!