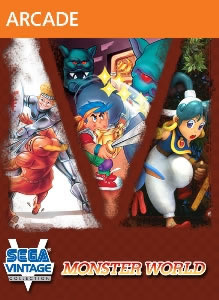 Last year, it was announced that Sega would be bringing Monster World IV to the Wii Virtual Console and Playstation Network as part of a new wave of games in the Sega Vintage Collection. Though already translated by fans for use with emulators and flash carts, Genesis owners were especially excited about this release due to the fact that this translation is being done by Sega itself. Monster World IV marks the first time Sega has localized a Genesis game for western release since the Genesis itself was still on store shelves, and the amount of attention the company was giving this Japan-only gem sent a wave of good feelings through the retro gaming community.
Well, it gets better. It turns out that this 16-bit masterpiece won't be coming over alone but instead as part of a mini collection that also includes Wonder Boy in Monster Land and Wonder Boy in Monster World. That's virtually the entire Monster World saga in one package! We're disappointed that the phenomenal Dragon's Trap/Dragon's Curse isn't included, but this is already much more than anyone expected. For Sega to localize such a beloved title after so long and bundle it with two of its classic action/RPG games is just too good a deal to pass up.
Surprisingly enough, the first details of this set are for a version that wasn't previously announced. Scheduled for release on Xbox Live Arcade on April 25, 2012 (most likely a tentative date), the Monster World collection offers more than just a ROM set. The Xbox Live Arcade version features several additional bonuses, such as achievements, brand-new trial modes, sound tests for each game, leaderboards, and the ability to record and upload your gameplay sessions. This last feature is really intriguing, as it will let players see other gamers in action, showing off skills and shortcuts and the best way to defeat the many bosses in the series.
The games themselves seem to be unenhanced, save for the typical filters added to retro games today for play on high definition sets. Developer M2 (makers of the many of the Sega Ages collections on the Playstation 2, as well as the great Rebirth series of games on WiiWare) hasn't elaborated on what types of filters or other visual options will be made available, but one can be sure that fans and gamers will definitely be evaluating the overall emulation quality to determine accuracy.
We're very excited at this release and will be sure to give it a complete hands-on when it drops in late April. No price has yet been announced (we're hoping for $5 like Sonic CD!), but hopefully it will be under $15. It's also nice to see that the Sega Vintage Collection line hasn't been forgotten. Could this be the start of a resurgence? Might we see future collections with Alex Kidd or other classic series?
It's going to be tough waiting this one out, but until it comes out, take a gander at the screens below and get ready to save Wonder Land once more! We had to be quick and grab these screens, as Microsoft has apparently taken the page down. Perhaps someone jumped the gun on this announcement and made it visible on Xbox.com when they shouldn't have?