Few franchises on the Genesis have the love of gamers like Electronic Arts' Mutant League games. The two games, football and hockey, have garnered quite the following over the past 20 years, to the point where creator Michael Mendheim is constantly asked about when he's bringing the series back. He's always commented about how fond he is of the games and how he wishes Electronic Arts would do something with the property. The company has never really expressed any interest thus far, all he has been able to do is lament and ponder…
… until now.
The gaming planets have aligned, and the gods have smiled upon athletic mutants everywhere. A combination of factors has now made it possible for Mutant League to live again, just in time for its twentieth anniversary. First, Mendheim is tapping the power of Kickstarter to gain the funding needed to make the project possible. Second, Electronic Arts' lack of attention to the series has resulted in its trademark expiring (it's been considered a "dead trademark" by the U.S. Trademark and Patent Office since 2001), offering Mendheim a chance to bring the series back.
The newly-launched crowdfunding campaign has a goal of just under one million dollars, which would allow the new game to appear on Xbox Live and tablets (for backers of $30 or more)  if reached. Currently, it's slated to come out for Android and iOS, as well as PC (for backers of $15 or more). To create a product worthy of the name, Mendheim has assembled a team that includes talent that has worked on Phineas and Ferb (Jay Lender), the comic books Lobo (Simon Bisley) and Weirding Willows (Dave Elliot). The balance of action and humor is central to the series' personality, and Mendheim is certain that his crew can capture the classic charm of Mutant League Football.
The new game, titled Mutant Football League, features characters loosely based on real players and teams in the NFL, using an almost satirical style to portray their mutant versions. Unfortunately, none of the players or teams from the original game will return. While there will be notable differences in the aesthetics, the style of gameplay that made Mutant League Football so popular will remain intact. Players will still be able to kill their opponents, and the playfield will still be littered with hazardous obstacles. The game will boast single game, full season, and playoff modes
Via the Unity engine, an affordable platform that makes cross-platform publication easy, the new title will bring the series into the modern age. Things are still in the pre-production stage at this point, and should the Kickstarter campaign be successful development will kick into full gear. Fans are encouraged to submit ideas of what they would like to see and offer feedback, and a private online community will be created for backers so they can share their ideas with the developers. Mendheim has been planning this comeback for two decades, and he's aiming to make the game fans have been waiting to play.
Mutant Football League  has a set goal of $750,000, and if there were ever a Genesis revival that deserves to achieve its goal, it's this one. For more information on this reboot, head over to the official Kickstarter page and check out what could be the game we've waited for all these years.
UPDATE (9-18): We got to sit for a spell with Michael Mendheim himself and ask about Mutant Football League.
Sega-16: It seems like there was a unique combination of events that made certain this revival would happen. Were you surprised to finally get the chance to bring Mutant League back, or were you waiting for the right window?
Michael Mendheim: However, the press and fans of the original game have kept the idea alive through blogs, reviews, articles and online surveys – some fans even wrote and asked me to do a Kickstarter campaign. After enough prodding, I realized it's the twentieth anniversary of the original game, and what do I have to lose? The timing just feels right to me. So, here we are and now it's up to the gamers. If they want us to develop the game, they will need to get the word out and back to us.
If we can raise enough money, I'll give everything I have to put together an incredible team and deliver the backers a great playing football game with deep strategy, buckets of blood and plenty of off-the-wall moments that will make it one of the most fun experiences they will ever have playing a sports video game.
Sega-16: Electronic Arts seems to have little interest in the property. Is this what made you decide to go with Kickstarter? Was there ever any thoughts of taking the project to another publisher or would there have been any lingering rights issues?
Michael Mendheim: For me EA is the #1 publisher and I would've been very happy to work with them on this project. I have a long history with EA going all the way back to Trip Hawkins. When we reached out to EA to try to determine whether they might be interested in working with us on our new game, it became apparent that they wanted to focus their attention on other projects.  And while it would have been terrific to work with them, I must say that we're looking forward to having full creative control over the original storyline, characters and environments… now we can go CRAZZZZY!!! Trust me, it's going to be epic.
Sega-16: Are today's platforms enough to finally realize the vision you've always had, or are there still things you can't implement?
Michael Mendheim: There is certainly enough horsepower out there to realize practically everything we want to do. The focus for us is:
Make a great playing football game.
Bring the characters to life by infusing them with personality and humor. We're going to parody professional sports like Family Guy parodies family values. This game is going to be funny and we have some insane writing talent on our team to insure that, guys like comic writing legend, Dave Elliot; Spongebob Squarepants writer, Jay Lender; and Call of Duty: Black Ops Zombies, Micah Wright.
Awesome visual effects (gore, explosions, etc). That's really the hallmark of this kind of game, the key is to make the player care and emote with them and then we see how many devilish ways can we inflict cruel and unusual punishment on the monsters and mutants. Then when the player loses one of his favored star creatures after he has bonded with them, he gets upset; he has lost something he cares about. That's the cool aspect of this game.
If we can do those three things well, we will be okay we'll have the successful beginnings of a really great brand.
Sega-16: How difficult was it to assemble the team you wanted? Were there any initial reservations among the group about bringing back a franchise from the '90s?
Michael Mendheim: Actually, everyone jumped at the chance to work on Mutant Football League. No one on the team, including myself has received anything for their time and effort. I couldn't ask for a better creative team and it's an honor to work with these guys. These guys have a fresh new take on things and are going to take this concept to new heights!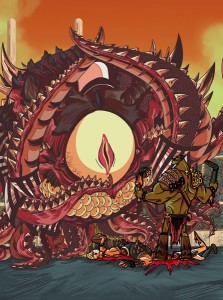 Here is the team we've assembled. There's more of course but we will reveal them as we hit our funding goals:
Dave Devries: Creator of The Monster Engine,  a popular children's art book, lecture, demonstration and gallery exhibition that explores the premise of what a child's drawing would look like if it were painted realistically. Dave will be helping us define the look and feel of the game and characters.
Dave Elliott: Comic writing legend Dave Elliott will be helping us create the Mutant Football League universe for both the game and comics. Dave has more than 25 years of experience working in every aspect of the comic book industry and created Sharky and Maximum Force and has worked on: A1, Deadline, Viz Comic and Heavy Metal magazine.
Jay Lender: Jay has worked in films, comics, video games and television. He wrote, storyboarded and directed on the original run of SpongeBob Squarepants and did the same for Disney's Phineas & Ferb. Jay will be helping drive story, character and game design and keep things funny and outrageous.
Micah Wright: Micah Wright is a writer who has worked in video games, film, television, animation, graphic novels & comics. He has also released three books of political commentary & graphics. Micah will be helping drive story, character and game design.  
Robomodo Studios: An independent video game development studio located in Chicago and focused on top tier products with innovative twists. The studio is led by Joshua Tsui and David Lee Michicich who have worked on such industry classics as: Tony Hawk series, Fight Night Round 3, NBA Street and the Mortal Kombat series. Robomodo will be helping with art direction and production for Mutant Football League.
Sega-16: Have you been putting the gameplay elements together over time, or are you sitting down with a fresh slate now?
Michael Mendheim: The key tent posts of the project are all known. The three core goals of focus are known (great football gameplay, awesome visual effects and tons of personality).  This game has been in my mind for years and a preliminary design document has been written and been through a technical design review. However, specific feature sets and football play aspects of the game have not been decided yet because we want our backers to help us define what these will be (stadiums, hazards, weapons, character race types, team names, etc.). Without the backers there is no game, so they will have a major say in the design direction of the game (providing we get funded). Each backer will also receive one share of "Mutant Football Stock" – is this stock worth anything? Well financially no, but it gives them the right to vote on the design aspects of the game forever and makes one hell of a conversation piece when framed on the wall. Only backers and the development team will receive a certificate.
If you're a fan of Mutant League and want to see the game get made, please spread the word, share it on your Facebook page, tweet it, shout it out!
If this is going to happen, it's because fans like you helped make it happen. Let's make it happen!
Thank you for all your support!