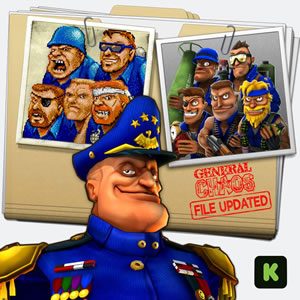 Genesis titles that use the multi-tap are few and far between, but those that do are generally considered to be incredible party games. Games like Gauntlet 4 and the Micro Machines series make for some awesome experiences with friends that just can't be duplicated. There's just nothing like getting together with friends to battle monsters or blow things up.
One title that took advantage of the Electronic Arts'4-Way-Play adapter was Game Refuge's General Chaos. Though implementation of the peripheral came about during the game's development, the developers were able to make great use of it for creating incredible four-player mayhem. Game Refuge head Brian Colin has always lamented the way the device was utilized, believing that much more could have been done had his team been made aware of its existence at the start of General Chaos'  development. He expressed his dismay at the limitations of the 16-bit hardware in our interview last month, and while he hinted that something was in the works, it's only now that we get to see exactly what he meant.
Colin is putting his concern about hardware limitations to rest in a big way. Game Refuge is planning to bring back General Chaos in a big way via Kickstarter, and the proposed sequel, Sons of Chaos, will allow armchair generals to command their troops against the computer, as well as local friends via LAN and online modes. Finally, the series is free of the technological constraints that prevented Colin and his team from making all their ideas a reality.
The game is slated for release on PC and will essentially improve upon the original formula. Players will now have many control options during gameplay. As in the original, they can select an individual soldier and point to where they want him to move, or they can control the entire squad. A new mode called Leadership will allow players to maneuver their squads directly through the squad leader. All this can be done either with a mouse and keyboard or via touchscreen. The new 3D battlefield is completely interactive (and filled with terrain obstacles), and players can follow them using a dynamic camera. No more split-screen games! The original soldiers return and are to receive a complete overhaul, with new classes and squad formations, more movement options, and a higher level cap. There are new non-player characters (NPC), rebel resistance, and player can still commandeer vehicles to aid in their assaults.
The goal is to give fans both a sense of familiarity and freshness. Colin and his group have been tinkering with ideas for a new game for years, and they are as eager to make it a reality as fans are to play it. Providing that the project can reach its financial goal of $125,000, Sons of Chaos should be ready to battle it out with gamers by the end of next year. Sega-16 will be keeping a close eye on this one, and hopefully we can see another Genesis classic reborn for the current generation of gamers. Fans should definitely head over to the project's Kickstarter page and check out the designs and information.