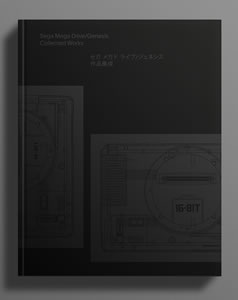 While Sega-16 has spent the last decade collecting information on every aspect of the Sega Genesis and its add-ons, that data has always been limited to an online presence. Sega's history has long deserved a physical, tangible product that can be displayed, discussed, and enjoyed at any time without the need of the Internet. Books to that effect have been surfacing for a while now, such as Hardcore Gaming 101's excellent Sega Arcade Classics, which chronicles the history of the company's coin-op classics.  However, few tomes are available on the history of Sega's consoles, which is what makes Read-Only Memory's new Mega Drive/Genesis: Collected Works such a special and important work.
Crowd-funded through Kickstarter, the book promises over 300 pages of facts, concept designs and exclusive artwork, as well as more than two dozen interviews, many of which are exclusives with Japanese developers such as Kotaro Hayashida (Alex Kidd, Space Harrier II) and Tomoyuki Ito (Revenge of Shinobi, Shinobi III). Sega itself has licensed the book and is providing design documents and other assets to make this the definitive written piece on its most successful console. The project was successfully funded on December 9, 2013 and has amassed well over three times its estimated cost, ensuring that Genesis fans will get their copies, as well as allowing for extra content, all hopefully finished and ready to ship by the June 2014 publishing date.
Read-Only Memory is a small outfit consisting really of only two dedicated fellows who have a love of everything video game-related. After the success of its first book on Sensible Software, the company was approached by Sega to come up with something for the twenty-fifth anniversary of the Mega Drive. Graphic designer and art director Darren Wall jumped at the chance and work quickly began on compiling the necessary data and interview sources. Keith Stewart of Guardian Games will be authoring the interviews and narrative, and the finished product will be hardcover and boast glossy, high quality paper.
We here at Sega-16 were all too happy to back this project and make it a reality, and we will definitely be giving it the love and attention it deserves when it is finally released. Stay tuned for updates as the come, as well as a full hands-on upon publication. For more information on this project or Read-Only Memory, check out their Kickstarter page and company website.