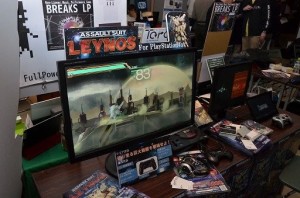 A Genesis favorites is making a return on the Playstation 4 next holiday season. Target Earth (Assault Suit Leynos in Japan) is being resurrected as a digital download release in what will hopefully be a reboot of the franchise. Only one other game in the series, Cybernator, made it to the west, and it will be interesting to see if this new version can ignite some interest in continuing the story.
Very little is known about the game so far, except that it's being developed by Dracue Software, the team behind the excellent PC and Sony PSP mech shooter Gunhound. That game was seemingly a spiritual successor to the Assault Suit Leynos series, so this remake may well be in capable hands. Reportedly, Tsukumo Hyakutaro, musical composer for Thunder Force V, is aboard for the soundtrack.
Dracue is supposedly going to be taking fan ideas into account via an upcoming Kickstarter campaign. We'll have more information as it becomes available, but for now, rejoice that another Genesis classic is reborn! Hopefully, this one will be able to actually come to fruition and show modern gamers why they need to recognize the staying power of 16-bit games!