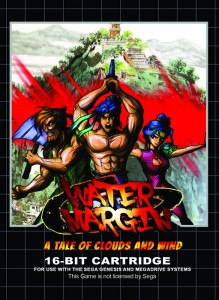 Homebrew publisher Piko Interactive has released another title for the Genesis called Water Margin: A Tale of Clouds and Wind. Set in feudal China and featuring two-player simultaneous action, the game is a fantasy beat-'em-up that was originally know as Shui Hu: Feng Yun Zhuan.  It's based on the classic Chinese novel about outlaws granted amnesty by the government in order to defend the country from invaders and rebels, and it has been known in bootleg circles for years as Under the Clouds. Now, it finally has an official release.
Though not technically "new" (it was originally released in China in 1996), this marks the first time it has been officially translated and brought to the west. That's right, this is no bootleg. Piko Interactive secured the rights to the game. Water Margin is fully licensed and has received the retail treatment, including a full-color manual, cartridge, and clamshell case. Along with the English language localization, Water Margin has been fixed for bugs and gameplay problems.
The game is already available on Piko Interactive's website. It looks like a solid brawler and a great time to have with a second player. It's been a while since the Genesis got a new fantasy-style game in the genre, and this looks to be just what the doctor ordered. It remains to be seen just what types of fixes were made, but Piko Interactive promises an experience that's much improved over the bootleg version out there. The fact that this is an officially licensed release is a great sign, as it keeps the door open for more games to finally get a worldwide release.
Water Margin sells in both cartridge-only ($40) and complete formats ($55), and is a great addition to anyone's Genesis library. This one has been high on many people's lists for a long time, and it has finally come home.
We'll be back soon with a full review. Until then, enjoy the video below!