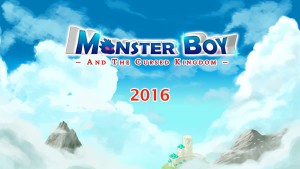 By now, everyone is likely aware that FDG Entertainment and Game Atelier are going to revive one of the most beloved Sega franchises of all time, early next year: Wonder Boy. Dubbed Monster Boy and the Cursed Kingdom to honor its lineage (the Wonder Boy name is owned by Sega), the spiritual next entry in the classic Monster World series is set to begin adventuring on the Playstation 4 and PC in 2016. It's taken some time and a lot of sacrifice, but both publisher and developer have managed to secure the necessary funding, the talents of Westone co-founder and Wonder Boy creator Ryuichi Nishizawa, and the musical talents of the legendary Yuzo Koshiro himself. That's not a bad checklist for a franchise most Sega fans thought was long dead.
Thankfully, the old Wonder Boy has a lot of life left in him. FDG and Game Atelier have gone back to what made the series so great in the first place, and they've given it an modern, HD feel. Those who remember the classic Monster World series on the Master System and Genesis will be able to jump right into Monster Boy and begin exploring the massive, 2D world. All the classic elements return, including weapons and armor upgrades, themed environments, huge bosses, and even the transformations from Wonder Boy III: The Dragon's Trap. Players will be able to assume five different forms, each possessing unique skills and abilities. This means a lot of exploring and opening new areas! The story will forwarded through animated cut scenes, something no other game in the series has ever had.
With Nishizawa's involvement, Sega fans are sure to get the authentic experience, and the game's success could spell a resurgence for the franchise. Sega-16 will be all over this one when it hits, so expect as much coverage as we can muster! Personally, the only franchise I wanted to see revived more than Phantasy Star was Monster World, and it's finally happening. It is indeed a great time to be a fan!
For more information, head over to the Monster Boy development blog. We simply cannot wait for this one to debut!