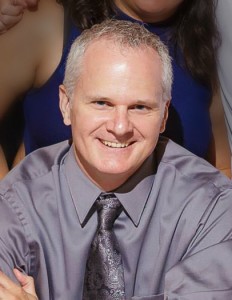 Virgin Games created some of the biggest releases in the Genesis library, including Aladdin, which is the third best-selling Genesis game of all time. One of the key reasons to Virgin's success was its emphasis on art and animation. The company assembled many of the best artists and animators of the period to work on its games, and they produced some of the most enduring and attractive titles on the console.
Brandon Humphreys was an artist at Virgin during this peak period of creativity. There, he had a role in some of the publisher's biggest titles, including RoboCop vs. Terminator and Aladdin.
Sega-16 recently chatted with Mr. Humphreys about his time at Virgin and his work on the Genesis.
Sega-16: When did you decide to enter the video game industry? Was Virgin Games your first experience in the video game industry?
Brandon Humphreys: Entering the game industry almost came out of the blue. I had moved across country from Ohio to California a few years prior with vague ideas of entering the entertainment industry, and had just started concepting and storyboarding for commercials and film. I'd had an interest in games, certainly enjoyed playing them but had never considered working in the field.
I was getting work from a sample brochure I had made that featured a robot/battlesuit fight, when a roommate showed me a tiny ad in a local trade newspaper for a "storyboard artist" wanted, located the next town over. There was no other info and I didn't think much of it, but I sent one of my brochures over.
They happened to be working on a Terminator game and were about to start RoboCop versus Terminator. It was a case of right portfolio/right place/right time. Within a day, I had a job offer, my first in the games industry.
Sega-16: How would you describe the process of creating art on the Genesis?
Brandon Humphreys: I contributed traditional paper illustrations of character concepts and situations, working at a drawing table with ink pens, markers and colored pencils. The artists situated around me worked in Deluxe Paint and Deluxe Animator, painting backgrounds and creating character animation frames, all of which were on minuscule palettes and tiny resolutions.
For Aladdin, a large quantity of the character animation frames were drawn traditionally by Disney animators on paper, then scanned in; however there was still a huge amount of work that needed to be done by the Virgin animators, not just to process the scanned frames but to generate countless other supplemental animations.
Sega-16: How did you create the storyboards for your art? Did you work with the programmers and designers to create them, or did it come as a separate part of the process?
Brandon Humphreys: I worked primarily with the designers early on. Rather than art, I was hired into the design department headed by David Bishop. I attended a lot of design pool meetings where I would take notes and make sketches but also absorbed a lot of solid design sensibilities. I would later deliver more finished illustrations and concepts to designers, programmers or artists.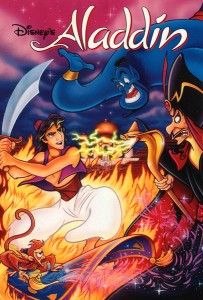 Sega-16: Were there any restrictions to what you could create, or did you have the freedom to create your art as you wanted? I'm sure games like Aladdin and Jungle Book had certain specifications set by Disney. Was this an overall thing or did it depend on the game?
Brandon Humphreys: There were restrictions, but I didn't consider them confining. It was first a matter of first bringing yourself up to speed on the relevant art style, usually by studying any available reference materials provided. For Aladdin, I poured over large sheets of color screen shots from the film provided by Disney.
It's also important to remember that this was before the Internet, so finding good art reference was not always easy. Ultimately, everything was approved through Disney, or in the case of RoboCop Vs. Terminator, an independent licensing company.
Sega-16: What were your influences for the art for RoboCop vs. Terminator? Were the comic books a major reference, or did you rely on the movies or other sources?
Brandon Humphreys: I relied heavily on the films. I was already pretty familiar with the two franchises, having been a fan of both and already owning related books and other merchandise. Magazines like Starlog and Cinefex were also great sources at the time.
Sega-16: How was your experience working on Aladdin? Working with Disney artists must have been incredible.
Brandon Humphreys: I would say brief. I participated very early during preparation of the design document and then came back towards the end to help on some animation cleanup and an alternate ghost character. The entire turnaround on that game was amazingly quick – what seemed like only a few months.
Unfortunately, I did not work with the Disney artists; they operated from their own studio elsewhere.  But when the directors (of the Aladdin movie) visited, I was able to ask them if the peddler was actually the Genie… to which they only smiled silently. 🙂
Sega-16: Why did you leave Virgin? Did it have to do with the industry transition to 3D hardware?
Brandon Humphreys: I was hired right on the eve of that transitional period, as the industry began a move from 2D to 3D. One day in 1993, an SGI workstation appeared nearby my cubicle, and a few artists had begun to work with 3D Studio R4. Using a borrowed PC, I quickly began learning the basics of 3D and incorporating it into my workflow. In the years since I've used 3dsMax to build and animate hundreds of characters, models and environments.
I departed Virgin with a group of fellow employees to start our own company. The bulk of us had worked together on Demolition Man 3DO, and wanted to continue working together. Among them was a programmer named John Alvarado, who I've since been fortunate to collaborate with for over twenty years.
Sega-16: You recently published a book. How did you find the writing process, after creating art for video games for so long? Was it a difficult adjustment?
Brandon Humphreys: The writing process was both liberating and challenging. Creating art for games usually comes with a variety of technical restrictions, art guidelines, and coordination with designers, animators and programmers. Definitely a cooperative process. Writing thirteen individual scary stories, all of that goes away. It's just you, the keyboard, and a blank screen. All that matters is creating believable characters, telling a good story, and delivering a good scare.
Originally, art was a hobby, and once I began working as an artist, writing became a hobby. Along the way, I've written several design documents, scripts. and story treatments, so I've been warming up for many years.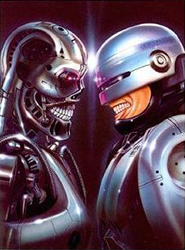 Sega-16: What do you feel was your best work on the Genesis? Why?
Brandon Humphreys: My best work on the Genesis would have been the design of several bosses for RoboCop vs. Terminator, specifically the HKED and a Spider Terminator, which I felt both mixed yet retained the individual identities of each license.
Sega-16: Many thanks for the interview. We greatly appreciate it!
Brandon Humphreys: My pleasure, and thanks for the trip down memory lane. If not for my roommate who knows what direction my career might have taken. My years at Virgin were an amazing time of growth and opportunity, all made possible by David Bishop and Martin Alper. I am truly fortunate to have met and worked with so many talented people.
Our thanks to Mr. Humphreys for taking the time for this interview.