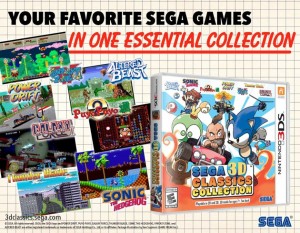 Yesterday, Sega announced via its Facebook page that there would be news for fans of its classic franchises. Many speculated about what games would be involved, and now we know! On April 26, Sega will be releasing a collection of nine of its popular 3D Classics games for the Nintendo 3DS. The collection will be available in both digital form on the Nintendo eShop and in physical form at retailers, so fans of all formats have reason to rejoice!
Those who have yet to play any of the 3D Classics line are really missing out. Developed by M2, they are essentially re-releases of classic arcade, Master System, and Genesis titles that now boast stereoscopic 3D graphics capabilities and a slew of new options. While there are some who downplay the need for 3D on the 3DS, Sega's Classics series likely makes the best use of the feature. Games like Galaxy Force II and Super Hang-On are incredible experiences that pop out visually more so than any time since their original arcade debuts.
The upcoming compilation is actually the second set of games released in physical format by Sega. The first set was released only in Japan in December of 2014 as Fukkoku Archives and included Space Harrier, Altered Beast, Streets of Rage, Ecco the Dolphin, Shinobi III, and the original Fantasy Zone. The Sega 3D Classics Collection that arrives in April boasts nine more great titles that span the golden age of Sega's arcade history, two of which have not been released for the 3DS until now:
Power Drift: the frantic racer that many had hoped to see on the Sega CD finally gets a home release!
Puyo Puyo 2: One of the best games in the series. Great for competitive action on the go!
Maze Walker: A mystery adventure released on the Master System in the West as Maze Hunter 3D. It is one of the best SegaScope 3-D games on Sega's 8-bit machine and my personal favorite on this collection.
Fantasy Zone II: The Tears of Opa Opa: The second in Sega's psychedelic cute-'em-up series.
Fantasy Zone II W: An updated version of the game with enhanced visuals and sound.
Sonic The Hedgehog: The Genesis classic translates plays quite well in 3D!
Thunder Blade: An arcade legend that looks and plays great.
Galaxy Force II: Perhaps the best home version of the game. It looks spectacular on the 3DS and controls wonderfully. It's about time this version got more attention.
The Sega 3D Classics Collection will be available April 26 for $29.99. The retail version sports a great cover by Pokemon Art Director Ken Sugimori.
We'll be there on day 1 with a full review when this compilation hits. We already had a feature on the 3D Classics line in the works, but we'll be pleased as punch to put it on hold until this set arrives. Thank you Sega, for giving us a physical release of this great collection!