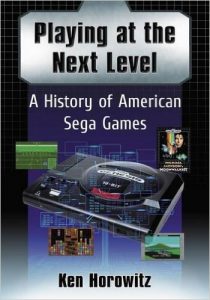 It's been no secret that I've been working on a book about Sega of America's development history. For the past two years, I've interviewed almost 100 former Sega of America alumni and game developers, researched documents, magazines, and books, and basically worked feverishly to put the story of Sega's American branch into a coherent form. Now that it's finally ready for release, I thought I'd share exactly what it includes. I waited until now to be sure that the chapter list was final, and thankfully, almost every chapter made the cut. The two that were excluded were so by my decision, and they will find a place here on the site. One of them, the story of Chakan: The Forever Man, is already up, so readers can enjoy that article to get an idea of what to expect from the book.
Coming in at 281 pages, Playing at the Next Level includes a complete list of works cited and in-text references, providing a very clear resource to those who want to know more about how Sega became so successful in America, only to lose it all. Every effort has been made to present as objective an image of events as possible, and in many cases multiple development team members were interviewed. Every Sega of America president during Sega's hardware period was interviewed, as well as multiple producers, technical directors, and senior executives. This is not a book about marketing or sales, as there is Blake Harris' Console Wars for that. Instead, Playing at the Next Level specifically focuses on the game development side of Sega's business. It's a story that has never been told before and one that is both fascinating and complex.
The book provides comprehensive examinations of the following events in Sega of America's game development history:
The founding of Sega of America
The relationship between Sega and Tonka
The tenures of both Michael Katz and Tom Kalinske
The creation and later reorganization of Sega of America's Product Development Group
The creation of the "Genesis Does!" campaign
The introduction of the Sega CD
The Introduction of the 32X
Sega's transition from the Genesis to the Saturn
The tenures of both Bernie Stolar and Peter Moore
The discontinuation of the Dreamcast
It also tells the story of all of Sega of America's internal game development studios:
Sega Alpha Group
Sega Away Team (Tiger Team)
Sega Interactive Development Division
Sega Multimedia Studio
Sega Midwest Studio
Sega Omega Group
Sega Sports Group
Sega Studios LA
Sega Technical Institute
Visual Concepts
Full histories are provided for the following Sega of America projects and platforms:
GEMS Sound Driver Software
HEAT.NET
Sega Channel
SegaSoft
There is also information on the following game developers, told by them:
BlueSky Software
Clockwork Tortoise
HeadGames
Infogrames
Innerprise Software
Novotrade International
Realtime Associates
Realtime Games Software
Recreational Brainware
Technopop
ToeJam & Earl Studios
Western Technologies
Westwood Associates
Last but not least, there are complete development histories for almost 40 games. The following games are discussed:
Alf
Adventures of Batman & Robin (Genesis)
Bug!
Comix Zone
Dungeons & Dragons: Warriors of the Eternal Sun
Ecco the Dolphin (Genesis)
Ecco: Defender of the Future (Dreamcast)
Eternal Champions
Eternal Champions: Challenge from the Darkside
Fantasia
Geist Force (Dreamcast, unreleased)
Joe Montana Football
Joe Montana II: Sports Talk Football
Jurassic Park (Genesis)
Jurassic Park (Sega CD)
Kid Chameleon
M-1 Abrams Battle Tank
Mighty Morphin' Power Rangers (Sega CD)
mr. Bones
Monopoly (Master System)
NBA 2K
Net Fighter
NFL 2K
The Ooze
Ratchet & Bolt (32X, unreleased)
Shadow of Atlantis (Sega CD, unreleased)
Shadowrun
Sonic Xtreme
Sonic Spinball
Spider-Man vs. the Kingpin (Genesis)
Spider-Man vs. the Kingpin (Sega CD)
Star Wars Arcade
Tomcat Alley
ToeJam & Earl
ToeJam & Earl in Panic on Funkotron
VectorMan
World Series Baseball
X-Men
X-Men 2: Clone Wars
Other games are discussed in depth, including:
Dick Tracy (Genesis)
Michael Jackson's Moonwalker (Genesis)
Sonic The Hedgehog 2 (Genesis)
After two years of exhaustive work, the stories of these games can finally be told. While this book is not meant to be the final word on these events and games, I do hope that it serves as a launch point for further research. Most of all, I hope that Sega fans and video game history fans in general, will enjoy it!
The book will be available in softcover for $39.99 and in several ebook forms. It can be purchased from Amazon.com using the link below or McFarland & Co.'s website.