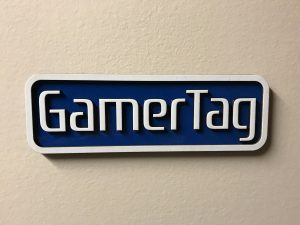 Looking for something to spruce up your game room or man cave? Then Geeky Goods has just the product for you. This new company makes custom wooden signs for all gaming tastes using a variety of styles and fonts that will brighten your personal gaming room or area, and it won't break the bank.
The signs are hand-made by Geeky Goods' owner, Don. Decals and custom t-shirts are also available – and there are some good ones – but the site's highlight has to be the signs. All are three inches high (lengths vary) and laser cut from hardwood plywood or birch by Don using a 100 watt CO2 laser. Geeky Goods offers a nice selection of models including PlayStation and Xbox fonts and looks. If you're looking for a particular style not on the site, bring it to Don and he can make it for you. Customers may even order an unfinished version of their custom sign so that they may complete the job themselves if they want to add a personal touch.
Each custom sign generally takes 1-2 days to complete and about 3-5 days to ship. We commissioned a custom sign for the site (for this editor's game room!), and the results are spectacular. It has a great professional look but doesn't come off as something one would buy in a chain store like Hobby Lobby. The sign has a unique, custom feel to it, and the manufacturing quality is top notch. It's hard to find quality Sega decorative merchandise, and being able to have a custom sign like this makes for a great conversation piece.
For more information, check out the Geeky Goods site, or contact Don via Instagram and Twitter at @geekygoodsco.
In the meantime, feast your eyes and turn green with envy at the awesome custom sign I got for my game room!