The Genesis has enjoyed a prosperous aftermarket in the last decade, with quality releases coming from small publishers like Watermelon Games, Super Fighter Team, and Piko Interactive. Ranging from simple puzzle games to full-fledged RPGs, the improvements to the quality of games has improved as developers have acquired or created better tools and become more familiar with the console's 16-bit architecture. Fans of the console have had plenty of new titles to purchase, and it doesn't look like the flow of games will stop anytime soon.
One developer called Bitmap Bureau has decided to throw its hat into the Genesis ring with a new game calledi Xeno Crisis. It plays in the same vein as classics like Smash TV and Robotron 2084 and features some great visual detail. A team of experienced programmers and artists, including pixel artist Henk Neiborg, Bitmap Bureau's Kickstarter campaign was completely funded within 48 hours, and it has reached all of its stretch goals. Genesis owners look to be in store for a real treat when Xeno Crisis is released in October 2018 to coincide with the 30th anniversary of the Mega Drive launch.
We were fortunate to get some Q&A with Bitmap Bureau about Xeno Crisis.
Sega-16: How did Bitmap Bureau get started?
Bitmap Bureau: Bitmap Bureau was formed early in 2016 after Matt (an old colleague of mine) approached me about working together again – previously we had worked together at IOMO, one of Europe's top mobile development studios from the early 2000s, working on some of the very first mobile games. Our first game was 88 Heroes, published by Rising Star Games. This gave us the opportunity to build upon our 2D engine and integrate it with Unity, meaning we could release games on all of the major platforms.
Sega-16: When did the idea for XenoCrisis come about?
Bitmap Bureau: We had previously created several games with "retro" roots, such as Super House of Dead Ninjas, Knightfall and 88 Heroes, but Matt is a great coder (I'm sure he won't mind me saying that!) and is always looking for a challenge. So, for the 2016 Global Game Jam hosted at Southampton University, Matt thought it would be a great idea to attempt to make some kind of Mega Drive game in 48 hours. 😉 Given our lack of experience with the hardware (and my lack of experience with C language), this was a particularly daunting undertaking, but we somehow put together a reasonable little horizontal shooter which we called Fatal Smarties, and I guess this was the seed for Xeno Crisis.
Following the success of Matt Phillips' Tanglewood Kickstarter and the massive interest in Paprium, we thought that it could be time to get into Mega Drive development.
Sega-16: Was it always intended to be a Genesis project?
Bitmap Bureau: I'd been toying around with top-down games at several Game Jams, and having made three commercially released platform games in a row, I was really keen to have a go at the top-down genre – it seemed like the natural direction to head in, and I had a few ideas. When Matt suggested that we should create a Mega Drive game, he asked me which genre would fit well on the Mega Drive, and a top-down arena shooter seemed a great fit – there's already a few on the system (Smash TV, Granada, Zombies Ate My Neighbors, Chaos Engine, etc), but I still felt there was room for a game like Xeno Crisis. So yes, it was always intended for the Mega Drive, but it was a nice coincidence that I was looking to make a top-down game anyway.
Sega-16: The arena shooter genre is a video game staple. Was it your first choice for making a Genesis game, or did you consider other genres?
Bitmap Bureau: Well I'm a massive shmup fan and collect them for the Mega Drive, PC Engine, Saturn and Neo Geo, so my first instinct was that we should make a horizontal or possibly vertical shooter, as the Mega Drive is renowned for them and plays host to some of the best. 🙂 The shmup genre has been around for many years though and as far as I'm concerned it's very difficult to bring innovation to it, so the other genres we briefly considered were a run-and-gun such as Contra, and a belt-scroll beat 'em-up such as Streets of Rage.
I was always a fan of Smash TV but felt that we could add more to it with procedural generation, greater enemy and weapon variety, a pickup system, and a roll move and grenade attack for the players. There's also the equipment screen too, and I'm hopeful that our bosses will be an improvement on Smash TV's too!
Sega-16: How did you assemble your team? Was Henk Neiborg involved during the start or did he come aboard later?
Bitmap Bureau: I'm more of a designer/gameplay coder myself, so I handle most of the "creative" coding, with Matt handling the engine coding. With the design and code covered internally, we needed to look elsewhere for a great pixel artist with Mega Drive experience, and Henk Nieborg was the first name that came to mind. I'd seen his work on The Misadventures of Flink, Lomax, Shantae, and Contra 4, and knew he would be perfect for the project if we could convince him. Luckily, he agreed to work with us, and I have to say that his work is amongst the best I've seen, especially given the Mega Drive's palette constraints.
We're also working with Catherine Menabde, a superb artist that we'd worked with previously on Ninja Shodown and Ninja Blitz. She's working on the interstitial screens including the intro, end of level screens, story sequences and the equipment screen. I don't think Catherine had worked on anything Mega Drive related previously, but she's very adaptable, and she has no problem working within the Mega Drive's constraints. She's also a superb illustrator, and she'll no doubt be working on the cover art for the Mega Drive/Dreamcast box and the vinyl/CD soundtrack too.
Finally, we needed someone to handle the soundtrack and sound effects. I'm a huge VGM fan and had been following various chiptune artists on YouTube, including a few that were proficient at writing music for the YM2612. One in particular stuck out for me though, and that was Savaged Regime (aka Gecko Yamori; Daniel Bärlin), a Swedish-based musician. I'd been listening to his work for some time without realizing that all of it was genuine YM2612 music, thinking that he was just trying to imitate the Mega Drive's sound! As soon as I'd realized this I thought we should reach out to him and try to get him on board, and again, we were lucky enough that Daniel agreed to get involved. 🙂 You can hear his work in the Kickstarter trailer, and we're looking forward to hearing what he comes up with next!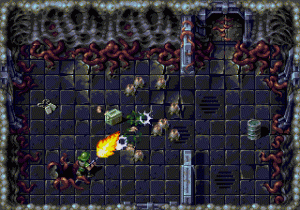 Sega-16: What kind of challenges have you encountered working within the confines of the Genesis hardware?
Bitmap Bureau: The challenges so far have been largely ones we've expected, limited CPU/RAM/VRAM 🙂 but fortunately in the past we've worked on a lot of very limited mobile phones (back in the days of black and white Nokias!) so working to tight limits is well understood. The most focus so far has probably been on squeezing all of the lovely tile-set art for the levels into VRAM but still leaving enough space for a wide array of enemies/pickups/explosions/etc.… and also making sure the collision detection logic works efficiently. We know there are more challenges ahead, but it's what Matt thrives on. 🙂
I was slightly concerned about the controls too, and whether a top-down shooter could play well on the Mega Drive's standard three-button controller, but I remembered that Smash TV had received a port to the system, so I had a good look at that to begin with. Having played around with the controls a bit, I felt that the 'lock' system worked great, particularly if the game was built around it. So, as soon as you hit "fire" your shot angle is locked, allowing you to strafe, essentially. You can see this system used in Shock Troopers and Granada too. On top of this I also allow the player to change their shot angle +/- 45 degrees by tapping 'A' or 'C' whilst firing, much like in Skeleton Krew, Forgotten Worlds, and Midnight Resistance. It's nice to have this option, but it's certainly not essential. But yes, ultimately, we're really happy with how the controls feel even with a three-button setup.
Sega-16: Does Xeno Crisis manage to push the machine beyond what we've seen thus far? If so, how?
Bitmap Bureau: We've implemented a nice FMV animation system and custom tools (inspired by Jon Burton's work for Sonic 3D that he's recently shown on the awesome GameHut channel). We're definitely packing everything in grabbing every spare byte of VRAM and pushing the CPU, but we want to ensure a great game vs a tech demo. We'll certainly be having fun with the bosses and we've been taking inspiration from some of the best games and special effects/tricks. So, expect a few surprises and to see more in the coming months.
Sega-16: The response to the Kickstarter campaign was incredible. Did you expect such support from fans?
Bitmap Bureau: To be honest, we thought we'd be lucky to get around £15-20k, so when we hit 100% funding in just 40 hours we were absolutely blown away, and we realized that we could be onto something special! Xeno Crisis was designed very carefully to look, feel and sound like a genuine Mega Drive title from the '90s, and we were hopeful that other Mega Drive fans around the world would also be interested in the game, but we weren't prepared for the wave of support that came our way. 🙂
Sega-16: How are you planning to produce the physical copies? Are you partnering with an existing aftermarket publisher, like Watermelon Games or Piko Interactive, or do you plan to produce them yourselves?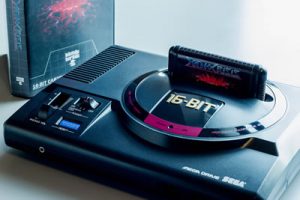 Bitmap Bureau: We're currently in discussions with a couple of well-known hardware suppliers and we've been buying and testing various samples of PCB / cart shells / cases etc.… over the last few months. We want the experience to be one of high quality, so we're taking our time to get it right.
Sega-16:  After Xeno Crisis, what's next for Bitmap Bureau?
Bitmap Bureau: We hope this is just the start for us working on retro hardware. It's what we grew up with and love working on, so we hope we'll make a great impression with Xeno Crisis to enable us to continue producing more titles.
For more information on Xeno Crisis, check out the game's Kickstarter page. We'll be covering it in more detail with a full preview when it's closer to completion, as well as a full review when it ships. In the meantime, check out the new gameplay video below!