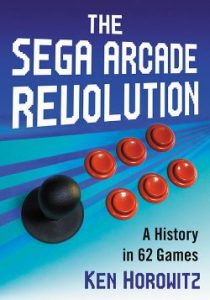 This fall, almost two years of exhaustive work will finally come to fruition. My second Sega book, The Sega Arcade Revolution: A History in 62 Games, will finally be released. For the first time, a detailed chronicle of Sega's arcade history will be available. There have been books on the subject before, such as Famitsu's excellent Sega Arcade History, but none have gone into this much detail.
The work draws on interviews with over a dozen former Sega executives, programmers, designers, and artists. Additionally, it has been painstakingly sourced from Sega internal corporate documents and a multitude of articles and interviews from magazines and trade publications from the past four decades. Much of the information on Sega's Japanese side comes from an array of interviews and articles, many of which have never previously been available in English.
Weighing in at 284 pages, The Sega Arcade Revolution tells the tale of Sega's arcade business, from its earliest days selling jukeboxes to its expansion into a leader of electromechanical games and later into one of the biggest video game developers in the world. The story is told in chronological order, starting in the early 1960s and ending with Sega's merger with Sammy Corporation in 2003. I chose to end the book there because that is when the Sega of old ceased to be and it started down a new path.
As always, the emphasis is on telling the story as accurate as possible. Included are the professional origins of such Sega legends like David Rosen, Yu Suzuki, Rieko Kodama, Rikiya Nakagawa, Toshihiro Nagoshi, and others. Like my previous book, Playing at the Next Level: A History of American Sega Games, this work includes a complete index and full MLA bibliography, so game scholars can research any of the topics discussed and Sega fans can look for more information on their favorite game company's past!
As much developer information as could be obtained was included for each one, such as their personal histories and how they arrived at Sega. Moreover, information on most of Sega's arcade hardware systems is available. I tried to explain the creation process for each of these classic titles, and virtually all of them feature quotes from the developers themselves. Regrettably, some games could not be included due to the lack of available creator or development information available. I absolutely wanted to include games like Golden Axe: Revenge of Death Adder but could not for this reason. Detailed histories are provided for each of the following games and hardware:
Periscope (1968)
Missile (1969)
Pong-Tron (1973)
Head-On (1979)
Monaco GP (1979)
Carnival (1980)
Space Fury (1981)
Frogger (1981)
Turbo (1981)
Eliminator (1981)
Zaxxon (1982)
SUBROC-3D (1982)
Pengo (1982)
Buck Rogers: Planet of Zoom (1982)
Star Trek: Strategic Operations Simulator (1983)
Congo Bongo (1983)
Astron Belt (1983)
Flicky (1984)
Ninja Princess/Sega Ninja (1985)
Choplifter (1985)
Hang-On (1985)
Space Harrier (1985)
Fantasy Zone (1986)
Quartet (1986)
Wonder Boy (1986)
OutRun (1986)
Alien Syndrome (1986)
SDI (1987)
Super Hang-On (1987)
After Burner (1987)
Wonder Boy in Monster Land (1987)
Shinobi (1987)
Thunder Blade (1987)
Galaxy Force/Galaxy Force II (1988)
Altered Beast (1988)
Power Drift (1988)
Gain Ground (1988)
Super Monaco GP (1989)
Golden Axe (1989)
Mega-Tech Arcade System (1990)
Columns (1990)
Alien Storm (1990)
Bonanza Bros. (1990)
Aurail (1990)
R360 Arcade Hardware (1990)
Rad Mobile (1991)
Time Traveler (1991)
Virtua Racing (1992)
SegaSonic The Hedgehog (1993)
Virtua Fighter (1993)
Daytona USA (1994)
Virtua Cop (1994)
Virtua Fighter 2 (1994)
Sega Rally Championship (1995)
Virtua Cop 2 (1995)
Fighting Vipers (1995)
Virtual-On: Cyber Troopers (1996)
Die Hard Arcade (1996)
The House of the Dead (1997)
Top Skater (1997)
Daytona USA 2: Battle on the Edge (1998)
Spikeout: Digital Battle Online (1998)
Crazy Taxi (1998)
Planet Harriers (2000)
The book also discusses landmark events in Sega's corporate history:
Gulf + Western's purchase of Sega (1969)
Sega's purchase of Gremlin Industries (1978)
Sega's innovations with conversion kits (1981-1982)
Sega's sale of its U.S. manufacturing operations to Bally/Midway
The founding of Sega Enterprises USA (1985)
The origins of Sega's AM development divisions
Sega's 2000 and 2003 internal studio restructuring
The Sega/Sammy merger (2003)
Finally, there is a chapter dedicated to Sega's history as an arcade operator, and it includes detailed histories for the following:
Sega Centers (1975-1983)
P.J. Pizzazz (1980-circa 1984)
Time-Out Family Amusement Centers (1986-1990)
Sega VirtuaLand (1993)
Joypolis (1994)
SegaWorld London (1996-1999)
Sega GameWorks (1997-2011)
While The Sega Arcade Revolution is by no means a complete history of Sega's arcade past, I feel that it constitutes one of the most comprehensive works put forth thus far. My goal is the same as it has been with Sega-16 for almost two decades: provide information that can lead to discussion and further research. Of course, I hope that Segaphiles and video game fans in general enjoy reading about this fascinating part of video game history.
The book will be available in softcover for $39.99 and in several ebook forms. It can be purchased from Amazon.com using the link below or McFarland & Co.'s website.