When people think of arcades, the first things that often come to mind are the standard genres like fighting, racing, and shooting games. Quarter-munchers all, they have remained the bedrock of game rooms everywhere for decades, even when the popularity of arcades in the west began to wane. Each one has had its day in the sun, from the space shooter and maze game crazes of the early '80s to the fighting fever of the early '90s. But between peaks and valleys, there is one genre that has remained a consistent money-maker, particularly in its native Japan. The crane (or claw) game has been around for well over a century, and it can be found today everywhere from arcades to supermarkets, tempting many a passerby with promises of tantalizing prizes. Sega, long known for its stellar arcade breakthroughs, played a major role in maintaining people's love of crane games through its legendary UFO Catcher line of machines.
A Long & Troubled History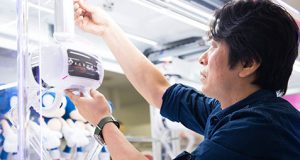 As often happens in the video game industry, where a person gets their start doesn't necessarily indicate where they will experience their greatest success. Position changes and even a random project can change the direction of a career, sometimes with monumental results. For instance, when Mitsuharu Fukasawa joined Sega in 1991, he did not expect to redefine the crane game business. At his initial interview, he was asked to come up with a game concept on the fly and submit it in a hand-written proposal. The game he thought of with was an RPG, one that he admits wouldn't have likely been made. It was good enough, however, to get him in the door at Sega. Luckily for him – and arcade fans everywhere – he would soon be assigned to a project that would tap into his best talents. Fukasawa's work on the company's crane games would go on to help evolve a game genre that was already a popular arcade staple.
Fukasawa didn't invent the crane game genre; he merely helped to give it a major push forward. Crane games date back to the 1890s, beginning as hand-cranked candy dispensers that cost a single penny, By the 1920s, the popularity of steam shovels (like those used in the construction of the Panama Canal) had morphed them into the Eerie Digger, which soon became electrical and offered different prizes, including money. The claw catcher design everyone knows today had been around since the 1930s, when games of this type were called "diggers." The machine's proliferation was greatly affected by the implementation of the Johnson Interstate Transport Act, which made it illegal to transport gambling devices across state lines. Manufacturers like Williams and Chicago Coin sold versions of the crane theme in the mid-'50s that used a small construction vehicle instead of a standard drop crane, but it would take years for the genre to the return to the level of production that had experienced in the past.
It was finally the exportation of European and Japanese crane machines in the late '70s and early '80s that made them explode in popularity. Sega had been making them for decades, and its first modern electro-mechanical unit, the Skill Diga, arrived in 1965. It was very similar in design to Como Manufacturing's HollyCrane machine (1948), which incorporated the standard play method of two simple crane moves: a single move forward and a single move sideways. Once the second motion was completed, the crane opened and dropped to grasp the prize, automatically returning to the starting position afterward. Players found the Skill Diga to be too hard since its top-down view made it difficult to see the prizes they were trying to catch (the cabinet retained the same side window of the HollyCrane, which apparently didn't help much). An updated version, the Super Skill Diga, was released three years later and even included dolls as prizes. A neat option was that it had an additional button that let players mix the prizes once per game. When used, a rolling bar under the play field constantly shifted the position of the prizes, hopefully making some more easily accessible with the four-pronged claw.
Sega's (Crane) Game-Changer
Sega definitely helped move things forward, and by the 1980s, its crane machines had become much larger. Now, plush dolls were now major prizes, and the cranes were a common site at carnivals, Pizza Huts, and arcades. By the time Fukasawa joined Sega in 1991, the company was already one of the largest arcade game developers in the world and even had its own division specifically tasked with creating game cabinets and redemption machines. Known as AM4, the group had distinguished itself during the mid and late '80s with its incredible deluxe cabinets that moved during gameplay. The taikan, or "body sensation" games were very popular in the U.S., with games like Hang-On and OutRun helping to launch Sega's North American business. Now, the game factory hoped the same could be done for its crane machines.
The UFO Catcher was originally called the Eagle Catcher during development, due to the control's eagle claw shape. As the design evolved, it came to more resemble a UFO, and the look influenced the name change. Japan's fascination with aliens and UFOs at the time, largely fueled by the UFO researcher Jiichi Yaizi, was also likely a factor. The UFO Catcher debuted in May 1985 and was targeted at a more casual audience than Sega's video game releases. The new family-friendly look of Sega's crane cabinet was particularly meant for Japanese tastes. U.S. arcades had spent much of the early '80s in the crosshairs of lawmakers, who believed them to be hotbeds of juvenile delinquency and youth corruption. Sega sought to combat this issue by improving the design of its arcade centers to make them more family-friendly. Japanese arcades had taken this route decades before, possibly as part of a national effort to project a non-threatening image globally after World War II. It may also have evolved from the country's "kawaii" or "cute" culture, which some sociologists believe is rooted in Japan's cultural love of harmony. "Japanese are seeking a spiritual peace and an escape from brutal reality through cute things," said Tomoyuki Sugiyama, author of Cool Japan. Others, like Yutaka Onishi, editor-in-chief of CanCam magazine, argued that cute was just the powerful expression of Japanese youth, much like "soul" or "La Raza."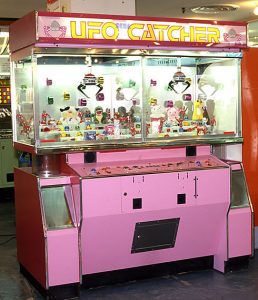 Wherever it originated, Sega's Japanese arcade centers presented a much cuter aesthetic than their American counterparts, and the company hoped to attract more women and adults. The UFO Catcher's pink color and bright lights were a major step in that direction. Additionally, two players could operate cranes simultaneously – a move meant to entice couples to play together and emphasize the machines' social dynamic. These efforts were a step in the right direction, and together with Sega's other casual titles like World Bingo and World Derby, women and couples became significant parts of its arcade audience. As the '90s began, however, the UFO Catcher line was ailing. It had been plagued by safety and mechanical Sega issues since its debut, even being labeled a safety hazard by some, and by now it was in dire need of an upgrade. Immediate and drastic action would be needed to keep the line viable, and luckily, Sega had just hired the right man for the job.
Fukasawa would be instrumental in revitalizing the series, and he was a natural talent at designing fun arcade games that didn't require a monitor – a particularly difficult task, given the almost entirely video-centric nature of the game industry at this time. Fukasawa's work in AM4 helped earn him a spot on the team charged with righting the ship. To revamp the UFO Catcher franchise, AM4 implemented several major improvements, starting with making the machine less prone to failure. Other upgrades followed, such as adjusting the crane's height so that players could see the prizes and including licensed and Sega-themed prizes. The prize tank was also enlarged to better emphasize the prizes, and the cabinet lost its sharp corners and was now a lot sturdier. These changes resulted in a sales boom for Sega. After several generations of the series being recalled due to mechanical problems, the fourth iteration, aptly called New UFO Catcher, was perhaps the one that was most widespread across Japan during the early '90s.
The line's fifth generation unit is perhaps its most well-known and the one on which Fukasawa had the most input to this point. Several major changes made to the design, most notably the addition of sound effects and LED lights on the crane to give the cabinet a sort of "persona." Fukasawa believed that players would enjoy the game more if they had a personal attachment. "I designed the UFO Catcher to resemble a human being," he said of the unit's new look, "such as by making the UFO part of the crane look like a face and letting the expression change with LED lights or to make it suddenly speak."
After several successful generations of hardware in Japan, Sega finally brought the UFO Catcher series to North America and Europe in July 2006. The seventh-generation design was heavily customizable and included three arms of different sizes, with three different types of claws for prizes of different dimensions. These new models featured four-directional joysticks instead of buttons and had a built-in 19-inch LCD monitor mounted in the back of the cabinet. Everything from plush dolls to keychains and boxed items could be captured, depending on the size of the arm and claw players chose (Sega of Japan even included military survival rations at one point). Sega's famous line of crane machines has become a fixture in many arcades, and it has also found itself in a plethora of other locations, including stores like Walmart. In its native Japan, it is the most commonly found type of crane game, and Sega continues to capitalize on its enduring popularity. For instance, in some of its Japanese arcade centers, players could handle prize samples before playing to get a better idea of what type of arm and strategy was needed for a successful game. The arcade giant even launched an app in October 2017 that let players control a UFO Catcher remotely, with prizes shipped directly to their homes. Fukasawa believes that this prominence has made the UFO Catchers transcend the image most people give to the typical arcade cabinet, giving it the same universal appeal as gumball machines. "I feel that it has become the face of many stores," he contended, "while also helping to create the atmosphere of those stores."
The Claw Chooses Who Will Win and Who Will Lose
Arcades have dimmed in popularity over the decades, thanks to many different factors, but Sega's claw game continues to fish out thousands of prizes per year, especially in Japan. People can become obsessed with the machines, expecting a payout with every single play. The reality is that the seemingly random nature of crane games means that not every attempt will result in a win, a truth that Sega addressed in a most cheeky manner in 2016. A Twitter user by the name of Sendou noticed that the bags used by the UFO Catchers had an odd design that contained a pattern of squares and dots. The pattern resembled Morse code, and Sendou discovered that the bags actually contained the message "UFO Catcher is not a vending machine." The pattern had been included on the bags since 2014, but no one had noticed it was actually Morse code.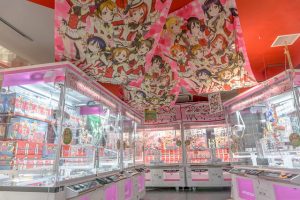 Sega's UFO Catchers may not be vending machines, but there is still contentious debate as to whether they are games of skill or chance. Much as with the look and feel of the games themselves, the answer depends on whether one views them from a Western or Japanese standpoint. In Japan, crane games have achieved such popularity that some consider mastering them an art that requires specific techniques and lots of practice. Is this necessarily a skill? Perhaps not, but crane games have a much more respectable reputation in Japan than those sold in the U.S. Perhaps not, but crane games have a much more respectable reputation in Japan than those sold in the U.S., and Japanese authorities will arrest operators that rig the machines to make them unwinnable. Five Osaka arcades were raided in December of 2017, arresting six people. Western coin-op operators make great use of the machines' command module settings (CMS) to alter several factors, including the chance of winning (anywhere between 1/12 and 1/18) and the pressure applied by the claw (PSI). For instance, most claws require 10-13 PSI to grab an item but are usually set between 5-8. Gameplay can be so lopsided against players that states like California and Nevada have passed laws requiring specific settings to give them a chance.
It seems that cultural trends have always governed the fate of crane games and likely always will. While North American arcades may contain a single unit, Japanese centers often house entire floors for it alone. In South Korea, crane games have recently exploded in popularity, with over 1,900 arcade rooms now dedicated to them. In 2015, there were only about 20. Reportedly, the country's youth are obsessed with the plushie character doll prizes, but the machines are also viewed as an escape from the excessive competitiveness of South Korea's education and job markets.
One can thus view the UFO Catcher's longevity in two different lenses. Some may see it as the iron man of arcade revenue, continuing to bring in players after other genres have dropped off in popularity or disappeared entirely. Others might contend that it is a sad remnant of a bygone era, a shining example of a diminished industry's golden age. Both perspectives succinctly sum up the differences in arcade culture between Japan and the U.S. The Japanese see playing claw games as a social experience, something to be experienced with friends and family. Moreover, the physical nature of the prizes serve as an anchor that keeps the machines from suffering the same digital and console fate of other game genres. U.S. arcades have lost this social dynamic, diminishing the impact crane games have there. Regardless of how one views the arcade landscape, people continue to play and enjoy Sega's crane legend, and there aren't any signs of a final "game over" in its near future.
Sources
"1924 to 1946 Eerie Digger." Pinrepair.
Agado Jr. D. (October 2017). "SEGA of Japan is starting a 'SEGA Catcher Online' for Mobile." SegaNerds.
"Arrests Made in Case of Arcade Crane Games That No One Could Win." (2017, December 24). The Ashahi Shimbun.
Brenner, A. (May 2018). "Japanese Arcades and Nation-Branding." Institute of Current World Affairs.
"Creators' Interview Vol. 9: Mitsuharu Fukasawa." Sega Interactive.
Eveleth, R. (September 2012). "Yes, Arcade Crane Games Are Rigged – Here's How." Smithsonian.
Kageyama, Y. (2006, June 14). "Cuteness a Hot-Selling Commodity in Japan." Washington Post.
Miller, P. (December 2007). "Japan's Latest UFO Catcher Prize: MREs." Wired.
North, D. (October 2009). "New Sega Arcade Gives Players the Jump on UFO Catchers." Destructoid.
O'Connell, R. (August 2016). "SEGA Has Been Hiding a Secret Message on Their Claw Game Bags." Mentalfloss.
Rossen, J. (July 2916). "Dime After Dime: A Gripping History of Claw Machines." Mentalfloss.
"Skill Diga Arcade Flyer." (1965). Sega Enterprises, Ltd.
Webb, M. (April 2006). "Sega's UFO Catcher Makes U.S. Landing in July; 2-Claw System Provides Greater Play Control." Vending Times.
Yoon, D. (Sept. 2017). "Grasping for Hope." U.S. News.