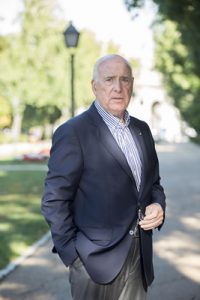 Throughout Sega's history, most of the focus has been on its console and arcade businesses, primarily in North America and Japan. We know who founded the company that created them, now considered a cornerstone of the video game industry, but little has been written about Sega's other ventures. For decades, Sega had interests in the European coin-op industry, especially in Spain. There, the company Sega S.A./Segasa was a major force in video game and pinball, bringing Sega's own wares to the Old World, as well as many hits from other manufacturers like Namco and Taito.
Eduardo Morales Hermo was there from the beginning, joining Sega S.A./Segasa early on and remaining with it until it closed down in 2006. Educated at Cambridge and in the U.S., Morales Hermo worked his way up the ranks to eventually become CEO and the majority shareholder. He steered Sega S.A. through the rise and fall of pinball, the tsunami of video games, and the eventual domination of gambling machines. His early days with Sega legends Martin Bromley, Dick Stewart, and Ray Lemaire gave him the leadership and savvy to run the company for the next five decades.
Mr. Morales Hermo was kind enough to spend some time with us to share his experiences at Sega S.A./Segasa.
Sega-16: Let's start by clarifying the company name. Is it pronounced "Sega S-A" or "Segasa" (Se-ga-sa)?
Morales Hermo: Sega is, as you know, "Service Games," which was the original name of Sega. When Sega was acquired, the company that was acquired in Japan was called Service Games and that is the initial first S-E-G-A. In Spain, it's Sega again, but S.A. is like a limited company, an anonymous company. This is the, let's say, the mercantile type of definition of the company. So, the company itself – the brand – is Sega, and S.A. means "Anonymous Society," which is a type of corporate structure. So, it's very simple. Normally, everybody knew us as Sega, even though to make it more practical we sometimes put the S.A. together with the name and they called us "Segasa," but that's "Spanish Anonymous."
Sega-16: Okay. I've heard lots of people, even in the U.S. call "Segasa."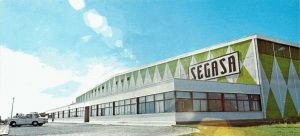 Morales Hermo: Yeah, well, because after the name Sega it was "S.A.," so they put it all together; they just eliminated the dots. They made it only one word. But we were Segasa until Sega Japan was sold and we agreed to stop using the name as a brand. We used the name "Sonic," which, strangely enough, they then copied by using the name for Sonic the Hedgehog. We were "Sega d.b.a as Sonic" as an agreement with Sega for quite a few years.
Sega-16: So, you were with the company with since it started?
Morales Hermo: I started with the company in 1968 and stayed through until I liquidated and sold some of the assets to [Austrian gaming company] Novomatic in 2004. So, I spent my whole life there. I was 23 when I was when I joined the company.
There was a guy from the U.S. called Bertram Siegal, who was the CEO at the time, and we put it all together; we started from scratch. We got all the licenses and all the permits that were needed. In Spain at the time, you were not allowed to have foreign investments that amounted to more than 50% of the shareholding. So, we had to hire a very famous Spanish lawyer to take the shares. Then the law changed and we were able to convert the shareholding back 100% to the original Sega founders, who were Dick Stewart, Ray Lemaire, Scott Dotterer, and Martin Bromley. They were the four people who founded Sega in Japan, and they were also the owners of Sega Spain, originally at the time.
Sega-16: And the company started bringing Sega's products to Europe.
Morales Hermo: Yes. In Spain, you were not allowed to import gaming products, in this case Amusement Games. There was no "gaming," really; it was Amusement Games. And in order to produce them, we had to have a temporary import of the models, of the prototypes, from Japan. We had to reproduce them in Spain, and we had to import some specific parts that were not available in the Spanish market. So, we did the temporary import, we registered the games in Spain, and we patented them in Spain. Then we manufactured or assembled them, depending on the amount of components that we could produce in Spain or if we had to import from elsewhere – sometimes from Japan and sometimes from the US, depending on where they were available. There was a period of time from 1968 to 1973, that it was particularly all Japanese products. So, we had to import all the motors and some of the electronics; they had to come directly from Japan, from Sega. I was going back and forth to Japan every other week and sometimes going there and back on the same day to resolve issues.
We did put out a lot of very popular amusement games at the time when in Spain they did not allow gaming machines. So, the only machines that could be operated in bars and arcades were amusement machines. Then in 1973, we started producing video games. That was when we started with Pong, which came from Atari and from other different companies. We were also pioneers in Spain by introducing that first one, black and white with the two dots and little paddles on the on the side. By then, we had a lot of these simulators – motor bikes, car racing, shooting – all kinds of games that were more sophisticated. They were not yet based on video. They were still based on films and mirrors, stepper motors, and things like that; but they were a very good combination of mechanics and electronics at the time.
We began specializing in manufacturing, but at the same time we started manufacturing pinball machines, which was something that we had through an agreement with Williams Electronics at the time (nothing to do with a Williams of today that manufactures gambling machines). And we've had a very specialized guy from the U.S., who was Sam Stern, the father of Gary Stern from Stern Pinball. He was the one who designed all of the production line for Sega Spain, and he even did the design of the artwork of the building! And he was a very good pinball designer. He was one of the pioneers of pinball science in the U.S. and worldwide because he was born in the U.S. He and David Gottlieb – they were the pioneers of the of the pinball industry, which we produced alongside amusement machines.
So, at one point Sega diversified its product, and we had a dual type of offering, which were electromechanical amusement video games and pinball machines. We used to do all the exports for Williams to Europe, Italy, France, United Kingdom, the Netherlands, etc.. We had at the time, a 70,000-square-foot premises and over 800 people working full-time. We did all the harnessing, all the printed circuit boards, and all the artwork design. We were quite creative at the time, and a lot of young people started working with us.
Sega-16: So, Segasa was Sega's hub in Europe for importing for exporting its goods throughout Europe?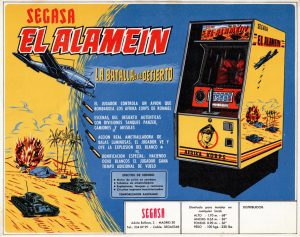 Morales Hermo: No, it was for the Spanish market for Sega itself, with some exceptions in that we sometimes did some manufacturing and assembly for some of the European markets they had. Normally, since they exported in the other markets and they could import freely, they did not need any help. So, it was mostly the Spanish market where it was very difficult in the beginning. On the pinball side, we were like a hub so that they didn't have to import them from the U.S. We would manufacture them here and export them to many of these countries, especially the four-player pinball that were very popular at the time. Now, they don't exist anymore, but there are single-player games which can be multiplayer at the same time. At the time, we had a multiplayer type of four-player screen, and it was more electromechanical. Now, with electronics that's finished. Everything is automatic and they can have as many players as they want in a competition.
But on the amusement side, which is more related to Sega, we had a long run until gambling was allowed in Spain, which was in 1975 or 1976. By 1978, it was fully regulated, so we were mostly dedicated to running gaming machines, which is the origin of Sega Japan. Don't forget that Sega Japan was put together in order to supply the American Navy and the American bases in the Pacific so that the official clubs and all the bases could have slot machines. They couldn't bring them from Vegas because you weren't allowed because of the trans-border prohibition [Ed. note: The Johnson Act of 1951 made it unlawful to knowingly transport a gambling device to a state where such a device was prohibited by law.]. So, they had to manufacture them in Japan in order to supply the Pacific Fleet and all the Pacific Islands when the Americans had the military bases for the officials and for the soldiers to enjoy entertainment.
That's how it started, but then it turned into amusement because all of a sudden, the U.S. Navy and the U.S. army stopped allowing the use of slot machines in ships and in some of their headquarters. Sega had to change its business to survive. So, it started manufacturing amusement machines, the jukeboxes, and also flippers. At one time, Sega Japan was one of the biggest music producers in Japan because it used to produce the music for its own jukeboxes in order to make the shows last like 30 seconds or a minute less. So, when you played the jukeboxes, you would pay the same money for less time. Most of the popular singers would do a special recording for Japan for the jukeboxes that Sega distributed, sold, and operated. It had at the time, thousands of jukeboxes and pinball machines spread all over Japan.
Then in 1964 or 1965, it start producing amusement, and the first big hit was Periscope, which was one of the biggest amusement machines ever made. It was more like a piece of furniture, very big with plastic, and that the only thing you had was a line of lights that would lead you to the ships that were crossing in front of you. With the periscope, you had to aim and fire and then lights would happen. So, that was the first… the biggest one that we got a price for at an exhibition in Belgium in 1968, and we brought them into Spain. It was one of the first machines that we sold in the biggest Spanish amusement park because it was too big to fit in an arcade.
Sega-16: Talking about the way that Sega was founded, do you know why Martin Bromley and the others decided to move on and sell their interests in Segasa or do you know why they didn't stay?
Morales Hermo: In the end, I took 25% of Segasa. I think was in 1986 when I replaced the American CEO and I became the CEO. Then, I bought out Sega in 1994. I bought 100% of the remaining interest. Until then, the owners of Sega in Spain were always the same – Ray Lemaire, Marty Bromley, Dick Stewart, and Scott Dotterer (much less because he passed away earlier), but Dick Stewart just died very recently. Marty Bromley died in Switzerland while asleep after having a big lunch. But Marty Bromley, who was the last more or less taking care of it, was always in partnership with Dick Stewart and Ray Lemaire for all the interest in Europe, not only Sega Spain but also the business they had in Ireland, in Belgium, in the UK, etc.. This corporate agreement was there all the time. Sega itself was never sold until it was sold out to me in 1994. I became a partner because they wanted to give me a partnership as compensation for my many years with them and so forth, but it was a graceful parting, not something I bought. The only time I had to buy is when Marty Bromley decided they were going away from Spain. At the time, we had a big operation of machines as well. We had almost 100 arcades and over 7000 machines in operation before Marty left.
At the end of the day, these people were more operators than manufacturers because their money was made in operation, not in manufacturing, but they knew the business like the palm of their hand and when they had to assemble or manufacture, they would do it just as well. In manufacturing, you always run into the risk of not selling the last 50 machines or 100, and then you lose all your profits. But in operation, you win all the time. It's a win-win situation. So, there were more operators than manufacturers. The only reason they manufactured was because they were obliged to because they had to produce the machines in Japan to fill their operations on the bases and to also produce the machines to fill their arcades as operators. They were very big arcade operators in London, in Brussels, and in Ireland; they were operators in many places with Sega products and other manufacturers' products as well.
Sega-16: So, Segasa did have relationships with other companies. Did they have any relationship with any of Bromley's other companies and their products as well, or was it just the amusement machines?
Morales Hermo: No, in Spain only the amusement machines at the time, until they became a gaming machine manufacturer as well. But it was always related to the Sega design. We did do a lot of assembly, manufacturing, and distributing for Taito, Namco, and Konami because we needed to have variety to sell. So, we were distributors, and we also had to manufacture some of the simulators from Namco and from Taito. I remember that for Taito, the first machine we produced was Space Invaders, which was one of the very first video games that was not color. It was black and white, but we just put our overlays to show the color… that the spaceships were different colors depending on the space they were using on the screen. So, we did a lot of tricks like that. And also Galaxian.
We did a lot for other U.S. manufacturers as well because, at the time, quite a few amusement factories came about in the U.S. as well. We were also distributing for them, not only for Williams Electronics. There were other U.S. brands that produced simulators, video games, and so forth, which we handled for them in Spain. So, at one point, we were practically not only producing Sega products, but we were assembling games for Namco, Taito, Konami, etc.. Then eventually, they just started selling directly, especially in Spain. Normally, they used to ship the machines completed, doing the assembly here.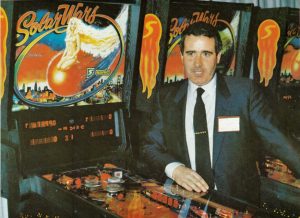 The industry changed a lot when video games came in. In other words, Sega decided at one point to divert from manufacturing video games and get into video game consoles, in which they were not successful whatsoever. They were good in gaming development, but they were no good in making the consoles successful like the PlayStation or any others. So, eventually, that was more or less the end of Sega amusements. I mean, they had a lot of other software that survived and they still survive, but since this other Japanese company [Sammy Co.] bought them out, they are more interested in pachinko than in the video industry whatsoever. And then the video industry changed altogether with the Internet because now the arcades are in the ether. They don't have arcades around the corner. The arcade is now online. This is what they call "esports," which is not esports whatsoever; it's amusement. These are amusement games, but they like to call it esports. But at the end of the day, it's just playing games in the in the cloud or playing games on the Internet by different means.
Sega-16: I miss the arcades. I grew up with them, and it's sad that people don't recognize that it wasn't just about the games but the experience… the socializing.
Morales Hermo: The problem with technology nowadays is that socializing goes away. You only communicate like we are doing now, on the internet through many ways, you know? You don't fight any more in the arcades. The relationships of young people are just different now. They do other things. But normally, arcades were a good gathering place. I remember going to Mexico and one day I went to Playa Del Carmen, which is now completely built up – back then there was nothing there – and there was an arcade in a shed with no floor. It was just a piece of land covered over. They had electricity and games from Sega, from Namco, and other video amusements. It was an arcade and all the little kids were gathering there. They had nowhere else to go and enjoy one peso for three minutes and come back again. Now, this is gone. Mobile is the amusement gadget today, and it is used for everything (of course, not to forget about tablets or PCs). But the arcade machines are not a thing anymore. Arcades needed skill and a lot of other things different to what you have now when you play only on a screen. Then, you could ride a motorbike, and the motorbike would lean to one side or the other. You could ride in a car and the car would be jumping or bumping and you would feel it when it crashed. It was a completely different experience.
Sega-16:  Exactly.
Morales Hermo: I think that if kids today went into an arcade of the 1980s or the 1970s, they would have fun. The young kids today, I don't know how much time they would devote to it, because they have other things now that take a lot of time, but I think it would amuse them quite a lot.
Sega-16: I agree. I think so. Going back to pinball, I know that Segasa was involved in pinball. What made you decide to enter the pinball market in 1973?
Morales Hermo: It was a big market in Europe. Pinball was like fashion at the time. In Spain, there were like three or four manufacturers that were copying Gottlieb and others, and the Italian market was very big. You could find pinballs in bars. In Spain, we had 200,000 bars, in Italy 300,000, In the U.K. 100,000 pubs (nowadays much fewer due to the COVID-19), and so forth and so on. So, the market for pinball was huge. You know, you could have maybe, at one time 100,000 pinballs in operation in a market like Spain because it was a small market because they didn't go into arcades; they would go into what you call a pub or bar. You know, in some places in the U.S. there are still pinball machines in these kinds of restaurants or small bars, or whatever. So, at the time, most of the operation in Spain was in bars. All the video games were in bars, and the pinball games were in bars.
Eventually, they were all replaced by gambling machines. When gambling machines were approved in Spain in 1978, the amusement machine business disappeared from bars because one gaming machine would produce $100 a day. A pinball machine would produce maybe $30 or $25, and a video machine will produce about $30. So, if you put in two gambling machines you would make four times as much money as you would with a plethora of pinball machines.
And this coincided with the video market coming along more to play on consoles. Video survived a little longer but not much longer because immediately afterward, people started to play video games on a computer. It just started replacing video games in locations, and only arcades would remain for some time with video games, maybe until the 1990s. And then they were almost gone altogether. There are only a few arcades left; I think only in some commercial centers and malls. There are still some arcades in Europe but not very many.
Sega-16: The deal that you had with Williams, how did that start? Was that something Segasa approached Williams about or did Williams initiate it?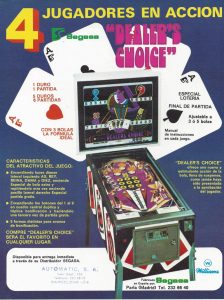 Morales Hermo: There was an agreement with a company called Seeburg that was the owner of Williams Electronics at the time. So, Seeburg temporarily took 50% of Sega Spain in order to have an agreement or joint venture to manufacture pinball machines, and it lasted until the late 1970s or early 1980s. I think it lasted into the 1980s… 1982 or 1983. That was when we did not continue anymore with the agreement with Williams for the manufacturing of pinball, and they exported directly. And in fact, we put in our own design people. So, we got local people as designers, and since we had all the components, we had all the know-how, and we had all the features, we just decided to make our own pinball machines. In fact, we did a couple of Sega pinballs at the time, Sega made a few pinball machines in its very early days that were not very successful. I think we did a couple of them, which were not very big. It was quite a short-term experience. But yes, at the time Seeburg became a 50% owner of Sega Spain until we stopped the manufacturing and distributing of pinball, and then it sold the shares back to the shareholders of Sega at the time – Martin Bromley, Dick Stewart, etc..
Sega-16: I saw that Segasa licensed Williams Flash!, which was one of the first big solid state pinball machines. Was that was that done to help move the pinball industry in Spain into the solid-state era?
Morales Hermo: No, it was just an opportunity that happened. The game was popular and it was very good; that's it. There was nothing more behind it.
Sega-16: So Spain was already making that transition into solid-state.
Morales Hermo: Yes, the transition into electronics, more solid-state, was done already, even before that, I mean. In fact, the Americans were a little behind the Europeans in electronic development. They were more classic. They thought they didn't need to do that, you know? Why change the screen into electronics, keep the wiring behind, and everything else? But I think that is the industry and how video was moving forced them to really go into electronics altogether.
And Williams was very innovative because they were very creative. They really knew how to design a pinball game, how to design the playfield and everything else. They actually had very good people. But electronically speaking, most of the companies were not too much into it. They thought, you know, that this could last forever. So, video games came to change their lives altogether. Today, a pinball machine is a mix of a video game and an electronic machine, something like a merge of both technologies.
Sega-16: That's true. Piracy was also a big problem in coin-op overall. What areas did Segasa service and how did you combat bootlegging?
Morales Hermo: Well, it's very difficult to work against people copying you. In Spain, most of these manufacturers were copying William and Gottlieb, just with small changes to the playfield. They would just make a different color or a different name. It's difficult to patent. Copyright is very precise. I mean, it's difficult. It's like songs, you know? Okay, you can copyright a song – the lyrics, of course, with music. But sometimes you can make something look or sound like what is popular without it being exactly the same, and you'll get away with it because it's difficult to be so precise in the in the patent world and the copyright world to really pursue these people. Even branding was complicated. When I sued Sega Japan for the use of Sonic, and I proved that I was using "Sonic" much prior to them, they had enough money to keep going and going, and I just gave up because I just couldn't go on spending on lawyers forever. Maybe at the end of the day, I will get a lot of money back but…
We've had quite a few curious configurations in the company. We had the patent in Spain for Pac-man. We manufactured Pac-Man at the time, the video game. And that was a Namco game. Okay. And then Namco told us, "Okay, you patent it in Spain, you get the rights in Spain for Pac-Man." So we got the rights in Spain for Pac-Man. Now everybody started doing Pac-Man in many ways – phone, mobile, and all kinds of things. And we ended up selling the rights back to Namco for a very small amount. And that was the only successful experience that I had in trying to keep control of a patented brand and copyright. But it was quite difficult. I mean, I have seen very few success stories of an original copyright fight against a forged copy of someone's creation.
Sega-16: How big an impact did the ability to start selling gambling machines legally have after Spain's transition to democracy and repeal of the law that outlawed them?
Morales Hermo: Well, the business changed altogether. It was a very drastic change. It started even before the gambling machines were allowed legally. It started when Franco died. They decided in 1976 that gambling was not a crime anymore because until then, gambling was a crime. So, when this became just an administrative infraction, everyone was free to do whatever they liked with illegal gambling machines. They started bringing in machines from the U.K., from Holland, and from many other places; and Spain started to get flooded with – do you remember the bingo machines? That was one of the biggest intrusions in Spain. They started to import thousands of bingo machines to put them in bars. Later, Spanish manufacturers copied them and made their own bingo machines here. Around the same time, they did the same with another type of gambling machine, just typical slot machines.
By 1978, when the law was approved, allowing up to three machines per bar and as many as you wanted in an arcade (depending on the size), we all of a sudden ended up with almost 600,000 slot machines in the market, in the bars. Amusement was then pushed back into very few bars and arcades. That changed the business altogether. Amusement and pinball manufacturers became slot machine manufacturers. Amusement machine and pinball operators became slot machine operators. That changed things completely. You could say that it washed away the amusement business in Spain, economically-speaking. I mean, the business was still there, but it was very small and limited to certain locations.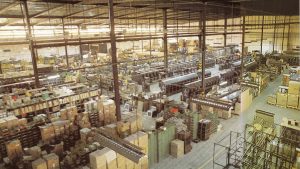 Sega-16: And Sega SA's original games, where did they come from? Was it difficult finding designers for amusement and pinball?
Morales Hermo: For pinball, no. We had pinball machines in Spain for many years, and you had people who had worked at Playmatic, Petaco, and Maresa; which were local manufacturers. They had been around and had experience and good designers. It was nothing compared to the U.S. companies; they had much more experience. Our machines were simpler, probably, but they were good enough for the small part of the market that was left.
The same thing happened with slot machines. We had our own designers, interacting with a U.K. company called JPM at the time to use their signs. We got to hire our own designers, but everyone else was copying everybody. That was one of the biggest problems, and it still happens. Spanish manufacturers have their own know-how, but if they see anything moving that's good, they change a few things and they do the same game.
Sega-16: Did Sega SA ever try to move into the American market like other companies, such as Italy's Zaccaria?
Morales Hermo: No. We did export some pinballs to the U.S., strangely enough, but nothing important. I think Martin Bromley just wanted to have some fun. We maybe exported a few other amusement machines to the U.S. because his daughter, Laureen Bromley used to be an operator and she became a manufacturer as well. She's the only part of his family that remains in the industry. So, no, we didn't export anything important. The U.S. already had a strong manufacturing and product base, and a Spanish company like Segasa didn't really have anything to do with the U.S.
Sega-16: Segasa wasn't your only company in the industry. You were involved with other slot machine makers as well, correct?
Morales Hermo: In 1990, we build a new and important gaming manufacturer in the UK, Astra Games Limited. I had as partners great game designers Ron Watts, Jack Jones, and Alan Parker – all of whom came from JPM Machines Ltd., a very important gaming machine manufacturer in the U.K. I bought them out in 1998 and remained with 90% of shareholding and the other 10% held by Ron Watts, the most brilliant game designer in the U.K. industry. We also formed an online game content design company Crazed Ltd and we produced some games for the online gaming industry in the late 1990s. These companies in full success were sold to Novomatic Group in 2004 and I remained in the Board of Directors as non-executive for five years thereafter. Astra Games continues very successful and has recently been acquired by Inspired Inc..
I have been in the online gaming and betting business development since 1996 and since 2005 I am now a senior advisor for Ficom Leisure – a boutique company specialized in the online gaming and betting industry, as well as in M&A transactions within the retail and digital channels. I have evolved to become specialized in the new channels which are growing fast and that merge with the retail for an omnichannel solution, which is the present and future of the gambling industry. So, I specialize in start from scratch or revamp online gaming projects across all international regulated markets specially in Europe and South America, as well the U.S. and Canadian markets. Just see my Linkedin profile where it all is.
Our thanks to Mr. Morales Hermo for taking the time to share his experiences with us.
Arcade flyers courtesy of Museo Recreativo. All other images provided by Eduardo Morales Hermo.