February 11, 2016 at 11:22 am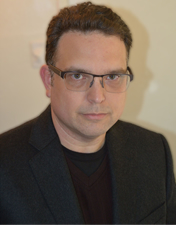 The Genesis had its fair share of mascot platformers, and while many faded quickly into the background, some managed to stand out and be successful. Sunsoft's Aero the Acrobat series succeeded where others failed, with its winged protagonist receiving the "best new character" award from the game magazine Electronic Gaming Monthly in 1993. A total of three games were released on 16-bit consoles, and the original was remade on the Game Boy Advance in 2002.
At the center of the game's success was the father/son tandem of David and Justin Siller. Justin was involved in the character design for the two Aero games and took a much larger role in the spin-off, Zero the Kamikaze Squirrel. After a successful tenure at Sunsoft, he moved on to Interplay, where he served as producer on Earthworm Jim: Special Edition. Since then, Siller has worked at several companies and on several high profile projects, such as One on the Playstation, Dragon's Lair 3D on PC and the original Xbox, and Mortal Kombat: Deception on the Playstation 2.
Sega-16 recently had a chance to chat with Mr. Siller about the Aero series.
Sega-16: How did you get started at Sunsoft?
Justin Siller: My father, David Siller, created the original idea and game design for the game Aero the Acrobat. I was attending school and focusing on graphic design (there were no game art degrees back then). From the beginning, I had assisted him by creating concept art for Aero and his co-stars. It was only natural that once the Aero project was green-lighted, that Sunsoft agreed to bring me on as part of their staff to assist in the development of the property
Sega-16: How did you come up with the concept for Aero the Acrobat? What was your inspiration?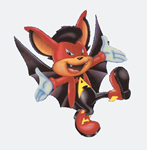 Justin Siller: I was not only a second generation gamer, but second generation comic book and movie fan, cartoon fan, and Batman fan. As such, Aero comes from a long lineage of anthropomorphic characters such as the Looney Tunes and Mickey Mouse but with a superhero twist. Those influences informed my choices at the time for his design. For Zero, I wanted more of a Japanese anime look, and for Ektor and his crew, I was inspired by '70s and '80s glam and heavy metal as applied to circus clowns.
Sega-16: Do you recall why Iguana Ent. Was selected for the project? Did you have any input about selecting the developer?
Justin Siller: Iguana was selected before I started at Sunsoft, but I would have to say that they were some of the most professional and proficient creatives I ever worked with in the industry. Their integrity and experience made working with them a joy. I wish that all outside development teams were up to such standards.
Sega-16: The Game Boy Advance remake of Aero included a battery back-up feature. Was this ever considered for the original, or perhaps a password feature?
Justin Siller: We had to learn some things only after the game was released into "the wild." Unlike today, where games can be difficulty tested by the public and updates released on-the-fly, we had to rely on the opinions of our internal testing. When someone is playing the game day in and day out, it becomes too easy. As a result, I think the game may have been dialed-in at a level of difficulty that wasn't ideal for new players. As a result, the sequel and Zero had password features implemented as well as tweaks to the controls and difficulty.
Sega-16: Were you ever asked to contribute to the remake?
Justin Siller: I assume you're referring to the Gameboy Advance reissue. It was an enhanced port and not something I was needed for at the time.
Sega-16: How did you approach the design of the sequel? Did you do anything differently, or did you maintain the same formula overall?
Justin Siller: Aero 2 and Zero the Kamikaze Squirrel were developed concurrently, so most of the game design on Aero 2 was handled by David Siller and Nigel Cook, while Neill Glancy and I were designing Zero. That said, I did a lot of the character designs for Aero 2 including Ektor's train engine. As far as formula, I'd say that Aero 2 opened up the possibilities by taking the action out of the circus. It freed us, allowing us to explore new mechanics and environments, such as the snowboarding levels.
On Zero, I wanted something that was different than what Aero offered, as well as any of the other platformers out there at the time. The original design was really quite ambitious. As an example, the various vehicles that Zero employs had much larger roles, but the realities of making the game within a tight budget, a tight schedule, with a mix of existing technology and new mechanics, and two teams in different geographic locations (and the World Wide Web and the Internet of 1994) meant that some compromises had to be made and some redesign was inevitable. The Iguana guys did a fantastic job working with me to achieve something we could all be proud of.
Sega-16: Did the sequel include anything that didn't make it into the first game, or was it entirely new?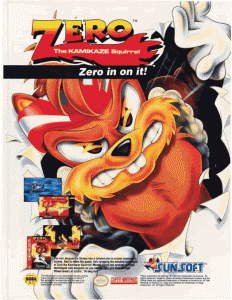 Justin Siller: I can't recall anything that carried over. It was a pretty clean slate as I remember, even the controls and animation system were improved from the first game and we were churning out new characters and mechanics on both sides of the Sunsoft/Iguana teams.
Sega-16: Was the idea to give Zero his own game something that resulted from Aero's success, or did you plan it from an earlier stage?
Justin Siller: I guess it may have been always in the back of my mind when I came up with the idea of Zero, that he was a sort of anti-hero with the potential to strike out on his own but nothing was seriously discussed until after Aero's success.
Sega-16: You handled a lot of Zero the Kamikaze Squirrel's creation yourself. How large was your team?
Justin Siller: I handled a small part of the game's creation. It takes a team of people to make a game. I created the character and his design and laid out the first draft design and sample levels. Neill Glancy at Iguana and I were equal partners in the core design of the final product. Concept art and characters were designed by Jools Watsham, Matt Stubbington (who left us much too soon), and the rest of the art team at Iguana, along with Mario Zavala and me at Sunsoft. Game assets and programming were handled on Iguana's side with a team of slightly more than a dozen people, some of whom were flexing over onto the Aero 2 team.
Sega-16: Did you have any further plans for new games in the series? I know the move to 3D affected many 16-bit franchises, and by then you had moved on to Interplay. Do you know if there were every any plans to revive the franchise?
Justin Siller: David Siller and I have always had ideas for continuing the franchise, but the downsizing of Sunsoft quashed the momentum that would have allowed us to explore that option. I think it would be exciting to see the characters move into 3D and I believe they would only benefit from new mechanics, new hardware, and new ideas. I would welcome the opportunity to reboot the franchise and move it into the next phase, but the right circumstances would have to align to make it happen.
Sega-16: Which machine did you find worked better for the franchise, the Genesis or the SNES? Was there any difference during development of the games?
Justin Siller: Oh, boy, I'm going to get pummeled for saying this on a Sega fan site, but the SNES had some graphical and audio advantages that worked better for what we were trying to achieve. I specifically remember that for Zero, the musical capabilities of the SNES allowed the musician, Rick Fox, to achieve the cinematic qualities I was looking for to set the mood for the environments. I remember giving him very specific ideas for each level, and he was able to accomplish this with greater accuracy on the SNES. He was really pushing the limits of what the SNES could do, already. It was a shortcoming that I believe played a large part in Sega's decision to release the Sega CD.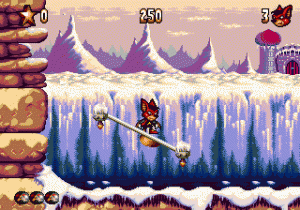 Sega-16: The Sega CD had a much smaller userbase than the Genesis did, but it was great to see companies release enhanced editions of cartridge games for it. Earthworm Jim SE was a prime example of how to do this right. Do you recall how well it sold? Was Interplay happy with its numbers?
Justin Siller: I can't recall any numbers at this stage, but given the small installed base, I don't think Interplay could have been wowed just by the numbers. I believe it was more of a chance to build a relationship with Shiny Entertainment. It was great working with Dave and the team to tune and test the game for the CD release. The late Andy Astor was a great programmer and human being and took all of the suggestions from my QA team and me and applied them to make Earthworm Jim: Special Edition, what I hope is the most playable and well-tuned version of the game.
Our thanks to Mr. Siller for the interview!