With well over seventy-five games to his credit, Roger Hector has secured his place in gaming history. During his career, he has created and designed a great variety of projects from race cars, to driving and flying simulators, to computer games and theme park attractions. He has been a senior executive for major corporations ranging from Walt Disney to Universal Studios.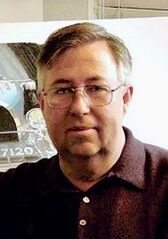 Hector began his career at Atari in 1976, where he worked on such landmark titles as Battle Zone and Warlords. In 1982, he and several others from the company set off on their own and founded Videa, which was eventually acquired by another founding father of the industry- Nolan Bushnell. While with Videa, Hector was responsible for hits like Hat Trick and Mini Golf. He later made his way to Electronic Arts and was behind a string of classics which included Jordan vs. Bird: 1 on 1 and Skate or Die!. In 1989, he moved on to Disney Interactive and is credited with Castle of Illusion and Animation Studio.
It was at Sega that Hector had a hand in some of the Genesis' most memorable games, as vice president/general manager of the Sega Technical Institute (STI). There, he oversaw work on the Sonic the Hedgehog series, as well as The Ooze and the hit Comix Zone.
A lifelong car enthusiast, Roger Hector has become widely recognized as a master automotive artist. His artwork has been featured in prestigious museums, galleries, publications, and private collections across the country. He has created an acclaimed series of limited edition fine art prints which are available through his website.
Today, Mr. Hector is a consultant with major companies in the games industry and he also is launching a new, soon to be announced, consumer electronic product later this year.
Mr. Hector was kind enough to spend a few minutes with Sega-16 regarding his career in the gaming industry, especially at the STI.
Sega-16: You have a huge gaming resume, dating back to the late '70s. How exactly did you get involved with the gaming industry?
Roger Hector: Originally, I was working as an Industrial Designer in the Midwest and was interested in moving back to California (I grew up in San Jose). A college friend of mine, Pete Takaishi, was working at this little known start-up company called Atari, and he hired me to be a designer in the coin op group. I took the job in order to move back to the Bay Area, and I figured I'd work there just long enough to find a "real" job. But the early days of Atari were very exciting, and I found that I really liked the creative environment. I wound up working in several different groups in both Coin Op and Consumer, and eventually was the Manager of Advanced Products; a special creative R&D group that pretty much did whatever we wanted. We developed both new coin op product ideas and consumer product ideas that included raw game designs and new technologies like holographic animated displays. We were completely self-directed, and it was a lot of fun.
Sega-16: You've made some of the most memorable arcade games of the 1980s, including Warlords, Battlezone, and Skate or Die!. How difficult was it transferring this experience to home consoles?
Roger Hector: Actually, Warlords and Battle Zone were both created as coin op games first, and they later made their way to the consumer consoles. I worked as a creative member of the teams, and Warlords translated easily as it was inspired by the older Breakout games. Battlezone was the first 3D vector game and had special new hardware which was difficult to translate into a consumer cartridge. Skate or Die! was originally created as a cartridge game by Don Traeger and Mike Kosaka, and if my memory serves me, was EA's first original cartridge game made in-house. That in itself made it a revolutionary game for EA, as they had previously regarded cartridge games to be inferior to computer software games. My how times have changed!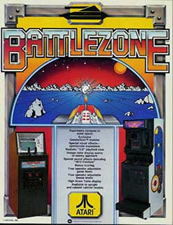 Sega-16: Were there ever any plans to bring your arcade classics to the Genesis?
Roger Hector: While I was at Sega, we were always working on new games. I was never involved in any plans to bring old arcade games to the Genesis.
Sega-16: Exactly what was the Sega Technical Institute's role at Sega of America? Was it merely another internal development group or was there more to it?
Roger Hector: The Sega Technical Institute (STI) was regarded as a special group where the top Japanese game talent in the company could come to the USA and work with top American game talent to produce special original games. It was a kind of elite group overall and was given a lot of autonomy. We did the major Sonic games, but we also took on special coin op projects like: Die Hard Arcade, and we were the only group within Sega allowed to do crossover things like this. We tried to keep a low profile, but we got a lot of attention because of the success of Sonic. It was a special place and was a lot of fun.
Sega-16: The Ooze has been featured on a Sega Smash Pack collection and most recently, the second volume of the Arcade Legends plug-'n-play devices. Did you ever see any potential to turn this game into a franchise?
Roger Hector: We always considered the franchise potential of a successful original character. And STI was always working on new character ideas in addition to Sonic. The Ooze was never originally developed to be a real character-based game, but it was treated like one anyway because it was done at STI. Everyone associated us with creating character games. The character in this case was an algorithm.
Sega-16: Yuji Naka was said to have always been very wary of how Sonic was used outside of his team. How much input did he have on the creation of Sonic Spinball?
Roger Hector: Sonic Spinball was inspired by a level in Sonic 2, which was created by Naka. We all had so much fun playing it and we thought it could be expanded. But Naka had little to do with creating Spinball as he was working on Sonic & Knuckles at the time. He was always very conscious of the project, and he was kept "in the loop," but Naka had his hands full and didn't have much time for anything else.
Sega-16: Comix Zone is a fan favorite among Genesis owners. What part did you play in its making?
Roger Hector: This concept came from a brilliant STI designer named Peter Morawiec. He was an artist and a strong designer, and he presented a beautiful animated video mockup of this concept to show to management. The minute I saw it, I knew it was going to be great. I still have a copy of the video and have used it as an example of how to present a strong concept. It took a few months to put together a team capable of delivering the game, but Peter was truly responsible for its concept and he lead the design from beginning to end. I just played the management role, and I bow to the team.
Sega-16: Were there ever any plans for a sequel to Comix Zone?
Roger Hector: Yes, but the team broke away from Sega and we just never had the chance to build a sequel.
Sega-16: Castle of Illusion is often regarded as Mickey's best outing on the Genesis, and one of his best games overall. How did the idea for the game come about?
Roger Hector: It was a collaboration of a very talented group of Sega Japanese designers and Disney Producers. The design was driven from Japan, but Disney made sure it was appropriate for the license. In the end, a lot of creativity flowed both ways into the product. It was a very good example of two companies cooperating extremely well to make a great product. I think the game was especially good because of the cooperative spirit of everyone working as one.
Sega-16: Many people, including producer Mike Wallis, have commented on the stormy sequence of events that was Sonic X-treme's development. Was it really as much of an uphill battle as they say?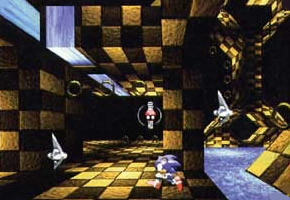 Roger Hector: After the unsuccessful hardware transition from Genesis to Saturn, it became evident that the Saturn was not going to cut it. In Japan, heads had to roll, and Sega went through several turnovers of executive management. The environment became highly political and somewhat chaotic. All this took its toll on the creative spirit of the company. Sonic X-treme was just one project that suffered in this environment. Yes, it seemed like everything became an uphill battle. But that too is part of the games business. You have to take the good with the bad.
We would like to thank Mr. Hector for taking the time to talk to us. For more information on his artwork, please visit his website.