As we reach our sixth anniversary, the time has come again for me to thank our readers, staff, and contributors for their dedication and loyalty. Sega-16 has remained a solid force of gaming news and discussion since its founding in 2004, and the support we've received over the years has been outstanding. Without the passion of those involved, this site would never have even gotten off the ground, let alone lasted this long.

There have been some minor changes to the site during this past year, mostly behind the scenes (that's where the magic takes place, ya know?). While some of the things we proposed last year have yet to come to fruition, we're still taking strides to making the site the best place to go to for Genesis information anywhere. The global economy has hit all of us in some fashion, but that doesn't have to mean that the gaming stops!
Here's what's happened this year:
Coverage remained consistent. We're fast approaching the big 700 review mark, and a few hiccups aside, the site has maintained regular updates. It is my strong belief that keeping a website supplied with fresh content is vital to keeping people around, and our readers have grown to expect new articles on a regular basis. We may not always be able to provide the customary four pieces each week, but you can always expect at least one or two. Sega-16 has reached the point where our archive of published articles (well over 1,000) can compensate for not having daily updates, and the very nature of our coverage doesn't allow for news updates so frequently. However, whenever new Genesis-related information has emerged, we've been there to cover it, and that will continue.
As I did last year, I encourage our readers to contribute articles whenever they can. Our monthly Reader Roundtable feature has really taken off this year with record participation, and that's a great indication that people are genuinely interested in helping out. We love to hear from you, so write something up and send it in!
We changed hosts. Sega-16's new home is one that's very special to me. I've been a member of the Next Level forum for ten years, and it's great to have the site so close to my most frequent online hangout. I've written for TNL off and on over the years, and it's a great place to talk about games, politics, and everything else. CKA, our new webmaster, has been a great help in giving us consistent tech support and just keeping things running, and Nick's aid in upgrading the forum has been an immense help.
Furthermore, I'd like to thank Josh for hosting us for four years and putting up with me for so long. I appreciate all he did to help get the site running, and he has my thanks.
We're on Facebook. I know, many people either hate or don't see the point of social networking, but it's a great way to get people to the site, and our Facebook group has been growing at a consistent rate. I'm currently working on providing a full-blown page, as well as finally getting our Twitter coverage off the ground.
We're a bigger blip on the radar. Years of consistency and hard work have really paid off, and 2009-2010 has been a banner year for cultivating relationships with major publishers like Namco, Sega, Capcom, and Konami. All have maintained regular contact with us and have been eager to grant us interviews and coverage (as seen in our recent Rocket Knight preview), and this will only improve as our professionalism and dedication continues to be noticed and rewarded. You don't have to be a major site to do things right!
* * *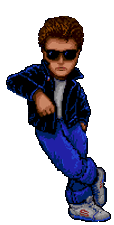 With all that Sega-16 has accomplished over the past six years, it would be easy for us to get complacent and just sit back on our laurels. The thing is, that's not us. We're dedicated to bringing the best Genesis coverage in the world, on or offline, and that's been our guide since day one. During the next year, we'll work to continue bringing the hard-hitting and thoughtful features, reviews, and interviews you've come to expect from us, and we'll strive to make the site better than ever. It's what we do best, and it's what we love to do.
As always, I promise to keep the site free. I want our coverage to be available without charge to as many people as possible, and as long as I can cover the cost myself, I will. This next year will be one of expansion and improvement, and your feedback is always welcome. You are what make this site successful, and we want to hear from you. Let us know how we're doing, and tell us what you'd like to see added or changed. Above all, continue to grace us with your support. We thank you for it.