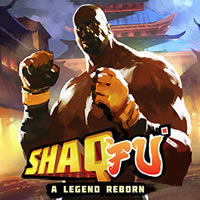 Coming in at the top spot in the "why?" category is the announcement that a sequel to the infamous fighting game Shaq-Fu is currently under development. Over the past two decades, the game has achieved a near cult status for its (lack of) quality and downright cheesiness. It's one of those games you hear about so often that you have to play it. Then you find yourself buying a copy because it was cheap or because you think you need a laugh every now and then.
And then someone goes and makes a sequel.
Developer Big Deez Productions announced this week that a sequel is indeed in the works. Slated for PCs at a cool $29.99, it sheds the one-on-one fighting style of the original and instead goes in the direction of the traditional beat-'em-up, like Streets of Rage, complete with two-player co-op mode and everything. Shaq is back and out to take down the mysterious Black Star Ninja, presumably because there's really nothing else one can do with ninjas other than beat them to death.
The style of the teaser video may conjure up images of Street Fighter IV and with good reason. The group behind A Legend Reborn features talent that worked on that series, as well as classics such as Halo, Madden, and Final Fantasy. There seems to be no shortage of creative minds involved, and the group has decided to go the Indiegogo route to avoid the pressures of large scale publishing. A goal of $450,000 has been set for April 20, and there are all sorts of bonuses for those who back the project, such as tickets to an NBA game or even a chance to play a pick up game with the Big Aristotle himself at his Florida home.
As for the game itself, there are reportedly a number of features that, admittedly, do sound interesting. For instance, Shaq is highly customizable, and players will be able to create their own individual fighting discipline based on the different styles in the game. Bosses will also become playable once defeated, and the environments are destructible. If an enemy is smashed through the floor, players can drop to the lower level and continue the beat down. The same goes if enemies are tossed through windows or walls. The coolest feature? There's a power up for every nickname Shaq has ever had. Yes, there's one for Big Diesel, Big Baryshnikov, and more. Tiers begin at $15 and include the mobile version if stretch goals are met (the $25 tier and up include free DLC for life).
Try as we might, we can't help but admit that this actually sounds kind of cool. The only downside is that there won't be a Genesis version to put on the shelf next to the original. For more details, head on over to the game's Indiegogo page and check out the tiers and rewards.