It's hard to think that it was ten years ago that I founded Sega-16. At the time, my goal was to simply give my favorite console of all time a dedicated space on the web. Here, I would share my experiences and hopefully get more people into enjoying Sega's most successful piece of hardware. Over time, that goal morphed from creating awareness into forming the definitive historical repository for everything Genesis related. I like to think that we've done a good job of that over the past decade.
Maintaining Sega-16 has been a long and hard road, to say the least. I once heard that most fan sites last an average of six months, so celebrating a decade (on the same week as Sonic's birthday, no less!) is an amazing milestone to me. There have been hacks, server issues, forum software changes, and staff turnover… you name it, Sega-16 has gone through it. However, it gives me great pride to know that the site has endured, and that people are (hopefully) getting some use out of the information we provide.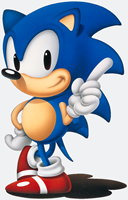 I do wish I had more time to write and do more comprehensive retrospectives and interviews, but multiple teaching jobs, two kids, and a doctoral dissertation don't leave much free time. And then there are all those games to play! It's ironic to think that while I founded the site to get other people into the Genesis, it's actually boosted my own love of the console to the point where I now have more Genesis games than I ever dared dreamed. For review and feature purposes and out of curiosity from reading articles from other contributors, I've had the chance to play obscure titles and imports that I had only vaguely heard about or saw a single screen shot of back in the day. Now, many of them sit proudly in my collection.
The heart of Sega-16 has always been the support it's received from contributors, and the wealth of staff and contributors that we've had over the past decade has been nothing short of spectacular. Almost 150 people have stepped forward to write something, and the result is that the overwhelming majority of Genesis games, a great deal of Sega CD releases, and all but one 32X title (South American Surgical Strike, we're coming for you next!) have been reviewed. The update pace has slowed a bit, but there's still plenty to write about, and as long as there are Genesis stories to be told, Sega-16 will be there to tell them.
Our efforts have reaped some real world rewards, as in addition to being able to chat with almost 100 people who worked with the Genesis in some capacity, we've contributed to two books chronicling the story of the Genesis. It was a great pleasure and honor to know that our research helped out with Blake Harris's Console Wars: Sega, Nintendo, and the Battle that Defined a Generation, as well as readonlymemory's Mega Drive: Collected Works. These guys have done some deep and compelling research, and I'm glad they found the site useful to that end.  That's what Sega-16 is for, and it's rewarding to know that people are making use of what we're doing here. It takes a great deal of time and effort to write a lot of these articles and do interviews, and these books are exactly the sort of project that Sega-16 is meant to serve.
We've also branched out to video, and our YouTube channel – while young and kind of simple – is coming along nicely. I would love to have more people contribute videos to put up, but I know how long they take to make and edit, so I'm content with doing the lion's share of uploading.  Though they've been very basic thus far, I've made some strides in this area, and I expect the videos to become better and more complex as time passes and I learn more about the process. It's just another avenue for us to get the word out and enjoy our favorite games, and any opportunity I have to do that is one I'm going to take.
I've spoken to people who have said that they would like to see Sega-16 add additional Sega consoles, given our review style and investigative talents. I agree, and I already have plans to add at least one more machine to our coverage, but that will come sometime in the near future. I know some people think that Sega-16 should be just for the Genesis, but once the majority of games have been reviewed, it makes sense to extend coverage to Sega's other hardware. Who wouldn't like to see more Sega love online? There will still be plenty of Genesis-related content; it will just be joined by articles for other Sega machines.
Overall, I have to say that writing for Sega-16 has been a great source of joy for me. I really love researching and hunting down people to get the details behind my favorite games. These are stories that need to be told, and I've been lucky to have had the opportunity to tell them for 10 years. I appreciate all the support everyone has given the site since 2004, and I only hope that you'll stick around for the next decade. There are still a lot of stories to share.
Thank you for your support and your patience. Sega-16 would be nothing without the fans.
Here's to another 10 years!