The Ecco series is probably best known for the first title on Genesis, while its Sega CD version is superior. And the sequel, Tides of Time, is even more amazing, especially on CD. These four titles offer an ocean of enjoyment, quite literally, but after swimming through the main series, there is one more 16-bit title: Ecco Jr..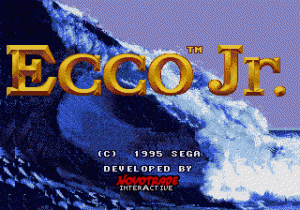 Released in 1995 after the whole main series, Ecco Jr. was aimed at young kids, while promising some of the magic of its predecessors. As one of the short-lived "Sega Club" line of releases, we can expect easy, simple gameplay that's accessible for even the youngest who might get their grubby hands on a Genesis controller. These Sega Club releases are always hard to judge fairly, but Ecco Jr. actually delivers great gameplay that should entertain even the youngest children for any length of time, even just a few minutes. (It can also be mildly entertaining for adults who have already seen everything else in the series.)
The whole game is available right away, in the sense that all the stages are pretty similar and consistent with the first stage. Young Ecco and his friends (an orca whale, and a darker-gray dolphin) are playing in the ocean, with simple objectives for each stage. They never travel to new scenery, so the whole game could take place in the same area. The youngest players might only grasp the enjoyment of swimming around as a dolphin or orca, and that works fine. The developers removed all difficulty and challenge from the series, so it can be enjoyed as a simple, pretty ocean simulation. Ecco and his friends can swim around indefinitely, without a care in the world. There are no enemies, as everyone gets along here; even the sharks are harmless. There is no health meter, and no need to regenerate health, so no eating fish. There's not even a need for breathing oxygen! This is Ecco with the removal of all elements of survival, so it's an effortless enjoyment that would appeal to any kids who like nature.
For those who want to do more than just swim around, each stage has an objective that is easy to complete in a minute or two. A title screen explains each goal, but if the players don't read yet, the goals can be figured out just by playing. Sonar can be sent out with limited function – there's no sonar map that we're used to – but the sonar waves actually bounce back from the goals, to show where to swim to next. Everything can be figured out just by sending sonar everywhere and seeing where it bounces back from to locate each goal. There are only a handful of different objectives, most repeating in a few stages, but they're pretty creative for the simple controls. Everything is based on sonar, like using it to contact a baby turtle and bring it to its mother, or using sonar to find creatures who are hiding in the rocks. There are missions to collect things, like pearls out of giant oysters, or collecting gold treasures and returning them to a sunken treasure chest. Some stages require that a bunch of small crystals be destroyed by sonar, which is kind of fun. Playing "tag" is also pretty fun, with a circle of shells, fish, or crystals surrounding Junior, which he has to "tag" onto one of his friends, and then quickly leave the stage before he's tagged back. Another very nice objective is to arrange musical rings in the right spots, and then swim through them to make musical tones. With easy gameplay, cheerful music, and pretty graphics, Ecco Jr. does make a good title for young children.
Strange Sightings in the Sea
Ecco Jr. has a few odd details that make me think there was originally more content planned but never completed. For example, sometimes there are bubbles that float up from natural vents in the landscape. In the normal games, this would be a spot for Ecco to breathe in the air. But as Junior, he has no breathing system, or health system at all, and so these vents might suggest that he was once planned to. There are also shells that open up by hitting them with sonar, just as an animated part of the environment. Normally, those shells would release healing oxygen, and their inclusion here might suggest they were once planned to do the same.
Some stages are based on arranging musical rings, while other stages have a few musical rings floating in different spots for no reason. It's easy to imagine them being planned to function like the teleport rings in Tides of Time. There are turtles who pull into their shells if they're contacted, similar to the main series where turtles are sometimes used to solve puzzles, but not here. Some stages also have fish that swim away from Junior's sonar or his nose, which doesn't serve any purpose but which might suggest he was once planned to hunt fish like his adult self, Ecco Senior. On the last stage before reaching Big Blue, a strange crystal floats in the water that when hit by sonar, multiplies into more crystals which arrange themselves into patterns before vanishing into that one small crystal again. It's a cool decoration that must have been planned to serve some purpose.
The very last stage is composed of actually reaching Big Blue and his son, and hanging out with them in The Endless Sea, with the cheerful title theme. It features the only green water, and toward the surface there is the prettiest color gradient in the whole game, ironically, with no objectives or real gameplay. Plus, even this prettiest stage doesn't compare with the regular stages of the main series. With Big Blue and Junior Blue offering not even a whale call, it's easy to imagine that this scene could have been planned to offer more – including his whale call – from the main series.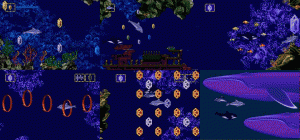 Click for larger a image!
On the Other Fin…
While the soundtrack is more upbeat and cheerful than the main series, which might appeal more to the younger audience, it seems to lack the depth and sense of mystery of all four soundtracks in the main series. (Ecco Jr.'s title theme is really nice though, as the one stand-out song, which resurfaces throughout the game.) Also, as pretty as the graphics are, they just don't compare with the main series. This wouldn't matter for anyone unfamiliar with the series, especially young kids, but the fact remains that the graphics seem washed-out. This is puzzling, too, because Novotrade could have just re-used graphics from the earlier titles, and then Ecco Jr. would have been just as beautiful. There's no extra-demanding content here, as an excuse for the graphics and colors taking a hit. In fact, there's less content and action here, so there's no technical reason for the graphics looking so watered-down.
I can only assume that something went wrong in the development process, and for some reason, the resources from earlier games were unavailable for those who worked on Ecco Jr.. The dolphin sprites were re-drawn as more cutesy, which might appeal more to a younger crowd, but otherwise, the graphical changes are mostly just a huge downgrade. The fish and sea creatures mostly look worse and less realistic! Scenery is minimal and lacking, and so this is actually one of those titles that gives a false, bad impression of the Genesis' abilities. If this was the only game that a person ever saw, he'd think that the Genesis could only offer very basic graphics, with dark, murky colors. The backgrounds all seem to be the same indistinct rock formations as a solid backdrop that scrolls slower than the stage. Despite the one layer of parallax, it never quite looks impressive. The most shocking detail might be that the surface waves don't animate, something we've taken for granted all along in this series, but it almost looks animated when the screen is moving quickly. Above water, there's almost nothing to see, and the few islands don't look as good as those in the main series. The drained graphics make it almost a toss-up whether this title is really better for young children than the main series.
Ecco Jr. does offer the most kid-friendly gameplay and happiest music, but the main series was already pretty kid-friendly. The original Ecco and Tides of Time both begin with stages that don't have enemies, and Ecco doesn't need to surface for air yet, so he can just swim around with no worries and in a much nicer setting. Moreover, the next stages are nature-themed, as it takes a while before the stages start getting crazy and scary. So any young kids would probably only see the nature scenes, and the very youngest would probably never reach the second stage of either Ecco or Tides of Time. Both titles seem built that way intentionally, so it amounts to a built-in age adjustment, which is just brilliant.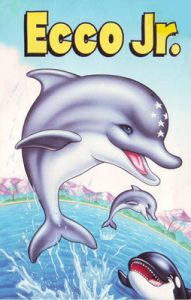 Still, Sega did have a point in releasing Ecco Jr.: The original Ecco the Dolphin has that terrible dolphin-screech every time he takes damage, which is probably reason enough for many kids to avoid the first title! Tides of Time thankfully removed that dolphin-screech for his damage; he only makes that sound when he dies. And even that can be avoided with the codes for invincibility, although that still leaves the slight chance of dying from a couple rare things, and codes would require parents to set things up. (Even with these codes, the youngest players would still only see the early stages, because they'd never figure out the objectives of later stages, like hitting the right crystal Glyphs and such.) If the idea of parents entering invincibility codes is considered annoying, then Ecco Jr. wins for being completely kid-friendly all by itself.
Tides of Time offers the absolute best graphics and colors of the whole series, so I'd probably recommend that for most kids, rather than Ecco Jr.! I wouldn't consider the first stages as disturbing, even to the youngest players. As context, though, I also wouldn't consider Discovery Channel documentaries as disturbing, even if they showed dolphins eating fish or swimming away from sharks. It's just nature, which I consider suitable for all ages, and I feel the same about the first stages of Ecco and Tides of Time. The cartridge versions' FM synth might sound unsettling at times, but the CD versions take care of that by replacing it with Spencer Nilsen's heavenly music.
If an individual child is really judged as too sensitive for Tides of Time's nature-themed action or its cartridge version's music, then Ecco Jr. wins for its extremely benign gameplay. But for most kids, I'd recommend diving into Tides of Time, especially on Sega CD, as the absolute peak of the whole series.
Ecco Jr.'s watered-down graphics make it a title that's mostly worth swimming away from!