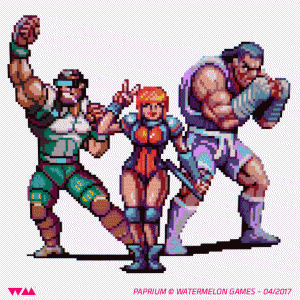 Four years ago, WaterMelon Games began developing the follow up title to its well-received RPG, Pier Solar. That game had been absolutely massive and chock full of goodies, a very welcome effort for an after-market title. Now, WaterMelon set its sights on doing even better, announcing a game where the fans had a say in its design. From the genre to the setting, these fans, called "investors," got to help make the Genesis game they always wanted. The mysterious "Project Y" was kept under wraps for years as the development team worked to create the ultimate 16-bit beat-'em-up. Through ups and downs (including the loss of a development kit), WaterMelon tinkered behind closed doors, leaving many to speculate how the game would turn out, or for some, if there would even be a game at all.
Finally, after years of development, WaterMelon has announced that the game is nearing completion and is ready for pre-order. Dubbed Paprium, this new title clocks in at an incredible 80 – yes, 80 – megs of Mega Drive power. The futuristic setting is said to be so expansive and full of secrets that players will have to go through it several times to see everything. From the game's official page:
Year 8A2, somewhere at equidistant point between Shanghai, Tokyo and Pyongyang, a Megapolis rose from ashes of the shortest but most devastating nuclear war in history, its name is PAPRIUM. BRUTAL, MASSIVE. You will fight your way through the city with Tug, Alex and Dice. Redefine the word justice, deal with the BLU drug temptation, and more importantly: STAY ALIVE!
The game boasts 24 levels and up to 5 different playable characters. It's said to run at a smooth 60 frames-per-second and has three different save slots, a first for a Genesis brawler. Of course, two players can battle simultaneously. There are also multiple modes of play, like the arcade mode, which lets players tackle a specific region of the megapolis, and original mode, which has multiple paths, game saves, and different endings. Paprium comes in either a limited edition artboard box with region-specific packaging, or the classic edition, which features a plastic clamshell case with the famous black grid design of early Genesis and PAL MD releases.
This sounds like it could be the mother of all beat-'em-ups, and we're simply desperate for the proposed Sept. 16, 2017 release date to get here. Those who are interested (and that should be everyone), should run and pre-order now, and take a look at the neat fighting stick they're selling too! In the meantime, check out the awesome '90s-like ad for the game, and salivate a bit over these new screen shots.