Genre: Music Developer: Various Artists Publisher: Pixel Mixers Released: 2019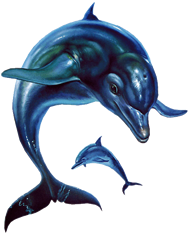 For the most part, the Ecco the Dolphin series has always floated in the background. Sure, it received some TV ads, and magazine reviews, etc., but Ecco never took the spotlight like his famous cousin, Sonic. For that reason, exploring Ecco's series is rewarding. To me, it's always finding new things that nobody ever talks about.
One such recent discovery was learning that a new Ecco music tribute album just came out. Such a release is especially surprising and impressive since Ecco has not had a new game since his Dreamcast appearance, two decades ago! August 2019 saw the release of Timeless Ocean: An Ecco the Dolphin Tribute Album. It's published online for free download (and YouTube playback) by "Pixel Mixers," an online community devoted to arranging and performing video game music (Click here for its YouTube vid, which includes its download link).
This music album is actually the second Ecco-tribute release that I've reviewed for Sega-16.  It's been a few years since reviewing SOUND WAVES, but I remember that about half of that album's songs had changed genre so much that it was hard to get into (with heavy, grinding electric guitar, and super-fast drumbeats, etc.). However, this is not the case in Timeless Ocean because this album stays closer to the original styling of the classic video game soundtracks. It uses modern instrumentation and synthesizer, of course, but it strives to remain closer to the original feeling of quiet mystery and solitude. This album is more for relaxation and background music, and some songs are more lively and make you feel like dancing. Even then, Timeless Ocean mostly sounds acoustic, and natural, and soothing.
The instrumentation and the musicians themselves are an eclectic mix, with a new band performing each song. We often hear new age synthesizer humming along, especially in the beginnings of songs, but this usually becomes outweighed by a majority of live instruments, of all different kinds. With 28 tracks, this is equivalent to a double-album, meaning that the content would span two CDs if released physically.
The Songs
I love the whole album, but the following are the 20 tracks, which made the biggest splash on me, personally:
1. "Opening Theme" starts off the album with the familiar first song from the first Genesis cart — you know, that droning synthesizer that leads to that drumbeat rhythm as Ecco explores his surroundings. This version is basically a soft rock piece, with the synthesizer humming and improvising a bit more. Soon, a gentle drumbeat kicks in, with some mild electric guitar while the song still remains recognizable from Sega Genesis.
2. "Big Water" starts with some playful synthesizer humming all different tones and some dolphin chatter before soon, a drumbeat gives this song its soft-rock feel. The great part is that several warm melodies resurface throughout this song, which is vaguely familiar from the games.
6. "Passage from Genesis" brings us smooth jazz, seemingly with saxophone, flute, bass guitar, shakers, and hand-drums. I believe this song refers to the Dreamcast game, which I haven't really played enough for this song to sound familiar, but it's a beautiful, cheerful tune.
7. "Open Ocean" is based on that familiar adventurous song from the Sega CD version, but here: Timeless Ocean plunges us into a sea of multiple violins, all humming and wailing over each other with just a slight bit of soft piano accompaniment. It's all very beautiful, dramatic, and organic.
8. "Time Travel" sounds like jamming out with electric guitar, synthesizer, bells, and a church pipe organ… which certainly does convey the mystery, and fear, involved in time traveling! This same time travel song actually appears in both of Ecco's Genesis carts: the original Ecco the Dolphin and its sequel, Tides of Time (with the latter version sounding extra sad and melancholy).
9. "Fault Zone" rocks some dramatic piano with low notes of synthesizer humming, and then the beat flips into a dance track that makes you want to dance with the joy of being alive. Even when the synth and electronic drum machine are going wild, the mood still seems kind of serious and solemn, somehow.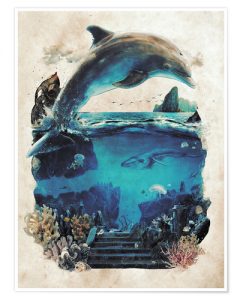 10. "Fin to Feather" rocks some dynamic synthesizer tones vaguely reminiscent of the games, with a nice full drum-set resurfacing occasionally.
11. "Welcome to the Machine" is predictably dark and menacing, starting with synthesizer growling low notes. Soon, a drum-kit kicks in with more wild effects, like the wooshing of wind and synth humming music notes that imitate the sounds of whales and dolphins!
12. "Sound Test 14" is a dynamic jam full of racing drum samples and humming electronic video game tones.
15. "Aqua Vistas" starts with various watery sounds then leads to Ecco's classic opening theme on Sega CD… then adds a light, funky synth rhythm and the whole song improvises a bit while fundamentally keeping close to that familiar song.
18. "Atlantis Lost" offers a nice full range of new age music from watery noises and synthesizer humming. Soon, it sounds like a jewelry music box before plunging into wild drumbeats, which keep changing their rhythm and fading in and out of the track. Much of the song sounds possibly dark as if sadly mourning over the lost city… memories of the past and all that.
19. "The Lagoon" is all about wild drumbeats over synthesizer tones humming like Ecco's classic games. About a minute in, the song changes completely to a wild eclectic drumming session with metallic rhythms on tambourines and cymbals and heavy synthesizer droning low notes. Toward the end, it fades out with a new quieter drumbeat and warmer synthesizer humming. This is essentially three songs in one, so it's a must-hear. You could loop this song, and it will keep making you feel like dancing, intermittently every minute or two.
20. "Treasure Caves" spills out warm synthesizer, humming along, sounding comforting, and quite reminiscent of the classic games. After a bit, a light drum ticks along until it stops for some heavenly synthesizer. Next, a heavy dance beat drops with synth still humming and improvising. It's quite a fun song to loop because it feels like a heavy, intermittent dance track for about half the time.
21. "Sea of Darkness" wades into a sea of electric guitars, which starts off sounding gentle, with light drum and soon plunges into heavy, grinding electric guitar and drums that become powerful, driving beats. This song borders on sounding too harsh, but it works for being the only song like this. Plus the electric guitars do manage to wail out some themes that are recognizable from Ecco's early games, just in a wilder, crazier version here.
It should also be noted that the video game stage was visually full of darkness, so it was mysterious and possibly scary. This new song is thus accurate to the game's stage, as it alternates between gentle familiar territory and plunging into darkness and heaviness.
22. "Ice Zone" was of particular interest to me since I actually love the Genesis' cartridge song so much that I'll occasionally loop it as quiet background music for my office or for sleeping music, etc. Here in Timeless Ocean, "Ice Zone" begins with some strange, unrecognizable background noise that probably represents the ice of the North Pole that is constantly melting in the sun each day, causing it to crack and break apart. Its pieces fall into the water and glaciers and ice chunks crash into each other.
Nicely, the Genesis' cartridge theme of Ice Zone, does emerge here intermittently, but this song also swims into a pretty standard sound of rock music that sounds a bit unrelated. It still sounds decent enough, with a driving drumbeat and electric guitars riffing and improvising on Ecco's time travel music (a great reference to throw in).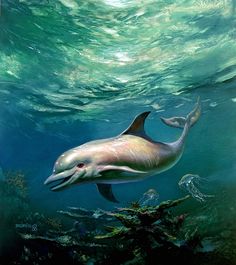 23. "The Lagoon of Stonefish" at first reminded me of the classic rock song, "Hotel California," so it's a nice classic rock jam along those lines. With gentle electric guitars and piano over a drumbeat that starts gentle but then turns heavier with the guitars turning more distorted and wailing. The song wraps up by turning gentle again, with finger-snapping to go with the piano and guitars. It's hard to pinpoint exactly what classic Ecco songs are referenced here, but it's vaguely familiar.
25. "Title Screen" is a surprise hit. This is clearly Ecco's Dreamcast title theme song, rendered here in some nice full-sounding electric guitar and a nice full drumbeat. It sounds like it belongs on the radio as a pop/rock song.
26. "Endless Sea" might be the most beautiful song of all. A nice rendition of the theme song of Ecco Jr. (on Genesis), it's already probably the single most cheerful song in Ecco's whole classic series. The theme seems to be strummed along with a very gentle electric guitar that also sounds like a harp; It's really heavenly and echoey. Later, a nice quiet drumbeat comes and goes… kind of like the passing of gentle rain showers or something.
27. "Jurassic Beach" starts with a loud and echoing vague crashing noise, letting you know that this is going to be a loud song, but then it goes quiet, with a rhythm of small synthesizer tones. There's also a very high-pitched synthesizer hum that is hard to pinpoint. Soon, a piano enters, for a melody which seems vaguely familiar from gameplay memories. They are then joined by a violin, and the song continues to build, including very light hand-drums. Everything gradually grows louder until electric guitar crashes in, and a full drum set goes wild. The synth grows into becoming vague women's voices, singing a heavenly chorus.
When "Jurassic Beach" finally comes to its loud, noisy conclusion, the music stops and there is nothing but the sound of waves rolling in. The absolute silence is refreshing after the music's crescendo. This part stands out for having nature sounds without anything else, whatsoever.
28. "Title Theme" concludes the album with the unsettling, droning title screen song of cartridge Tides of Time. I was never a huge fan of Tides' cartridge soundtrack; however, this modern version strongly expands on it. "Title Theme" actually reminds me of a Hollywood movie score. It has that sound of a huge orchestra with dozens of different instruments, all performing overly dramatically like that. There are also the vague sounds of dolphins at times, which was surely made with some weird instrument. This song also grows louder with a full percussion team, occasionally crashing cymbals, and huge drums, etc. It's an intense song, and it's a nostalgic one to close out the album.
A Wonderful Tribute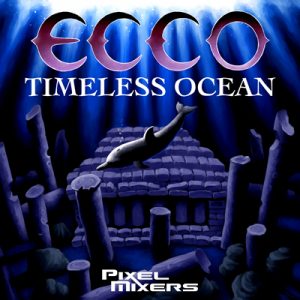 Downloading Timeless Ocean, the album comes neatly in a folder with the songs listed #1-28. Plus, there's a great digital image included that is basically the cover-art, except there's no physical release of the album to be on the cover. The album art comes in a few sizes, including wallpaper size, and it's so nice-looking that I've been keeping a small window of it on my desktop. It seems to be a digital painting of Ecco swimming through the ruins of Atlantis with sunlight streaming down from above.
However, there's also a cool hidden bonus if you play the album on YouTube. The online video's album art will animate, with Ecco slowly moving his tail and ripples washing over the environment. This feature is the one reason to play the album on YouTube, instead of just downloading it and playing it on your hard drive.
Every fan of Ecco's games should download this album today, as should as fans of relaxation music, in general. My desktop Mac is plugged directly into my SONY stereo, so it sounds wonderful. Provided that readers have some kind of decent audio set-up from a computer, or whatever device they're using, this album sounds really beautiful, offering unlimited replay hours of relaxing new age music that will prompt imaginings of the Ecco games, as well as visions of the ocean in general, with waves crashing, dolphins chattering, arctic ice crashing, and sunlight sparkling.
Download this album today and enjoy losing yourself in the Timeless Ocean.
Ecco poster art property of Barrett Biggers.
SCORE (out of 5):