Video gamers love to compete against each other. It doesn't matter if it's E-sports, retro tournaments, or online score challenges; there's something irresistible about taking on all comers for the big prize. Such competitions are common today, thanks to the luxury of online consoles, but back in the Golden Age of video games such events were rare and special. Players often came from miles around to participate, hoping to win trophies, money, and more.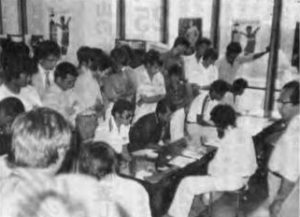 Long before it became synonymous with the Western video arcade scene, Sega was already a major coin-op company in Japan. It made and sold all kinds of electromechanical and redemption games, and it jumped onto the video train early on. It began to hold tournaments around the country to promote its wares. These contests pitted players against one another in some of Sega's newest and biggest releases for a chance to earn money and prizes, along with a few minutes of fame. Sega's tournaments have been documented as early as 1974, when the December issue of Vending Times reported on a tournament held at the Hotel Pacific in Tokyo. Sponsored by Sega, the contest was meant to "promote interest in the play and sales of TV type amusement machines." 16 location champions were selected by lottery from eligible contestants from 300 locations across Japan. Winners took home color TV sets, cassette recorders, and transistor radios. The event was attended by multiple Sega officials, the press, and representatives from different amusement industry companies. According to Sega, these kinds of tournaments were important to "foster better business relationships between the maker-location-customer and create an atmosphere of sports competition on TV amusement games." It's not entirely clear if the TV games in Sega's contest were arcade titles – Pong was all the rage at the time – or home versions, but the event was clearly designed to promote the coin-op industry, and its coverage in a periodical like Vending Times supports that possibility.
By the end of the 1970s, Sega operated multiple game centers across Japan. It also had a foothold in the North American coin-op market with its September 1978 acquisition of Gremlin Industries. The company then began bringing its Western-made titles to Japan and stepped up its marketing to promote them. One such event took place throughout September 1979 to push the Japanese release of Head-On, a racing game designed by Sega/Gremlin programmer Lane Hauck that had debuted in Japan and the U.S. in April that year. Sega went big on Head-On in Japan, forming royalty-based agreements with seven different partners to make sure that bootlegging was kept in check and to provide a stable supply of around 30,000 cabinets. The group included companies like Nintendo Leisure System Co., Sammy Industry Co., and Data East. A special reception had been held in July at the Hotel Pacific in Shinagawa, Tokyo where Sega outlined its plan for the partnerships to bring cocktail table versions featuring Head-On or a Head-On/Space Attack (a Space Invaders clone) combination to arcades across Japan.
The Head-On tournament was organized and sponsored by ESCO Trading Corp., a Sega subsidiary that had been owned by future Sega president and CEO, Hayao Nakayama, and was now run by Kenjiro Mori. A preliminary round was held at on September 2 at Tenma Mac in Tenma, Osaka, and was followed by further qualifying rounds at nine different Sega locations. The top three players advanced to the finals, which occurred on September 15 at Sega's Apollo Game Center in Tennoji, Osaka. The original plan was for the competition to be determined by the highest score, but some players were able to achieve more than 500,000 points so the first to reach a high score of 150,000 points on a single car were declared the winners.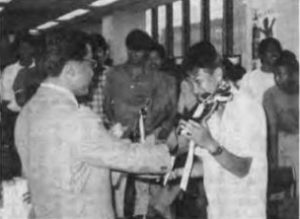 Head-On was selected as the game of choice because the sequel was close to release. Head-On 2 would have more cars and a two-player mode. The original game had been popular in the U.S., where players raced against a computer-controlled car as they gobbled up dots in the different lanes to clear the screen. Head-On preceded Namco's Pac-Man by a year, making the first, though not the most recognized, dot-munching title. A story told by Gremlin founder Frank Fogleman implied that Namco's blockbuster may have been more than a little inspired by Hauck's game. According to Fogleman, he and Namco head Masaya Nakamura had dinner to discuss a possible purchase of Gremlin Industries (before Sega bought the developer). Fogleman was interested in procuring capital to expand Gremlin's software and hardware development. In contrast, Nakamura appeared more interested in hearing about Head-On. To make a good impression, Fogleman let his guest spend the night playing the game at his factory. After breakfast the next day, Nakamura departed for Japan without solidifying a deal to buy Gremlin, but 16 months later, Pac-Man chomped his way into video game legend. Coincidence? Only the two men knew, and both have passed on, Nakamura in 2017 and Fogleman in 2022.
Either way, Pac-Man would go on to change the video game industry forever. Before that, however, Head-On was Sega's hot product and the manufacturer pushed it hard in Japan. 30 people participated in Sega's Head-On tournament with eight making it to the semi-finals. They battled to be the first to achieve 50,000 points, then 100,000, and finally 150,000 – each time on a single car. After some intense matches, an 18-year-old student named Masayuki Funai emerged as the winner. Incredibly, he had only been playing Head-On for a mere two months. His winning strategy of learning all the patterns for each stage was enough to garner him the win over his closest rivals, Shinji Ohki and Seika Kinoshita, who placed second and third. The trio were awarded trophies and prizes amid a large crowd of spectators. The turnout surprised Sega, and Regional Manager Wataru Nakagawa hoped that the competition's success would prompt game manufacturers to be more proactive in promoting their games.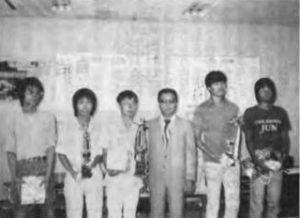 Game tournaments would continue to be a significant part of the arcade video game industry, and Japanese game rooms took advantage of these events to bring in patrons. Space Invaders had been a major hit in 1978, and everyone was looking for the next big thing. Head-On didn't make the same kind of impression, but games like Pac-Man would carry the industry to unimaginable heights. Soon, video games would take over the world and coin-op cabinets became a ubiquitous part of modern culture.
Sega would continue holding tournaments as it increased its game center business in Japan. In the U.S., its Sega Centers, PJ Pizzazz, and Time-Out chains gave it the perfect locations to present its new wares, and by the middle of the next decade Sega would become one of the most recognized names in video games.
Images courtesy of Game Machine magazine.
Sources:
Fogleman, Frank. Interview by Ethan Johnson. 18 Nov. 2016.
"Head-On Tournament gets Kansai Excited," Game Machine, October 1979.
"Sega's Head-On," Game Machine, August 1979.
"Sega Sponsors All Japan TV Game Championships." Vending Times, December 1974.