Thanksgiving: a time for family, counting our blessings, the largest spread of food you'll see all year, and football! Yes, Americans love their football. The holiday just wouldn't be complete without it. The Genesis is especially strong in this area, boasting the best pigskin games during the 16-bit era. There's something for everyone here, even those looking for something less…traditional.
For this reason, Sega-16 presents to you the finest football games the Genesis has to offer. Sure, their rosters may be terrifically outdated but who cares? It's all about gameplay and stomping your friend's face into the turf. That's what football has always been about and these games still pack a mean cleat.
Bill Walsh College Football '95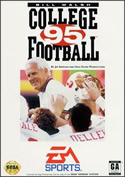 Although the sequel made this list, the original Bill Walsh is almost as good. EA adapted the Madden engine for its college games, so you know the quality is there. The '95 version has 36 Division I-A teams, a windowless passing mode, customizable seasons from one to sixteen games, and complete stat tracking for the season. Some new features, like the "Walsh Reports" (detailed scouting reports for each team) appear and there's the neat option to choose either the standard playoff mode or cool bowl games like the Pecan Bowl or the Redwood Bowl. There are weekly national and divisional rankings, as well as 36 new plays and formations added to this edition, including the Wishbone, Veer, Tee Offense, and 4-4D. College Football '95 also supports EA's four player adapter, which was pretty much expected in a football game this late in the Genesis' life span.
You should be able to find either version cheap and I recommend tracking them down. The series is definitely the best in college football on the system.
College Football National Championship II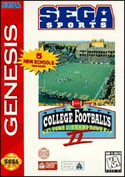 Using the same engine as the NFL series, College Football National Championship II improves upon its predecessor by incorporating some seamless zooming and rock-solid gameplay. All the top 32 teams of 1994 are here and there are nineteen different categories to track your stats. Just like in NFL, four people can play together and the game makes good use of the Genesis six button pad. You can play either exhibition or a twelve game season for your sim fix or you can tackle the tournament mode which lets you design your own team schedule and play 4, 8, 16, or even 32 games to see who's best! That annoying sports announcer from the first game is gone and instead the sound effects have been beefed up. Weighing in at 16 megs and featuring all the authentic school colors, fight songs, and team playbooks; this is one college game to keep. It may not be on the same level as EA's offering but it's no slouch either. The tournament mode alone is reason enough to go out and snag a copy.
Cyberball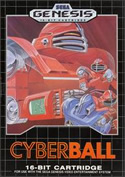 If you're tired of using human players, Cyberball might appeal to you. You instead use robots, which can be damaged and even destroyed. Take one tackle too many and watch the fireworks! As if that weren't bad enough, the "ball" itself is deadly. It is, in fact, a 350lb bomb that is slowly ticking towards leaving your team one member short. You must either cross the 50 yard line or score a touchdown in four downs or your ball carrier will become so much scrap metal. Luckily, there are no penalties so anything goes! Scoring, defusing the bomb, recovering fumbles, and makinf interceptions will all earn you money which you can use to buy better robots. As you march through a 16 game season (resumed through a password feature), your team will battle 27 others in a quest for the championship.
There might not be all that many plays from which to choose and the lack of a save feature might be a bummer to some. However, you have to remember that this game came out in 1990 and is a port of the popular Atari arcade game. There are four levels of difficulty and you can play against a friend in versus mode, so it's all good. I do like the "sudden death" feel of the game, with that ball ticking away. The controls could have been a bit more responsive but they aren't anything worth getting worked up over. As far as variations of the sport go, Cyberball is a pretty solid albeit primitive game to give some time into.
Madden NFL '97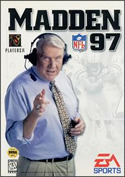 They were still releasing football games for the Genesis this late? Jeez, the Saturn had just about tanked in the U.S. and the Genny was still chugging along. The funny thing is, this wasn't even the last installment! I think John's pose on the cover says it all. Why mess with perfection? I chose this version, as it seems to be the most balanced of the series and plays a lot better than '98. The game is heavy on the eye candy, using motion-captured player graphics and is a huge step up from everything else out there from the time. Of course, Madden and Summerall return with their colorful commentary although I'm still partial to Sega's franchise for that sort of thing.
There's just so much you can do here that it's overwhelming for a 16-bit cartridge. For example, you can go through the entire season as a single player! As the general manager, you can even create players for any position. Your guys can now get fatigued, you can save highlights, and there are over 500 redesigned plays from the big guy himself. With every team from the 1997 season and four-player support, this is as good as the series gets on 16-bit. Everything has been updated and you can play exhibition, a full season, or custom leagues and tournaments. All the good stuff from previous installments return, such as the 100 best teams of the era and of all time, and of course, full stat tracking. Madden '97 represents the pinnacle of the sport from this era and should be in every gamer's collection.
Mutant League Football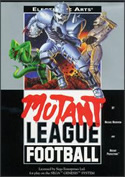 Tired of the same old over-paid prima donnas whining for more money? Sick of money-grubbing owners sticking you for $10 for a hot dog and soda? Forget them! Choose from one of sixteen outrageous teams, composed of humans, aliens, trolls, and skeletons. Forget the rule book here, anything goes. Heck, you can even kill the referee! Throw a quarterback bomb that actually explodes, avoid obstacles on the field like potholes, mines, and rocks. You can even watch all the carnage through instant replay as you try to keep your team alive long enough to finish the game. There are nineteen different fields to play on through four difficulty levels of intense carnage. If there's a downside, it's that there is only support for two players. I can only imagine the body parts flying with four gamers fighting for the ball.
It may not be your typical Thanksgiving tradition but Mutant League Football offers a cool twist on America's favorite game by offering something the NFL and NCAA don't: Bloodshed.
NFL Prime Time Starring Dion Sanders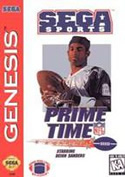 After a string of decent football games, Sega wisely traded aging quarterback Joe Montana for a new celebrity endorsement, bringing in the famed Dallas cornerback Dion "Prime Time" Sanders. He was supposed to symbolize the revitalization of the franchise, which was locked in a vicious struggle for dominance against EA's Madden (I swear, that rivalry is almost biblical). Boasting all 30 NFL teams and rosters, over forty statistical categories, a record book, QB audibles, and four-player gameplay (via the multitap); NFL '97 is definitely the best in the series and a great play if you can get a few friends (or some overstuffed family members) together for some gridiron mayhem. Some obscure features, like being able to relocate a team to any city, is something I'd like to see implemented in future football games.
After so many tries, it seems Sega finally got it right. I still prefer the "I can't believe it!" campy commentating from the second game but everything else here is superior in every conceivable way. Though many of today's gamers may be spoiled with Visual Concepts' awesome ESPN series, this is where it all began to really come together.
Tecmo Super Bowl 3: Final Edition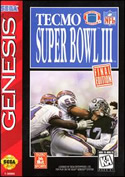 Whereas Madden '97 is the game to get if you're looking for full simulation (somehow that doesn't sound right) and Mutant League Football is great for crushing some bones, sometimes a guy just wants to complete an 80-yard bomb into triple coverage or kick a 60-yard field goal. That's where Tecmo Super Bowl 3 comes in. As the last version of the series released on Genesis, it refined the pure arcade gameplay the franchise has been renowned for since the days of the NES, bringing in all the bells and whistles you'd expect a 16-bit sequel to have. All 30 teams are here and there are plenty of typical elements of the sport present (audibles, two point conversions, fake punts & field goals) but the gameplay is still thankfully very arcadey. An awesome feature is the ability to create up to nineteen different players and adjust their abilities. This is great for those who love to win a game by 50 points and establish ridiculous single game stats. Weather variations make things interesting and you can now send players to the Pro Bowl. Free agents are available but you'll have to cut a team member to sign them. Best of all, all those crazy stats can now be saved to an included battery backup.
So as you're stuffing your face and putting up with those nasty relatives you can't stand, remember to give your Genesis some love on this most American of holidays. Maybe you can get some payback by stomping all over the aforementioned relatives in Madden or College Football Championship II. Better yet, play some Mutant League Football and show them what you'll do to the poor soul who grabs the last biscuit before you do.