Everyone has a favorite local video game shop. A place to go to blow some hard earned cash on your favorite hobby. My personal favorite shop is Luna Video Games. Though the store has only been open for three years, it has quickly risen to the top of the pack in San Diego's retro gaming scene.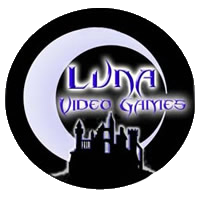 While San Diego has MANY places to buy games, it doesn't have a lot of choices for retro gaming. Before, one could easily purchase Genesis and other console games at Funcoland. Sure, the selection wasn't always the best, but it was a place to go for your retro gaming "fix". But after GameStop took over, "retro" became a word only applied to PSX and Dreamcast titles. When desperate to find a particular Genny title, I would resort to paying absurd eBay prices. Imagine my glee when I discovered Luna Video Games – a store that not only fully supported my 16-bit addiction, but also offered services not offered anywhere else.
It was fate. When walking to a Tower Records, I noticed an ad on the ground picturing Mario, Sonic, and Link. The ad listed every single console I have ever cared about as being in-stock, and supported with games. It also displayed a "Buy 2, Get 1 Free" coupon… how could I live with myself if I missed that? My first visit to Luna Video Games left a great lasting impression. While the main floor was stocked with new and used Xbox/PS2/GameCube games, it was behind the counter that interested me. There were cases and cases full of games for every console under the sun. I left that day with a couple of Genny games, and a free SNES game, happy as can be. Here is what makes Luna Video Games so special:
How They Stack Up
Business: Luna Video Games first opened in September of 2003. Since then it has specialized in all forms of console gaming. It is a single store, not a chain, and was meant to be an alternative to all of the corporate video game stores that had populated San Diego. Luna Video Games prides itself on not overwhelming its customers with a song-and-dance about warranties or subscriptions. The staff is EXTREMELY knowledgeable, and it is very much a store meant for retro and hardcore gamers.
Selection: One of the strongest reasons to shop at Luna Video Games is the sheer amount and variety of games they carry. They support consoles ranging from the Atari 2600 all the way up to the Xbox 360. And all of the rare/underappreciated consoles (32X, TurboGrafx, and Neo Geo) are represented as well. Each console available has been refurbished and is guaranteed to work flawlessly. And although the majority of the games available belong to the most popular consoles, like the Genesis, each console still has a wealth of games to choose from. And since the store takes trades, the selection is always expanding. Collectors will appreciate the fact that there are numerous complete games available along with a couple of imports.
Prices: Game prices at Luna Video Games tend to be near their lower-end eBay counterparts. Nothing there would be considered overpriced. Games like Sonic 1 and 2 go for almost nothing, while Warsong or Snatcher will cost you a pretty penny. Add to this the fact that complete games are sold at a higher price than cart-only games, and you have a bit of a confusing price structure. What makes shopping at Luna Video Games superior to finding a game on eBay is the lack of a shipping cost. So when a price tag says $1.99, it means $1.99.
Services: Luna Video Games excels in its services. Trades, returns, and repairs all play a role in making this company stand out.
Trade: As with most game companies today, Luna Video Games allows you to trade in unwanted games for store-credit. Popular games of any era wont command much credit, but rare games will. Trade-in value for current games and consoles is comparable to what you would receive from stores like GameStop. The difference is that trade-in values are not set in stone. If you trade in a couple of games, and receive a few dollars less than the value of a game you'd like to purchase, oftentimes the staff at Luna Video Games will "bend" their price to match your credit. A couple of months ago I brought in three 32X and one SNES games to trade. All four games were terrible, and not at all valuable. A complete copy of Robo Aleste caught my eye. I asked the owner about it, and although I was several dollars short in trade-in credit, he traded it to me straight-up. It's service like this that ensures that all customers leave happy.
Returns: All games and consoles sold come with a 90-day warranty, which is pretty commonplace. Luna Video Games also allows returns on games that just plain aren't fun. We've all made impulse buys, only to get home and realize that you just bought one of the worst games ever made (I'm looking at you World Heroes). As long as you return the game within a reasonable amount of time (two to three days after the initial purchase) Luna Video Games will allow you to swap the game for another of similar value. Definitely a plus.
Repairs: In all honesty, this is the absolute BEST reason to shop at Luna Video Games. The owner of the store will repair (or attempt to repair) systems, games, and even certain accessories. These valuable services are never expensive, and if the game is purchased from them, they'll do it for free. I recently had my copy of Star Fox break on me. Desperately, I took it to the owner, and right there in front of me he opened it up and reattached a broken piece. It now works just like new. Even better, he will also replace dead batteries for a measly $5, restoring games that may have once been considered worthless. For anyone who has ever had to deal with out-of-date electronic repairs and finicky cartridges, Luna Video Games is a godsend.
Worth the Trip?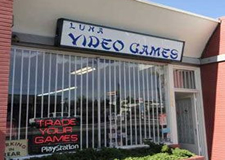 In a word, ABSOLUTELY. Selection, affordability, convenience, and service all make a visit to Luna Video Games worthwhile. It also should be mentioned how friendly and helpful the staff is. I've been helped by both the owner and an employee before and it was refreshing to meet the complete opposite of GameStop employees. Both were very kind and knowledgeable. With all of the services offered, you really can't lose by shopping at this store. Luna Video Games is a definite asset to the retro gaming community, and deserves to be visited by anyone in the southern California area.