The Internet was a very different beast in 1999. Certain sites gained immense popularity overnight, only to be silenced after the "dot com burst." Gone are many large companies, replaced now with user-generated hot spots. And thanks to sites like YouTube, all types of video-hopefuls are posting their opinions, shorts, films, and embarrassments online. You can find almost anything on YouTube. Want to watch an eleven year-old go on a rant about why the PS3 is better than the Xbox 360, all while playing Cherry Pie on expert in Guitar Hero, capped with a quick kick to the groin? It's all there my friends.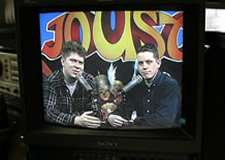 In 1999, though, online video outside of the adult-oriented industry type was a bit of a rarity. Even rarer was online serialized video. One show, and two men, stood out during this period. Classic Game Room was a weekly online video game review show focused on both current and retro games and consoles. Created by Mark Bussler and David Crosson, the show was featured on fromUSAlive.com, and was absolutely ahead of its time.
Classic Game Room centered on two gamers discussing the latest and greatest in gaming, as well as the best from the past. Hosts Mark and David would be featured in front of a green screen, introduce a game to be reviewed, show footage of that game while discussing its strengths and faults, and occasionally throw in some hilarious parody footage. If that doesn't paint a clear enough picture for you, maybe this will: think of G4's X-Play, but with actually funny moments thrown in. Classic Game Room was ahead of its time, better than current television, and all produced with one camera and a $50 an episode budget! Best of all, the guys from Classic Game Room were fans of the Genesis, calling the little system the "pinnacle" of gaming, and therefore friends to us all.
Creator Mark Bussler has since gone on to become a successful historical documentary director, and he and inecom.com released a DVD entitled Classic Game Room: The Rise and Fall of the Internet's Greatest Video Game Review Show, a documentary focused on the ins and outs of the revolutionary online series. Like the series it's based on, the documentary is infused with the strange, quirky, and sometimes deadpan humor that gamers will enjoy. And if you're a documentary nut like I am, you'll love what is gone over on this DVD.
Classic Game Room: The Rise and Fall of the Internet's Greatest Video Game Review Show tells of the trials and tribulations of producing a web series in the late '90s and the early part of this decade. The documentary successfully shows how the show began and grew. Showing a number of episodes chronologically achieves this, and seeing the series mature is a fantastic aspect of this documentary. Over the course of each episode, Classic Game Room goes from an amateurish good time with a couple of awkward hosts to a much better produced review show that truly had its own sense of humor. From Mark and David revealing their super-hero identities in a review of X-Men for the Genesis, to The Real Game Room, a Real World parody in a review of Alien for Atari 2600 (my personal favorite), this documentary features some truly bizarre and hilarious comedy.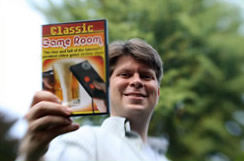 Reviews from a variety of consoles are reproduced here on DVD for the first time. Due to the fact that each review comes from the early days of Internet video, quality can be a mixed bag. For the most part though, everything looks great. You get more with your purchase than just the show itself, and the extras on the disc include a number of additional webisodes, which are fantastic in their own right, and Classic Game Room also features one of the most worthwhile commentaries I've ever had the pleasure of listening to.
All in all, Classic Game Room: The Rise and Fall of the Internet's Greatest Video Game Review Show is a fantastic and loving look at both the retro games we all enjoyed, and the trying days of early internet video. Through gut-busting comedy, director Mark Bussler is able to tell the story of an Internet show ahead of it's time. There's enough on this DVD to satisfy gaming and documentary fans alike. You owe it to yourself to check it out now.