Summer of Sonic2010 was the third in a series of conventions dedicated solely to SEGA's mascot, Sonic The Hedgehog. The event started out in 2006 and has been steadily growing in popularity since then, still being the only "official" Sonic-related gathering in the world, actively sponsored by SEGA Europe. About 800 people attended this year's convention at The Pavilion, located in London's Shepherd's Bush district, taking place on August seventh.
As we've spent an entire weekend in London at a hotel closely located to the venue, we arrived at The Pavilion fairly early in the morning (around 9:30 a.m.. Even at that time (the beginning of the event had been scheduled for 10:30 a.m.), there was already a reasonable group of people gathered in front of the doors.
Although the entry to Summer of Sonic was entirely free of charge, you had the chance to pre-register tickets at the event's website. Thus you could make sure to get inside even if the venue's capacity should reach its limits. Actually, there had also been plans to let people with tickets inside about one hour ahead of anyone else, but due to a general delay, it didn't take very long until people without tickets could join the rest of the fans inside.
Click for larger images!
Upon entry, everyone with a printed a pre-registration ticket was provided with a Summer of Sonic goodie bag containing a Metal Sonic figurine, a free comic, a lanyard, a door hanger and a few merchandise flyers. Those without a ticket had to be a little lucky, but the chances were pretty good still. Once inside, we were greeted with an inaugural address by Summer of Sonic founder Svend Joscelyne, quickly followed by the first stage activities planned for the day. Despite of the delay, everything went on rather smoothly, leaving almost no time for a break.
To get an idea of all the activities that had been fitted into such a small time-frame, here's a little insight: from the beginning, at around 11:00 a.m. until closing at about 7:00 p.m., you could attend quizzes, a song contest, a cosplay contest, a Sonic & SEGA All Stars Racing tournament, see composer Jun Senoue perform Sonic tunes live on stage or sit down to draw and share artworks with other fans. During the day you also had the chance to have an artwork of your own Sonic fan character drawn and signed by Nigel Dobbyn (Sonic the Comic artist from 1995 to 1997) or to buy original inks of various Sonic comics released until now.
Click for larger images!
The most anticipated convention highlights however were the announced live performance of Crush 40, the band responsible for many of the more recent Sonic The Hedgehog video game theme songs and soundtracks, and the opportunity to play the first stages of both the upcoming Sonic games, Sonic The Hedgehog 4 (Xbox 360 Live Arcade) and Sonic Colors (Nintendo Wii and DS). Sonic The Hedgehog 4 was available on two console pods, while Sonic Colors only had one available for the Wii and DS versions each. Both games gained immense interest and you had to be very patient if you wanted to get your hands on one of them. The reception was generally good though, leaving most of the people anticipating the games even more than before.
As the convention neared its end, everyone was getting ready for the concert of Crush 40, consisting of members Jun Senoue (composer, musician) and Johnny Gioeli (singer) as well as two studio musicians Takeshi Taneda and Toru Kawamura, which were not part of the show. Although Crush 40 have been existing as a group since 1998 it was their first stage appearance aside from a short performance at Tokyo Game Show in 2008. Both members had been visibly surprised by the overwhelmingly positive reception.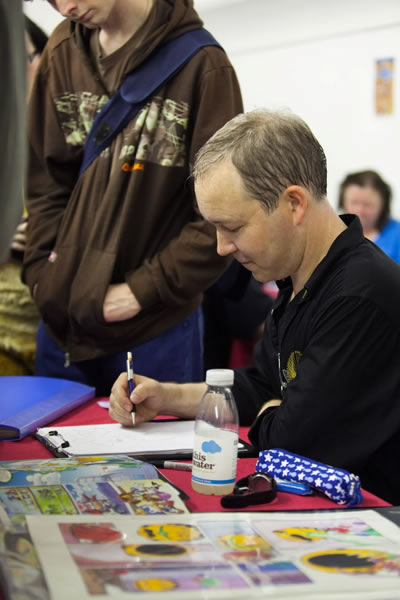 After the concert the venue was rather hurriedly closed, but the staff had already set up a nearby pub, The Vesbar, as a meeting point for those who still had some time left to stay. All in all, Summer of Sonic 2010 was a very pleasant experience, but it didn't go without a few minor drawbacks. For instance, there was neither working air conditioning nor any windows present at the venue, making it incredibly hot and muggy inside. Moreover, if you hadn't brought your own food and drinks, you could not buy anything on location but had to leave for a nearby store or restaurant, a tough decision if you didn't want to miss anything going on. Also, if you wanted to get your hands on Sonic The Hedgehog 4 or Sonic Colors, you had to stand in line for about one hour at least, so not everyone had the chance to try out the upcoming games. Summer of Sonic was also not the place to go if you wanted to buy lots of Sonic merchandise, or so I thought. Because, as I had heard shortly after the convention was over, most of the available stuff had been sold out within about one hour after opening…
As 2011 is going to be the year of Sonic's twentieth anniversary, the date for Summer of Sonic 2011 was already announced as June twenty-fifth. Chances are that Crush 40 will return next year, and that most of the above complaints will be seriously taken into account to make the follow-up event an even better experience.