What does a video game publisher do after it has created a property so successful that it causes a major shift in market dominance? How does a company that has finally reached the top spot in its industry ensure that the scores of newly converted consumers remain loyal to its product? For the few corporations fortunate to be in such a position, finding the answer can sometimes be so difficult that any measure of success obtained is fleeting and slips away before it can be harnessed and expanded, resulting in a general collapse of the company and leaving fans wondering what happened.

It might be plausible to argue that just such a scenario befell Sega as a whole after the wave of 16-bit triumph it was riding crashed into the 32-bit seawall that was the Sony Playstation, but there is one element of that success that not only survived the transition from cartridges to optical media platforms, it absolutely thrived afterward. Despite all the doom saying that filled the gaming industry regarding the future of Sega Enterprises, the slow and painful decline of the Saturn in the U.S. the all-too-quick arrival and departure of the Dreamcast, and the reality that there would never again be a Sega-made home gaming console; there was one aspect of the company's business that was slowly and steadily growing at a phenomenal rate. Despite some missteps, one brand would become so successful that it would go on to produce virtually half of Sega's entire profit revenue by 2003 – a full three years after the House of Sonic abandoned the console market for good.
That brand was Sega Sports.
Most gamers today are familiar with Sega Sports thanks to its brilliance on the Dreamcast and later consoles. Franchises like NBA 2K, MLB 2K and the phenomenal NFL 2K series all achieved incredible popularity and caused even the mighty Electronic Arts to question the quality of its flagship Madden series. In truth, the brand has a much longer history within Sega, one whose roots were sown even before the launch of the Genesis in America in 1989. From those humble beginnings and over the course of the decade following its introduction, Sega Sports slowly rose to prominence as a recognized leader in sports game quality on Sega's own consoles and beyond, and it was considered by many to be the chief competitor to many of Electronic Arts' franchises until it was unceremoniously discontinued in 2005. It was on the Genesis, however, that the brand was formally introduced and subsequently prospered, and the mark it made on that console is a major part of why Sega became a hardware heavyweight.
An 8-Bit Heritage
To fully appreciate the impact of the Sega Sports brand, one must look back to the origins of the Genesis itself and the circumstances that led to Sega's decision to pursue western-developed sports games in the first place. After continually losing marketing share with the Master System, Sega closed its American division in 1987 and transferred both publishing and marketing rights to toy company Tonka, which it felt had more experience and resources to push the console. It was hoped that Tonka could be more successful against Nintendo's immensely popular NES, which had a stranglehold on the American hardware market. Tonka took the role seriously, pumping an estimated $30 million into marketing the struggling machine.
In order to present an organized and varied selection of sports games – something not present on the competition's machines – Sega, and later Tonka, released a series of titles under the Great label beginning in 1986 with Great Hockey. The line spanned several other sports such as baseball, football, golf and volleyball. These games filled a niche that could not otherwise be occupied by the few third party publishers willing to risk publish on the Master System. Due to the strict licensing agreements Nintendo made with its own third parties, less than a dozen companies were able to release games for Sega's machine, leaving the hardware maker itself to plug the holes in specific parts of the console's library. The Great line up gave the Master System a dedicated and easily-identifiable – if not very memorable – brand of titles for sports fans to enjoy.
Via email to Sega-16, former Tonka marketing manager John Sauer explained the move. "It was done to propel the sports genre of gaming to a higher level and bring a level of license to electronic gaming that Nintendo did not yet have. Sega had the expertise in gaming, Tonka in licensing; it was a smart move." Sports games on the NES were spread across several publishers, and Nintendo itself did not have a dedicated line. Tonka's move was designed to show that the Master System was a gaming powerhouse that had an excellent sports library that could not be matched by the NES. Sega could not do this alone, and Tonka's marketing presence was meant to expand consumer awareness about the Master System while Sega concentrated on the games.
To bolster this image, three sports in the Great series, hockey, football and soccer (released only in Japan), were made compatible with a trackball controller called the Sega Sports Pad. Originally conceived to enhance gameplay by mimicking the frantic pace of movement experienced with arcade trackball games, the pad was instead too limiting and failed as a peripheral. With only three games to support it, most Master System owners simply opted to spend their money elsewhere. A lack of retail success, combined with most research and development resources being directed towards the upcoming Genesis launch, caused the Sports Pad to wither. No further games featured compatibility, and it quickly faded into history.
Eventually, the sports line dropped the generic Great title and shifted focus to licensing sports personalities. However, due to its small size (less than 50 employees at the time) Sega of America was unable to assume a negotiating role itself, and Japan was not very enthusiastic at the prospect of spending money on celebrities. In contrast, Tonka was better funded and established in the U.S. and was able to use its brand recognition to attract high-profile sports figures. According to Sauer, the move was meant to build differentiation and market share. Unlike Sega of Japan, which was skeptical about the entire licensing process (it was not a normal practice there at the time), Tonka management saw nothing extraordinary about it, as it was standard in the American retail industry.  After a game had been developed or localized and a budget established, it was up to the publisher's legal division to approach and sign the prospective sports figure.
The new direction landed initial success in 1988 with the release of Reggie Jackson Baseball, the first game on the Master System to feature the license of an actual sports personality. Though Jackson had retired the year prior the game's release, "Mr. October" was still extremely popular and an ideal spokesman for Sega's newest baseball game. Adding a famous player's name to its second attempt at the sport was only the first of many changes Sega made to its product, and several key aspects of Great Baseball were completely overhauled. For instance, the perspective was changed from behind the pitcher to that of the catcher's viewpoint. Though it did not have real players or teams, Reggie Jackson Baseball was a major step towards creating a more realistic baseball game. Many of the new features it boasted were also included in the first Sega-made version of the game released on the Genesis, Tommy Lasorda Baseball.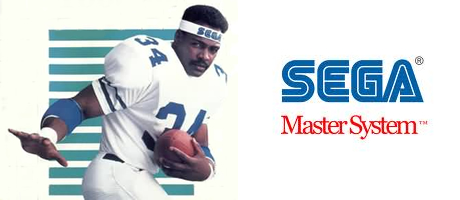 The licensing trend continued with the renaming of 1989's American Pro Football to Walter Payton Football. "Sweetness" had won a Super Bowl in 1986 and was already considered by that time to be one of the best running backs in NFL history, making him a prime candidate for endorsement. Payton was very enthusiastic about promoting the game, and he actively marketed it. John Sauer remembers working with Payton on the licensing project. "Walter Payton was a joy to work with and made an appearance at the Consumer Electronics Show to help promote the game. I remember him as very gracious." Sega took the same route for Payton's game as it had with baseball, and simply licensed a football title already released in another territory. However, unlike Reggie Jackson Baseball, no major innovations took place between it and its predecessor, Great Football.
Sega took back control of promoting and publishing for the Master System in 1989, redesigning and aggressively advertising it alongside its new 16-bit Genesis successor. Sales improved, but the console never managed to achieve the desired level of success in America. In spite of this, it would be rash to call the Master System an outright failure, as it left an important history lesson to be learned by Sega and sports fans. Likewise, Tonka's tenure with the system should not be cast in an entirely negative light. Viewed in hindsight, it was actually a blessing in disguise for sports fans. Had the toy maker not carried Sega's 8-bit machine for those two tumultuous years, Sega would most likely have exited the home console market in America altogether, and there might never have been a Genesis beyond Japan's shores, if even that.