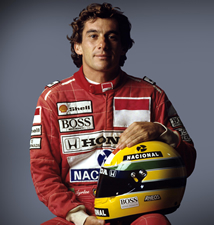 The early 1990s marked the beginning of Sega's great growth as a video game publisher, and the company began to make great strides at retail through a combination of great localized software, emerging western-made titles, and savvy licensing. Sega of America's president at the time, Michael Katz, made it a priority to secure endorsements from the most popular sports personalities of the time, adding a much-needed western seasoning to Japanese-developed software. Game shelves were plastered with the smiling faces of successful coaches like Tommy Lasorda of the LA Dodgers and Pat Riley of the LA Lakers, as well as athletes like golf legend Arnold Palmer and Super Bowl champion Joe Montana.
This practice continued after Katz left Sega, and the seed he planted with sports grew to become a healthy oak for the company, sprouting leaves in multiple genres. Sports endorsements moved beyond the traditional events like baseball and football, offering Sega a chance to tap into star power that had yet to be used. This included sports like automotive racing, particularly Formula 1 racing. In this field, there were none more popular and successful at the time than the Brazilian champion Ayrton Senna.
Courting a Racing Legend
As Formula 1 racing is not as popular in the U.S. as it is in other countries, many people in America don't know the extent of Senna's fame in the rest of the world. In his native Brazil, he was regarded as a national treasure, and his popularity was massive throughout South America and Europe. Holding several records and multiple world championships, he was regarded as one of the best (if not THE best) Formula 1 racer of his day. In 1993, Senna achieved what is considered by many to be the finest racing lap of all time at the 1993 European Grand Prix in Donington Park, UK, of which Sega Enterprises was a sponsor (it backed the Williams team). In a single lap and in torrential rain conditions, Senna overtook four other drivers to claim the lead, eventually taking the cup (and a neat little Sonic trophy) for the McLaren team and cementing his place in racing history.
Senna was also incredibly famous in Japan, where F1 racing is widely enjoyed.  It was this popularity that would lead to his involvement in one of the best racing games for the Sega Genesis, marking the culmination of what Katz had envisioned for licensed sports titles on the consoles. Beyond merely lending a name and likeness to the product, Senna would actually have a hands-on role in its creation, producing one of the few instances in which a celebrity actively participated in the development of software bearing his or her name.
Tec Toy's Role
Though many American Genesis owners have owned and played Ayrton Senna's Super Monaco GP II, not nearly as many are aware that the game had little to do with the team Katz built to license famous sports personalities. In fact, the entire project was the result of a collaboration between the Brazilian electronics company and software publisher Tec Toy and Sega of Japan. In March of 1991, Tec Toy president Stefano Arnhold approached Sega of Japan about attaching Senna's name to the project, which would include versions for the Genesis, Master System, and Game Gear. According to Arnhold, Tec Toy originally brought the idea to Sega of America, which turned him down. From the American perspective, this made sense, given that Formula 1 racing was not a major sport in the United States. Senna's endorsement would not have made an impact in a market where he wasn't well-known. The fact that the game was being developed in Japan was inconsequential, since most of the early Genesis sports titles were simply localized Japanese games with an American endorsement.  According to former Sega of America Director of Global Marketing Al Nilsen, Sega of Japan would have required its American subsidiary to help pay for the Senna license and commit to a large forecast of units. The franchise was never considered one that could produce a large volume of sales, even with the arcade heritage of Super Monaco GP license, so it was never likely that Sega of America would have taken Tec Toy up on its offer.
When Tec Toy offered the Senna license to Sega of Japan, it was enthusiastically accepted, as Senna was a major celebrity there and extremely popular among many Sega employees. Interestingly enough, the relationship between Senna and Sega actually began several years before their collaboration on Super Monaco GP II. While driving for Team Lotus, Senna forged a relationship with Soichiro Honda, whose company provided the engines for the team's cars. This friendship continued after Senna moved to the McLaren team, which used also Honda engines. Additionally, Sega of Japan's chairman, Shoichiro Irimajiri, had worked at Honda for two decades and had served as the president of its American division. He had also run Honda's F1 division and designed engines for its RA273 race car in the 1960s. He also knew Senna personally. Based on these facts, it is possible that there were talks of a collaboration with Senna for the original Super Monaco GP. Theories abound that Senna was unofficially included in the game as the Brazilian driver G. Ceara, and there is definitely more than a passing resemblance between the two. Nothing was ever confirmed, however, so only rumors remain thus far.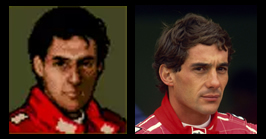 Creating a New Breed of Racing Game
Development of a sequel to Super Monaco GP was already underway at Sega of Japan by most of the same creative team that made the original, including Sega music legend Tokuhiko "Bo" Uwabo and Masahiro Wakayama, who had programmed the Genesis version of Super Hang-On. There were also a few new members, most notably Rieko Kodama, who had been behind games such as Alex Kidd in in Miracle World and Phantasy Star. Some of the team would take the experience acquired from Super Monaco GP II and apply it towards future Sega racing classics. For instance, tester Osamu Hori would go on to program Virtua Racing Deluxe for the 32X and Sega Rally Championship on the Saturn. While the team would be responsible for the bulk of the game, they would collaborate extensively with Senna on several key aspects of the design. The relationship would prove to be unlike any other Sega had experienced with a celebrity license.  Along with all these Sega legends, the game's credits would also list a "Oibaf Odahcam." Spelled backwards, it reads Fabio Machado, who happens to be Senna's cousin. He handled all of Senna's business affairs and currently runs the Ayrton Senna Institute.
Unlike other sports personalities who had worked with Sega in the past, Senna's involvement would extend beyond the mere contribution of likeness and promotion that other stars had given. Senna was always extremely meticulous and knowledgeable regarding the technical details of his racing (he once stood trackside as other cars completed the race and listened for sounds that would indicate illegal traction-control), and he wanted to be directly involved with the game's development. He wanted to ensure that the game was a true to Formula 1 racing as possible before allowing his name to appear on it.
Sega had originally intended for Senna to offer voiced tips in English for the Genesis version of the game (and in text for the Master System and Game Gear ports).  He was asked to provide a tip for the Barcelona track – new to the circuit at the time and one on which he had not yet raced – and refused to do the recording until he had actually driven on it. As Barcelona was programmed late in the F1 season, waiting could potentially jeopardize the game's release schedule, but Senna was adamant. He agreed to record a voice clip immediately after the race and send it, and members of the development team anxiously waited until the race was over for him to record his comment. He did so, delivering the recording late that same evening.
On Wednesday, October 16, 1991 Senna and Arnhold traveled to Sega's Japanese headquarters in Ōta, Tokyo. Senna was in the country to compete in the Japanese Grand Prix the following Sunday (which he won), and had agreed to visit Sega's headquarters to discuss Super Monaco GP 2′ development. He had originally planned to arrive via helicopter in order to avoid causing a commotion, but the proximity of Sega's building to the Tokyo International (Haneda) Airport made this impossible. The visit was going to be canceled, but an employee at the Japanese office of Tec Toy's parent company, Evadin, suggested that Senna could arrive by boat. Senna agreed. He was supposed to only have to walk a short 30-40 meters to the entrance of Sega's building, but he was instantly recognized after departing the boat. He was put in a car and driven the rest of the way.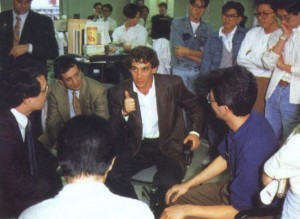 Around 400 Sega employees awaited him, and work at Sega's offices came to a dead stop. What was originally planned to be a 45-minute meeting turned into a fan fest that lasted over three hours. Employees constantly tried to enter the closed office where Senna met with the game's producer Atsuhiko Nakamura, slowing gathering around Senna as he went over each track's detail with the game's programmers. The race driver was truly a mega star in Japan, much like in his native Brazil and in Europe, and licensing his name for Sega's new racing sequel seemed like a sure-fire winner for Sega of Japan.
While at Sega of Japan, Senna presented three tracks for the sequel's Senna GP mode, which replaced the original game's Super Monaco GP. The first track was modeled on the one at his country home in Tatuí, Brazil that he designed for go-carts. The other two tracks were created by Senna specifically for the game. For the World Championship mode, the development team asked Senna which tracks were his favorites and what their characteristics were, so that they could incorporate them directly into the game. He chose the Circuit de Spa-Francorchamps in Belgium because he found it to be long and exhausting, Hockenheim in Germany, which he described as having a dual personality – calm and beautiful-looking in some sections but prone to rain and wind in others, and Monaco because of its unique guard-rail setup and opportunities for passing.
Senna also lent his expertise to elements such as track design, overtaking rival cars, and braking. He also explained that cars progressively took damage when passing over the zebra (moving towards the outside of the track), and this would affect their handling. Senna felt that the first Super Monaco GP unfairly punished players for using the zebra, which was commonly used by real F1 racers. He also had Sega correct the top speeds of each car, which he found to have been unrealistic in the first game. Only after these changes were made would Senna give his approval.
Before leaving Sega, Senna even tried out a special dual-cab, deluxe version of the original arcade Super Monaco GP, to the delight of reporters and fans. He raced a Sega employee, and having never played the arcade original, started the race poorly and crashed often into other cars. His Japanese rival politely waited for him to catch up, which ended up being a major mistake. Senna soon overtook him and won the race. Afterwards, Senna's manager provided members of the development team with VIP passes for the Suzuka Championship, and Nakamura and the game's designer would be allowed to spend time in the team's racing pit. By the time the visit finally ended, a small army of people had gathered in the street. Senna was swamped with autograph requests while attempting to leave the building but calmly obliged his fans, never becoming annoyed or angry. Other game developers also got caught up in the Senna fever. Kan Naito, the co-founder of Climax (the creators of Landstalker) showed up at Sega's Japanese offices on the day Senna was there. He had no reason to be in the area but couldn't resist the opportunity to meet one of his favorite stars.
The Pinnacle of Licensing
Super Monaco GP II was slated to be an much larger cartridge than the final 8meg version that shipped, with 16 race tracks from the 1991 F1 season. Each track was carefully mapped in order to produce the most faithful version possible (though some alterations were made before release). Some concessions had to be made due to time and cost constraints, and by the end of development, Sega of Japan was forced to reduce the game's cartridge size, and this meant eliminating Senna's voice tips. They had to instead be included in written form, as with the 8-bit versions. A few audio clips remain in the final release, but they are but a small fraction of the amount of voice Sega planned to include.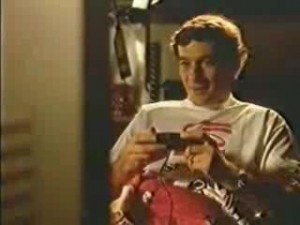 Ayrton Senna's Super Monaco GP II was released in the summer of 1992 to wide acclaim. Tec Toy had planned a massive launch party at the Autódromo José Carlos Pace circuit in São Paul, Brazil for its April 1992 Brazilian release, but the game was delayed there. Still, expectations remained high and the game was eventually released to great enthusiasm. Senna was given a supervisor credit for his contribution to the Genesis version and a producer credit for the 8-bit ports. Thanks to his input, the game experienced great sales in Japan and Europe and was particularly successful in Brazil on both the Genesis and Master System formats.
Super Monaco GP II only further cemented Senna's legendary status in his native country. Brazil even had its own Senna comic, Senninha, which ran until the racer's untimely death in 1994 (it was relaunched in 2008, with all proceeds going to the Ayrton Senna Institute). The game is also estimated to have sold decently in the U.S., but this success never resulted in another entry in the series. Senna's death lamentably ended what would likely have been a long and prosperous relationship.
In 2014, a patch was created to give Super Monaco GP II the official FIA/FOCA license it was missing, bringing it one step closer to the authentic F1 experience Senna wanted. To this day, it remains one of the more highly regarded racing games on the Genesis. Moreover, it validated Katz's licensing strategy. Effectively, Super Monaco GP II represents the pinnacle of that practice, in which the star endorsement also contributes substantially to the game's creation to produce the most authentic possible representation of the sport. Ironically enough, it came out of a game featuring a Brazilian athlete and a Japanese development team. Still, it's the game itself that counts, and Senna proved that he was as much a contender in the digital realm as he was on the race track. It's unfortunate that we never got to see another installment, perhaps on the Saturn or Dreamcast.  We did get a great game, one that stands as a fitting tribute to both Senna and the determination of Sega to push the envelope.
Many thanks to Joseph C. and to Sega-16 forum members JumpingRyle and Barone for providing sources and translations.
Sources
Grand Prix results: Pacific GP, 1994. GrandPrix.
Guerra, R. (2009). Ayrton Senna's Super Monaco GP II. Old Gamer, 5, 14-21.
Interview with Atsuhiko Nakamura (1992). Sega Players Enjoy club (SPEC), 8, 15-18.
Interview with Kan Naito. (1997, June 29). TV Game Radions.
Interview with Stefano Arnhold of Tectoy. (2010). UOL.
Lemes, D. (2014). The day Senna paralyzed Sega headquarters. Memoriabit.
Sponsel, S. (2015). Interview: Stefano Arnhold. Sega-16.
Nilsen, Al. (2016, Jan. 13). Personal communication with Ken Horowitz.
Vel ô, E. (1991). Senna: How a three-time Formula 1 champion contributed to a game by Sega of Japan. Super Games, 1(5), 28-31.
Walker, M. (2013). Murray's memories: European GP 1993-Sensational Senna. BBC.