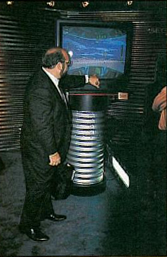 Stewart Kosoy had a long and storied career in game development. He had tenures at companies like NovaLogic and Taito before coming to Sega, where he worked as a producer. There, he was behind games like Ariel: The Little Mermaid and Dinosaurs for Hire on the Genesis, Clutch Hitter on Game Gear, and Spider-Man vs. The Kingpin on the Sega CD. Later, he became the Vice President of Product of Development at GT Interactive at a time when that studio unleashed a flurry of classic first-person shooters, including Doom II, Duke Nukem, and Quake.
Stewart left game development to become an agent and represent the developers themselves. He spent the better part of a decade at Interactive Studio Management (ISM), representing clients like Digital Illusions, the group that made Battlefield 1942. He left ISM to co-found Digital Capital, where he raised capital for game studios and helped pair investors with game studios. Stewart sadly passed away in 2015.
Issue 16 of the Spanish video game magazine MegaForce contained this short interview with Stewart at the 1993 summer Consumer Electronics Show (CES) in Chicago. At Sega's booth (called the "Sega Village"), the company showed off a slew of future classics, including Disney's Aladdin, Shinobi III, and Eternal Champions. New technology was on display, including the Activator and the Sega VR helmet. Sega's foray into virtual reality was short-lived – the technology never made it to retail, but its development is a fascinating look at the game-maker at a time when it was exploring all sorts of new directions to bring video games to "the next level."
The initials "V.R." stand for Virtual Reality. Beneath these two words hides extraordinary technical progress that opens the world of video games to a great number of applications. To completely understand what virtual reality means to Sega, we've spoken to one of its designers: Mr. Stewart E. Kosoy.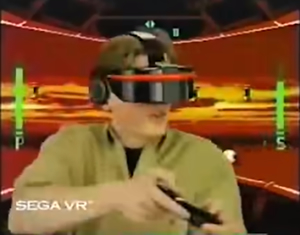 MegaForce: What does virtual reality as an innovation mean for the general public?
Stewart Kosoy: At Sega, we've been thinking about virtual reality for a long time. In October 1991, we began to work on it. We thought the project was quite interesting. Finally, after 12 months of work, we can present the results for the world to see.
Mega Force: What are the principal problems you've faced in designing the virtual reality goggles and system in general?
Stewart Kosoy: Honestly, the version of Sega's virtual reality that you've seen here isn't completely finished. The goggles gave us some minor problems. Every person's eyesight is different – good or bad – and our system functions the same way for everyone without distinction. Thus far, those who wear glasses are at a disadvantage and for the moment can't enjoy all of the extraordinary abilities offered by this new technology Sega has developed. But my team and I are working to solve this problem.
MegaForce: You spoke of Sega VR's abilities… Could you elaborate a bit more?
Stewart Kosoy: At Sega, we have enormous faith in this new technology; it's the first step towards the video games of the future. For the moment, with a simple Mega Drive we can play in virtual reality. The helmet or goggles use one connection port and the glove uses another. But we seriously think that by way of a modem, such as the one that already exists in Japan, two players could face each other in a completely imaginary world, truly immersed inside the game. Imagine two physical people who move in a virtual world… space, for example, where a war is fought, like in Star Wars, and where they can move and make each of their movements.  At the moment, evidently, only the movements of the player's head can be detected by the helmet. If he moves his head, the landscape with shift; if he lifts his head, his perspective will change. That way, it is possible to have a panoramic view of the game's entire environment. This new dimension is what makes the games so exciting, but to get a better idea, it's best to try it out.
I slide into the equipment, and a member of Sega's team helps me adjust the helmet and hands me a controller. The first Sega VR game is Nuclear Rush that puts the player in a three-dimensional world. From the top of a hovercraft, I have to shoot at all the enemies that are within range of my laser. Although the game itself is nothing mind-blowing, the effects are simply fantastic, thanks to the helmet's field of vision. After a few rounds, I return to my interview with Mr. Kosoy.
MegaForce: It's extraordinary.
Stewart Kosoy: I'm sure Sega VR is a revolutionary instrument of play.
MegaForce: What other titles are being developed for Sega VR?
Stewart Kosoy: Currently, we're working on three titles. Iron Hammer is a 3D space shooting game that has 30 stages and will take players to amazing places. The other two are Matrix Runner, a space battle against robots, and Outlaw Racing, where players can compete against 20 other racers.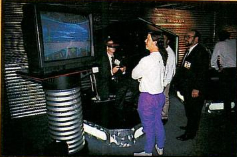 MegaForce: For the moment, these games all exist in cartridge form, but are you planning to release other versions?
Stewart Kosoy: Well, those products are also being considered by our R&D labs.
MegaForce: When do you think virtual reality will be ready for sale?
Stewart Kosoy: Sega VR will be available in the U.S. by Christmas, and its price should be under $200 (around 25,000 pesetas); however, we don't know exactly when it will be for sale in Europe.