This interview originally appeared in vol. 2, issue 13 of the Spanish video game magazine Mega Force. In it, David Perry shares his philosophy about making games and discusses a bit of the development of the 1993 game Cool Spot.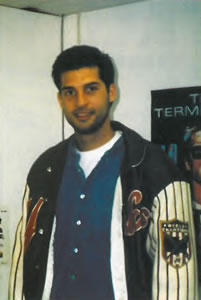 By now, you undoubtedly have heard about Cool Spot, the Virgin Games title about which one only hears praise, mostly for its animation and graphics, and people say are fabulous. We're convinced that's what you'll think when you finally have this cartridge with the 7 Up star in your hands, a game that has been lovingly crafted and on which the minds at Virgin Games have labored day and night to create. But as you can imagine, the game didn't appear by magic but through the work of David Perry, its programmer, who made his name in video gaming with Trantor, a minor 8-bit miracle for the CPC. Later, and under the wing of Virgin Games, he notably contributed to giving Global Gladiators the level of polish it has. That says a lot about this young man who deserves a place of honor among programmers, and about whom we're going to learn a bit more through this interview in which he tells us about his work style, his initial idea for the game, and maybe even its secrets.
Mega Force: Dave, why did you choose this profession?
David Perry: Well, in truth, ever since I was very young I can't remember ever wanting to do anything else, and when I was little I had the sensation that I would do great things in life. Later, at around 14, I started programming on the Sinclair ZX81, and my objective was to have an awesome car, like the famous programmers.
Mega Force: What experience do you have in the video game industry?
David Perry: I've worked for Mikro-Gen, Sega, Elite, Encore,US-Gold, Ocean, Infogrames, Mirrorsoft, Virgin Mastertronic, Virgin Games, Digital Integration, Disney, Mindscape, and Firebird… You could say that's about all the businesses of that kind, and as I began to be known, they've all called me little by little to ask for some work or service. And don't think that I complain! On the contrary, I feel honored when they call me; for me , it's recognition.
Mega Force: How long does it take you to create a game?
David Perry: I would need concrete example, so it would be easier for you to understand. For example, it took me six months to write the code for Global Gladiators, but with Cool Spot, it barely took three months for the code, one month to analyze it, and another two months to submit it to Sega's quality control. In all, half a year to finish it.
Mega Force: And how do you make your games?
David Perry: Well, when I'm in the preliminary stage of development, I have no life – or better said, I only live for work. I start at 8 .a.m. and get home after midnight. The important thing is that your team support you; that something essential for obtaining good results. That's why I code as quickly as possible, to avoid periods of dead time, and that way, the rest of the team maintains a quick rhythm. Some people say that working with me is like riding in tandem with a professional cyclist! They exaggerate!
Mega Force: Where do you get your ideas?
David Perry: From the start of a game idea, everyone in the team has to participate. It's essential that the whole team be completely involved in the project. We listen to everyone's proposals, and a lot of times we take old ideas and refine them until we're completely satisfied. The advantage is that if we use an idea in the game and we implement it quickly, we can see right away if it was good or not and then retrace our steps in case we have to fix something so that we can move in the correct direction without losing too much time and effort.

Mega Force: What are the different stages of game development?
David Perry: I simultaneously take care of the cartridge concept and of the main programming so that at each moment the design changes form and becomes more refined and appealing to look at little by little. With Cool Spot, for instance, in about four or five hours the game had completely changed; it was unrecognizable. In general, this happens when I find an idea and run with it as far as possible. I have to start over again, but I do so knowing very well where to stop and knowing that I'll be working much faster. The goal is to obtain the desired final result.
Mega Force: How many people are on your team?
David Perry: My team has a core of eight people that come from the four corners of the globe. That's why they form a very tight and strong group. Regardless, there are stages in development where more people who aren't part of that core are involved. The main team is composed of the programmer (David Perry), the producer (Cathie Bartz-Todd), the animators (Mike Dietz and Shawn McLean), the presentation and background artist (Christian Laurensen), the designers (David Bishop and Bill Anderson), and finally, the musician (Tommy Tallarico).
Mega Force: What exactly, does each member do?
David Perry: The animators are in charge of the sprites (graphics) of the main character and the most important game enemies and draw them on paper so that other people can animate them. They also retouch the animations on these paper drawings to make them more fluid. The other artists design and animate the other game graphics: the effects, objects, and lesser enemies. The two designers test the game to see if it's "playable" or not, and the others revise the architecture of each of the plans at different levels. The musician's role is quite clear: he has to create the music and sound effects for each part of the game. The producer has to verify that this whole mess is more or less organized and that everything moves at the same pace, while at the same time elevating morale and maintaining the appropriate level of productivity.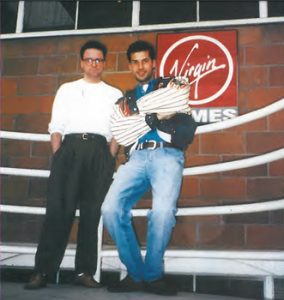 Mega Force: Is there something that makes a game successful or a failure? What is it?
David Perry: A game has three key aspects: the graphics, the music, and "playability." The success of a game is almost guaranteed thanks to trifecta. If all three elements are of good quality, or better yet, of excellent quality, the game will have an important impact. None of them should overshadow the others, or the game will not be successful.
Mega Force: What are your favorite kinds of games?
David Perry: In truth, I have a favorite machine – the Mega Drive. I've spent some really fun times with this machine on games like Ecco the Dolphin and Super Monaco GP.
Mega Force: What do you see in video gaming's future?
David Perry: In my future, I see a dream – to program a game from the director's chair with a clapboard in my hands to put in front of a camera and yell, "Action!"
Mega Force: What are your passions?
David Perry: I love to get some sun on the California coast, and I like to ski, ice skate, swim, jetski, windsurf, tennis, mountain biking, volleyball, juggling… skateboard in weird places. Besides those sports, I like billiards, especially if I can play in exotic places, bars where you lose your English accent…
Mega Force: Thanks Dave, and good luck in the future.
David Perry: See you soon.