American culture is dominant all over the world, except in sports. Soccer still remains the dominant sport in Europe, South America, Africa and large parts of Asia. Soccer games have always been popular in those parts of the world, and that is proven by the large offering of Genesis soccer games. I tried to make this list as complete as possible, but they are a few issues. The main problem is that many games have been released under different titles in the U.S. and EU. In this overview, the American title is mentioned first, and the European title is mentioned after that. If the game has only been released in Europe, then the European title is mentioned.
Another problem is that some games are re-releases of soccer games on other platforms under different titles. Lastly, in Europe it is common to call soccer just "football," because American football isn't very popular in the EU, meaning that the change in confusion in calling soccer "football" is low. Thus there is a chance that I missed a game, or that I made a mistake in the title description. If you feel your favorite is missing, let me know, preferably on the forum in this article's thread.
AWS Pro Moves Soccer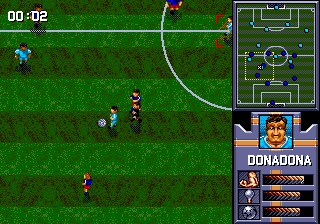 Sometimes it's hard to say something about a game, not because it is good nor bad, but because it's just decent. AWS Pro Moves Soccer is one of those games. The graphics, sound, and gameplay are all decent, but they're nothing out of the ordinary either. Sure, you can buy better soccer games, but truthfully you can do a lot worse too. I am not even sure what AWS stands for. All World Soccer? Awesome Wacky Savages? It's a nice way to start off this list, at least, with a title so meaningless that there's nothing to say about. Do not despair though! Things will get better if you keep behaving well and read on!
Champions World Class Soccer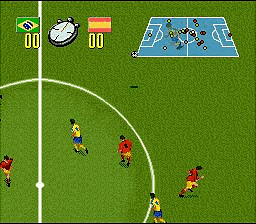 Champions World Class Soccer is one of those soccer games that very much deserves that we have all forgotten it, for several reasons. Nothing in this game works at all, and when playing actually becomes work, you know this is one to toss aside. First of all, the pitch is viewed from a pseudo-3D view, which makes decent passing impossible. Furthermore, the whole thing is slow and jerky like a crack whore in need of her next fix – the animation, the sound, the passing – it seems like everything was done in a rush. The clumsy controls add to the frustration when playing this one. All in all, it's just not worth buying second-handed, even for a low price.
Dino Dini's Soccer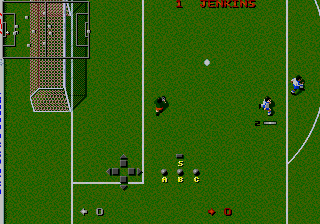 With this title, the chaos in 16-bit soccer title land is complete. Dino Dini is not actually a famous Italian soccer player, but he's a game developer of soccer games like Kick Off and Goal! This particular game is based on Goal! – an ancient Amiga game. Despite the fact that Sensible Soccer was released after Kick Off, this game feels like a total rip-off of the former and not of the latter. It has very fast gameplay with tiny players, but the view on the pitch is closer than in Sensible, making things harder to see. In the end, it's not half bad, but it's definitely no match for the incredible Sensible Soccer.
The FIFA series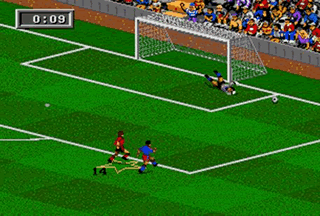 The FIFA Soccer series are the most successful soccer series ever, and it's nice to know the first game started on the Genesis. FIFA '94 and FIFA '95 are highlights of the series, with good control, great sound and graphics and an excellent memory system. Unfortunately after FIFA '95 the series has been going downhill for years, actually until FIFA '08 for the Xbox 360 and Playstation 3 finally revived some of the spirit of the original. Though FIFA '96, FIFA '97 and FIFA '98: Road to the World Cup are all disappointing, they still are better than a lot of other Genesis soccer games around: they just can't live up to the excellent FIFA '95. Also two editions of FIFA were released for the Genesis' add-ons: the Sega CD got FIFA Soccer CD, which was just the original game with some additional load times. FIFA '96 was also released for the 32X, but sometimes it's hard to believe it really exists: I never saw a copy in real life of it nor any decent screen shots. Overall, if you're looking for a quality soccer for the Genesis one of the earlier FIFA's is a decent choice.
 Head-On Soccer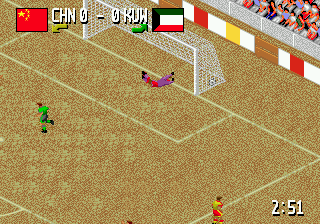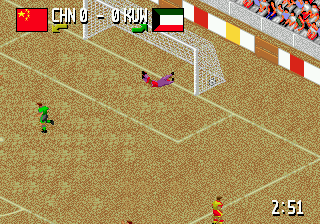 Since the European title of Head-On Soccer is Fever Pitch, I first thought this game had something to do with Nick Hornby's novel of the same name about a fanboy of the English team Arsenal. However, it turns out that this is not the case. This game was released on various platforms and is, like many other games in this list, decent but failing to stand out in any way. The graphics are average, and the gameplay is pretty fast, but overall it's just not interesting enough to last for a long time. The novel by Hornby though, is pretty good, even for non-soccer fans.
 ISS Deluxe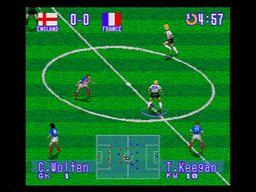 ISS Deluxe, together with FIFA '95, Sensible Soccer, and Kick Off 3, is easily the best soccer game on the Genesis. The players are huge, they feature fast sprites, the game has tons of options and an impressive voice over, and it's just, – like many Konami games – fun all the way. The original is only available on the Super Nintendo. Furthermore, the game was not released in the U.S. because Konami figured out Americans wouldn't care about soccer much. Only lack of the game is a decent memory system, instead you get long and impossible passwords (also consisting out of cryptic symbols) to right down. Except for that, this is one to get for all 16-bit soccer addicts.
The Kick Off series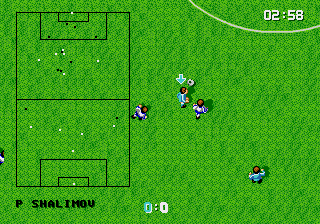 The Kick Off games were a popular soccer series on the Amiga in the nineties, so it is no surprise the Genesis got some editions of the series as well. I tried to find out which editions of Kick Off have been released on Sega's 16-bit console and I'm only sure of Super Kick Off and Kick Off 3: European Challenge. But with so many remakes or releases under a different title, it is very well possible I missed another edition of Kick Off for the Genesis, so feel free to despise me for that. The two editions I played varied a lot: Super Kick Off is a very aged and too-hard-too-be-playable soccer sim, while Kick Off 3 is actually pretty good, with great graphics and controls even in the same league as FIFA and is still worth your time. If you insist on calling Dino Dini's Soccer a Kick Off game too, take the liberty to count it into this category.
Marko
Before you say it, I know what you're thinking. No, Marko's Magic Football (just Marko in the U.S.) is not a soccer game per se but it is a platformer in which the player assumes the role of Marko – a little kid in a soccer outfit who has to take his enemies out by shooting his ball against them. It's fun for a while, but aiming the ball accurately becomes tedious quite rapidly. Overall, it doesn't look that bad for a platformer. The game is available for the Genesis and Sega CD, and a very similar game with the title Soccer Kid is available for many other platforms. The game has nothing to do with former-Dutch star player Marco van Basten.
The Pelé series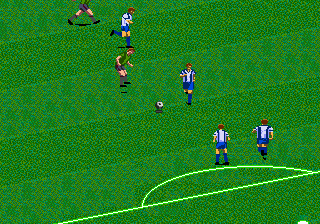 In my opinion, the great Brazilian soccer legend disgraced his name by licensing it out in an effort to make some money with the horrible Pelé and its sequel Pelé II: World Tournament Soccer. To my knowledge, these soccer games didn't even make it to Europe (!), and when you play them it's not too surprising why that is so. Oh where to begin? Let's see… the graphics are ugly and grainy, the view on the pitch is awkward, causing the action to become hard to see, and the incomprehensible controls make the game virtually unplayable. That one of the best soccer players in the history of the sport lent his name to one of the worst soccer games ever produced may have been commercially smart, but ultimately it's just disappointing for the fans of Pelé.
The Premier Management series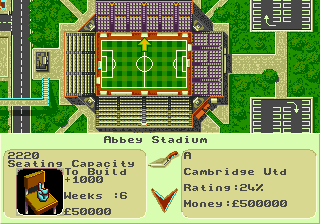 After spending some time with Premier Management games, I can honestly say that playing a soccer management game on a cartridge-based gaming console is never, ever a good idea. Premier Manager '96 and '97 on the Genesis pale in comparison to their PC counterparts. It all looks boring as hell, the options are too few, the letters are too small, it's too slow and too easy to lose track of what you're doing. Soccer management games can be good fun and very addictive, but that's only if you're willing to save some money for a PC. Only give the Genesis edition a try if you can't find this for download anywhere and also have the patience of a saint.
The Sensible Soccer series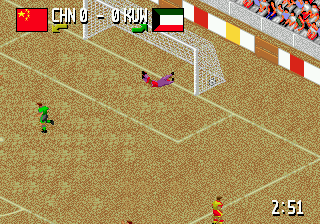 Though maybe Sensible Soccer is – after Ultimate Soccer – the worst-looking Genesis soccer game around, it is also the best. The instant fast-paced accessible gameplay makes it fun for everyone. However it is very well possible to train and get better as well, making it fun for hardcore gamers too. This is what gaming is all about: fun. They are three versions around which do not differ that much: Sensible Soccer, Sensible Soccer International Edition and Sensible Soccer CD. The Sega CD version is the least due to some loading times issues. In 2006 Sensible released a 3D version for the PC, that wasn't too great and took away a lot of charm of the original.
Striker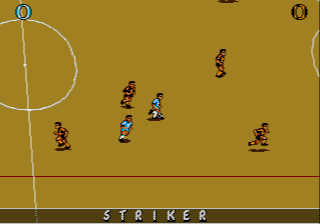 Striker was a hugely popular soccer series in the nineties, and the Genesis also got a release of the original edition. However, I can't say I'm too fond of this game, what with its sideways/isometric view on the pitch, which bothers me every time I play it. It just doesn't seem like a right fit for the gameplay and makes decent passing very difficult. While still we can still call it a fast and difficult game, overall time just hasn't been nice to Striker. The visuals are as dated as the gameplay, and series like FIFA and Sensible Soccer just blow it away completely. There are plenty of other and better options for those fans looking for a quality soccer game for their Genesis, and no one should feel bad for passing this one by.
The Tecmo World Cup series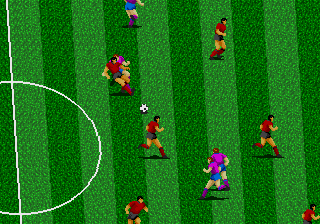 After becoming famous for its football and baseball franchises, Tecmo of course made two attempts to produce a decent a Genesis soccer game: Tecmo Word Cup '92 and Tecmo World Cup '93. Unfortunately, its attempts in this area never matched the quality of those found in America's two favorite sports. Luckily for us then, that it quit after that. Like in many Tecmo sport titles, the players seem more like supposed crash dummies than actual players. They move stiffly, and the graphics already looked old-fashioned and obsolete when it was released. Overall, it is playable, but that's all that you can really say about it. Pass on this one for any of the better games mentioned here.
Total Football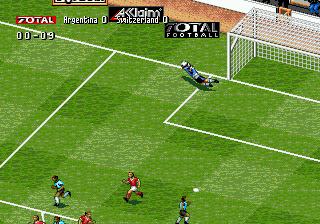 Since I am Dutch myself, I am sort of proud a soccer game has been released with the title of famous soccer strategy invented by the late Rinus Michels. He was a well-know Dutch coach which made The Netherlands almost world champion in 1974 (they ended second). The team played the so-called "Total Football," a system in which players have to take over each position what needs a lot of anticipation. Like many games mentioned here, Total Football is another port of an Amiga game. No matter that I'm proud of the title, the game itself isn't so good, especially since the low-angle isometric view bothers the player in decent passing. This is another Amiga soccer game that would have been better off had it not been ported.
Ultimate Soccer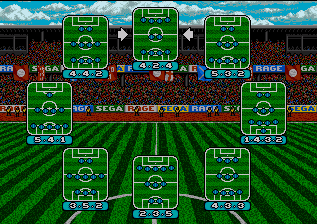 Ultimate Soccer was one of the first soccer games on the Genesis, and it definitely shows. Just taking a glance at the screen to the right proves that it looks more like a Master System title than a 16-bit game. For the time however, it was at least somehow enjoyable and much better than Sega's awful World Championship Soccer. Be that as it may, over time many Genesis soccer games have surpassed this one in virtually every area, making it not so ultimate anymore. And once you're left looking at the entire field of available games, the desire to move on becomes apparent. Ultimate Soccer is probably best worth remembering as one of the worst-looking Genesis games in the genre.
The World Championship Soccer series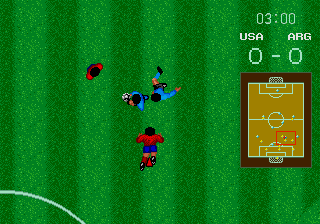 Sega's own pathetic attempts to make Genesis soccer games are total failures. The only merit of World Championship Soccer (licensed as World Cup Italia '90 in Europe) is that it was the first soccer games to hit the Genesis. Furthermore, it looks, sounds and plays horrendous. World Championship Soccer II (of which I'm not sure it made it to Europe) is a desperate attempt to make things a little better – so we get pseudo-grainy 3D graphics with the same terrible gameplay. It was only years later that Sega proved they could make excellent soccer games: Sega World Wide Soccer on the Saturn is absolutely worth your time. Just forget about this Genesis rubbish.
World Cup USA '94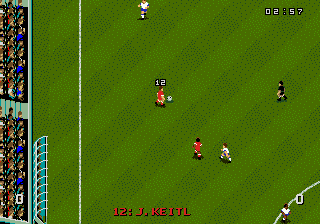 In a desperate attempt to make soccer more popular in the United States, FIFA organized the 1994 World Cup in that country. U.S. Gold handled the video game version, and World Cup USA '94 was released on many platforms, among them the Genesis and Sega CD. Like more than half of the games on this list, it's another "not good, not-bad, but decent" soccer simulation. Tackling is hard, but passing is easy, which makes it accessible to a wide audience. However, the gameplay is limited and not very long lasting. Also, the symbols on the option screens are sometimes cryptic which make them hard to navigate. By far though, what I hate the most about World Cup USA '94 is that the official mascot of the '94 World Cup is all over the place. Why the heck did it have to be a goofy dumb dog? Or did the American Soccer Association really think the mascot was sort of cool?
World Trophy Soccer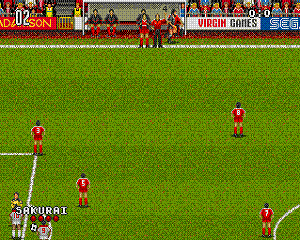 As you've probably already guessed, by the obvious European title, that it is possible in World Trophy Soccer to play with all the well-known European teams. This is a pretty decent game, but it hasn't really aged too well. The gameplay is alright, but the graphics are a little grainy by later standards. It also takes some time to get used to the ball movement, which is rather slow compared with the speed with which the players run around on the pitch. A lot of copies of this one are around (at least in Europe), so if you're a collector then this one is easy to acquire. It also goes by a few different monikers, and it's known in the EU. as European Club Soccer and J. League Champion Soccer in Japan.