Super Fighter Team is no stranger to the Genesis. In the past few years, the company has produced two full releases, color manuals and all, to the joy of 16-bit gamers everywhere. After the success of its initial offerings, Beggar Prince and Legend of Wukong, SFT branched out to include a new game for the Atari Lynx (Zaku), and it even has a new SNES title in the pipeline. However, with all the success it's been experiencing, it continues to keep the Genesis at the forefront of its operations.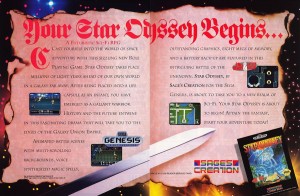 The latest release from Brandon Cobb and team is another RPG, but this one has a major difference: it's Japanese. Both Beggar Prince and Wukong were games that originally only saw release in Taiwan, but this latest title comes straight from the Land of the Rising Sun. Star Odyssey is a game that has a bit of a history among Genesis gamers, as it was announced for release almost twenty years ago and even saw marketing in the press. Known as Blue Almanac in its native Japan, it was developed by Hot-B and originally supposed to be released by Sage's Creation, but it disappeared from the public eye when the publisher left the video game business in 1991. For almost two decades, the nearly finished ROM sat in an archive, patiently awaiting an opportunity for release. Now, that time has finally come.
It was a long time coming, to be sure, but the process wasn't as difficult as one might guess. When he was presented with the opportunity to obtain the only physical cartridge copy of the translated game, Cobb jumped at it. Securing the game before it was dumped was vital, and thankfully the person who provided the copy was aware of the potential a finished, fully-working release would have.
Once the game was in his possession, Cobb's next task was to obtain the licensing rights to publish it. All of Super Fighter Team's translated releases are fully licensed by their original publishers, and while Cobb had forged a healthy relationship with Chinese companies such as C&E Inc., he had never approached Japanese companies before. It was unknown how they would react to the prospect of releasing a two decade-old game on discontinued hardware in America. Would they even be willing to hear his pitch? Would they sell the rights? The only way to find out was to call up the company and ask.
Click for larger images!
Cobb did just that. He contacted the director of marketing at Starfish-SD Inc., owners of Blue Almanac/Star Odyssey, and detailed his proposal. Surprisingly, he received a very warm reception, and the director was quite eager to work with him. Cobb was even praised for his passion to classic gaming, and things began to move forward. There was only one problem, Starfish asked if Cobb had obtained Sega's permission for a new Genesis release. He contacted Sega of Japan and inquired about doing so but received some bad news. "As they had long since withdrawn from the Genesis/Mega Drive business," he told Sega-16, "they could not offer our customers any potential support and therefore, requested that we not display their trademarks (Genesis, Mega Drive, Sega) on the product." For this reason, Star Odyssey will not bear the official Sega logo at the boot up sequence.
Starfish was notified and agreed to continue negotiations, since Sega's decision only meant that the company wasn't officially involved. For the game to be "legitimate" it need only have the license of the original publisher and not break any licenses with the hardware. As Sega no longer had any legal claim to development on the Genesis, this was not a problem. The House of Sonic wouldn't stand in the way of Star Odyssey's debut. A contract was smoothly negotiated and signed. With the actual game in hand, the blessing of its creator, and a green light from Sega itself, all the major obstacles for bringing the first licensed Japanese Genesis game to America in two decades were finally cleared.
The next major task to making Star Odyssey retail-ready was cleaning up the actual game itself. Telling the tale of a young hero caught in a web of intergalactic war and intrigue, the RPG promised a hefty adventure with hours of exploration and combat. Unfortunately, the English prototype was in sorry shape. Super Fighter Team had to make several major changes for it to even be close to retail condition. This was no simple translation effort, and as it was, the game wasn't even playable. Cobb detailed to us a fatal bug that was a major headache to fix. "One fatal bug caused the game to crash to a black screen after it had been played for a certain number of hours. This bug was extremely difficult to reproduce on real hardware, and once he had it nailed down, our lead programmer on the project wasn't even certain he'd be able to fix it. Over a week later, however, he had reached the light at the end of the tunnel: the nasty bug was banished, never again to rear its ugly head."
Click for larger images!
Additionally, there were other problems. Certain NPCs couldn't be talked to or had empty or incorrect dialog boxes, characters could only be named with upper-case letters, and the cool palette effect in the title screen had been removed. Super Fighter Team fixed all these issues, and finally restored the game to proper working order. The biggest problem, however, was the actual script itself. The story made almost no sense, and the quality of the translation was simply horrible. Cobb took the scripting reigns himself, and he properly translated it to match the original Japanese storyline. Gamers can be assured that they're playing the best possible English version of Star Odyssey, and they can trust that the game will work properly on all versions of the Genesis hardware.
Star Odyssey is a large, traditionally turn-based RPG that will provide dozens of hours of gameplay. Though the visuals might seem a bit dated by later Genesis release standards, it's the gameplay that counts, and Super Fighter Team hopes that players will give the game a chance to show its strengths. There are eight planets to explore, each with its own distinct visual style. There are also a ton of different creatures to fight, and all the traditional customization options RPG fans are familiar with are present. It clocks in at 16 megs and even includes a soundtrack with a few songs by Genesis veteran Noriyuki Iwadare. As with all SFT RPG releases, Star Odyssey also comes with an SRAM battery back-up feature for up to four different games, and the main quest should last around thirty hours. The cartridge comes packed with a twenty-four-page full-color manual, as well as a clamshell case with color insert.
Click for larger images!
Cobb is expecting Star Odyssey to be more than just another quality release. He's betting that it will be a game-changer. With the obtainment of a licensed, Japanese release that went through all the proper channels, it could mark the beginning of a new era in retro game publishing. No longer is the business confined to diehard fans and a few repro makers. Now, there is an undeniable sense of legitimacy to publishing games for classic systems. Japan itself has taken notice, and the implications could be huge. For obvious reasons, Cobb is quite proud of his achievement. "From this day forward," he explains, "the classic gaming movement will be held in a new light. This isn't just a speckle of hobbyists, anymore – it's a serious market with some serious names behind it."
If other Japanese companies allow their unfinished or unreleased titles to be localized for a western audience, it could mean that an immense supply of Genesis and Sega CD games could finally be playable on actual hardware for loyal owners. Think about the prospects of diggining into Lord Monarch, Dragon Slayer, or even Mega CD Shadowrun. The really is a lot of potential for growth here, and Cobb is positioning Super Fighter Team to spearhead the effort.
Super Fighter Team plans to ship Star Odyssey early next year, and instead of taking the traditional pre-order route, it instead plans to begin selling the game on release day. Sega-16 is already waist-deep in reviewing the game, and we'll have full coverage shortly before its debut. Until then, enjoy the screen shots!