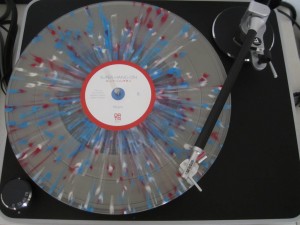 Historically, there hasn't really been as large a selection of Sega-themed collectibles in the West, especially compared to other major game brands, like Atari and Nintendo. Most fans of the console and game-maker have had to resort to importing items from Japan, a place where there is simply no shortage of Sega swag. The Internet has helped greatly to reduce the logistics of such endeavors, and not only has it allowed easier access to items previously available to those who either traveled to Japan or bought through mail order, it has allowed new companies to rise and offer new items as well.
Data Discs is a prime example of this, and it represents perhaps the best one to date of how to do it properly. Based in London, England, the company dedicates itself to releasing officially licensed soundtracks of classic video games. Thus far, all five titles (four released, with Streets of Rage 2 on the way) are Sega-themed. The scores have all been remastered, come with full-color prints, and feature some beautiful disc and cover art.
The first four discs in the series – Shenmue, Shinobi II, Streets of Rage, and Super Hang-On have been great sellers for Data Discs, and it's easy to see why. Everything about these releases screams quality, from the different disc colors for each one (a limited edition with a special color effect, a color edition, and a standard black edition) to the lithographic prints made from official Sega artwork.  Aside from the different disc colors, all sets contain the same packaging and lithographic prints. Data Discs admits that the limited editions may have slightly inferior audio quality (a possibility they stress is only that, a possibility), but steps are taken to ensure the highest audio quality for each release. I have the colored editions for each one, save for Super Hang-On, where I managed to snag a limited edition. All sound great to me, though I do admit that I'm not quite the analog connoisseur some others are, so there may indeed be slight audio differences among the versions.
I initially missed out on the Streets of Rage and Shenmue discs, but I was so impressed with the Shinobi III set that I had to go and order the other two when they were offered again. I also got Super Hang-On, which is one of my favorite game soundtracks of all time. I know it's much easier to enjoy the music for all of these Sega classics in digital format (I do, in fact, have them all in MP3 format already), but that's not what attracted me to this line, and I'm sure it's not what's hooked other people. I grew up with vinyl discs, and I've been a fan of the format for a long time, particularly given the questionable long-term durability of optical media. If you take care of them, vinyl records are virtually indestructible, and to have my Sega music on the format was just too cool to pass up.
I also found myself gazing over the lithographs and record covers while I listened to each soundtrack, something my iPod still hasn't learned to do. For a brief time, it felt like a window had opened to the glory days of Sega gaming, and I had that same warm feeling I used to get when thumbing through a new games manual while the BGM ran in the options menu. It was a nice feeling back then, and Data Discs has done a wonderful job of recreating it with these soundtracks.
The discs' packaging is a big part towards creating that nostalgic effect. All are beautifully designed, with vibrant colors and artwork straight from the actual releases. There's a degree of uniformity to the overall design, but Data Discs has made the effort for each one to have its own personality. Super Hang-On, for instance, has a neat little window that uses the included printed image of the game to create the logo. It's very creative and a nice touch to the already quality packaging, I think.
Each game's full score is included, and both of the Streets of Rage sets (both games) have been remastered with files provided by the legendary Yuzo Koshio himself. The audio isn't comprised of straight ROM rips either, as some of Koshiro's Streets of Rage compositions come from a PC-88, the computer he used to compose much of his work. Koshiro provided the original data files for these releases, which Data Discs combined audio captures from two different model 1 Genesis motherboards. The company went with went for overall sound quality instead of direct conversion, which I'm sure audiophiles will appreciate. And hey, if all you want is to listen to the original tracks, boot up the sound test in the actual games. This is an entirely different experience, and I'm glad to see that the sound reflects that.
Data Discs has pulled out all the stops to give Sega fans a series of records that can serve as the center point for any game room and that are both beautiful to look at and amazing to listen to. The company provides audio samples on its website, and one listen to Hard Road or Whirlwind should be enough to convince you to try them out. At $20 plus shipping, the prices are very reasonable, and the discs are shipped in very sturdy cardboard record holders and arrived in very timely fashion.
Check out the gallery for images of each set and head over to Data Discs' collection page for full information about each one.
Rating (out of five):